|
Tahrir Square is a public space near the Nile River in downtown Cairo, Egypt. It was initially named Ismailia Square, after the 19th-century ruler Khedive Ismail, but was renamed Tahrir Square in the 1950s.
The square became a focal point for the Egyptian Revolution in 2011, when protesters occupied it for 18 days, from January 25 to February 11. The protests culminated in the resignation of President Hosni Mubarak in February 2011. Since then, Tahrir Square has been the site of numerous other protests, including those against the military government that took power after Mubarak's resignation and the 2013 Egyptian coup d'état.
Tahrir Square is an important symbol of the Egyptian people's struggle for democracy and freedom. It is a place where Egyptians can come together to voice their grievances and demand change. The square symbolizes the Egyptian people's determination to achieve their goals and will continue to be an important part of Egypt's history.
This guide will cover the Brief history of Tahrir Square. Additionally, it will attempt to address some of the most popular question regarding visiting, such as: What is the best time to visit? What are the entrance fees? What to wear? - and more.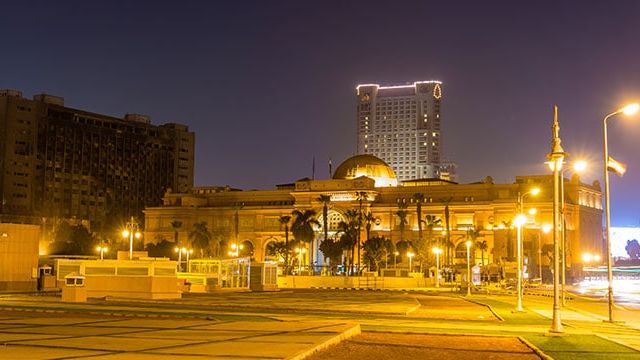 History
Tahrir Square, located in Cairo, Egypt, is one of the world's most iconic and well-known squares. It has been the place of several important historical events, including the Egyptian Revolution of 2011.
The square was originally built in the early 19th century. It was originally known as Ismailia Square, named after Ismail Pasha, the Khedive (ruler) of Egypt at the time. The square was designed to be a grand public space befitting the new capital city of Cairo.
The Egyptian Revolution of 2011 began on January 25, with protesters gathering in Tahrir Square to demand the ouster of President Hosni Mubarak. The demonstrations swiftly evolved into a full-scale revolution, and on February 11, Mubarak resigned from office. Tahrir Square thus became the epicentre of the Egyptian Revolution and will forever be associated with this momentous historical event.
Frequently Asked Questions
Why Visit Tahrir Square?
There are many reasons to visit Tahrir Square.
Firstly, it is a place of great historical significance.
Secondly, it is a beautiful and vibrant public space.
Thirdly, it is where the Egyptian people come to exercise their right to free speech and peaceful assembly.
Finally, Tahrir Square is a place of hope, inspiration, and a reminder that the struggle for democracy and human rights is ongoing.
If human rights, politics, or history interests you, Tahrir Square is a place you should visit. It is a place of great significance, and it is also a beautiful and vibrant public space.
Who will enjoy visiting Tahrir Square?
The History Buff
For the history buff, Tahrir Square is a must-see. It was here that Egypt's revolution began, and it continues to be a site of political protest and significance. The Egyptian Museum is also nearby, making it easy to spend a day or two exploring all that Tahrir Square offers.
The Culture Vulture
Tahrir Square is also a great place for the culture vulture. Sometimes there are street performers and musicians, and the area is full of cafes and restaurants where you can people-watch.
The photographer
Tahrir Square is a photographer's dream. The architecture, the people, and the light are perfect for capturing some amazing shots. Whether you're a professional or amateur, you're sure to get some great photos here.
The foodie
If you love food, Tahrir Square is the place for you. Many different cafes and eateries are available, and you're sure to find something to your taste. Whether you want to try traditional Egyptian food or something more international, you can find it here.
Therefore, regardless of your tourist, Tahrir Square will surely have something for you.
What is the best time of the year to visit Tahrir Square?
The best time of year to visit Tahrir Square is October and November, although any time is a good time to visit. This is due to the cooler temperatures and the lack of crowds.
If you want to avoid crowds, the best time to visit Tahrir Square is during the weekdays. The weekends are much busier as locals and tourists flock to the square to enjoy the atmosphere. Weekdays offer a more relaxed experience, where you can take in the sights and sounds of the square.
No matter when you visit Tahrir Square, you are sure to have an unforgettable experience. The square is a sight behold and a popular tourist destination. So, whether you visit during the week or the weekend, in October or November, or any other time, make sure to add Tahrir Square to your list of must-see places in Cairo!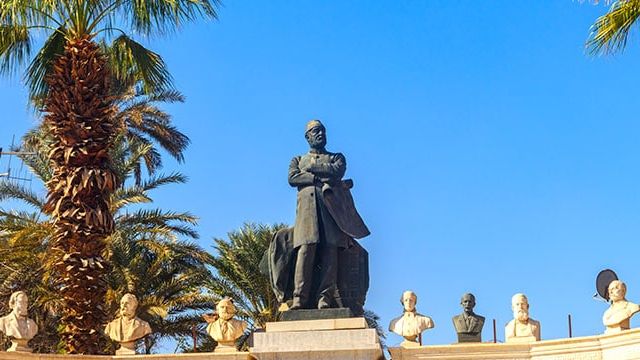 How do I get to Tahrir Square?
By Taxi
The most direct way to get from the airport to Tahrir Square is by taxi. Plenty of taxis are available at the airport, and the journey should take around 18 minutes, depending on traffic.
By Bus
There is also a bus that goes from the airport to Tahrir Square. The journey takes longer than by taxi, around 1.5 to 2 hours, but it is much cheaper.
Note: Fees are subject to change without notice.
How much does it cost to visit Tahrir Square and when is it open?
The cost of visiting Tahrir Square depends on what you want to do there. It is free to walk around and take in the sights. If you want to enter the Egyptian Museum, the cost is about $9 for adults and $4 for children. If you want to tour the square, the cost is about $15.
The square is open 24 hours a day, but the Egyptian Museum is only available from 9 am to 5 pm.
Note: Fees and Opening Hours are subject to change without notice.
What should I wear at Tahrir Square?
The recommended dress code for visiting Tahrir Square is modest, comfortable clothing that is not too revealing. Visitors should avoid wearing shorts, short skirts, or tank tops. It is also important to avoid wearing anything that could be considered offensive or disrespectful, such as clothing with profanity or offensive imagery.
If you are not sure what to wear, it is always better to err on the side of caution and dress more conservatively. This is especially true for women, who may want to consider wearing a headscarf if they are not comfortable with covering their hair.
Remember, Tahrir Square is a place of political significance and protest, so be respectful of the space and people, and dress accordingly.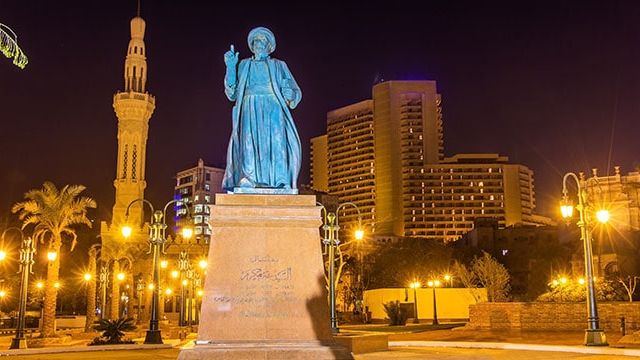 How fit do I need to be?
The recommended level of fitness to visit Tahrir Square is moderate. The square is large, and there is a lot of walking involved. However, the square is generally flat, and plenty of places to sit and rest.
Is it safe to visit Tahrir Square?
Tahrir Square, the site of Egypt's 2011 revolution, has been called a "symbol of hope" for the country. But is it safe to visit?
The answer to this question depends on who you ask. The Egyptian government has said that Tahrir Square is safe for tourists and has even set up a special tourist police force to protect visitors. However, some travel experts say that the square is still too dangerous for tourists and advise against visiting it.
So, what is the truth? Is Tahrir Square safe for tourists?
The answer is that it depends on your risk tolerance. Tahrir Square is generally safe but can be dangerous at night. If you do visit, take precautions and use common sense. Don't go alone, and avoid the square after dark. It is also worth checking that there are no demonstrations planned before heading to the square
Ultimately, the decision of whether or not to visit Tahrir Square is up to you. If you feel comfortable taking the risk, then go ahead and explore this important historical site. But if you're not comfortable with the risks, it's probably best to give Tahrir Square a miss.
Safety Recommendations
First and foremost, it is important to avoid the square during political unrest. If protests or riots occur, it is best to stay away. Even if you are not participating in the protests, you could be caught in the middle of the violence.
It is also important to be aware of your surroundings at all times. Tahrir Square is full of people, and getting lost in the crowd can be easy. If you are not careful, you could be pickpocketed.
If you do visit Tahrir Square, be sure to dress conservatively. This means covering your arms and legs and avoiding tight or revealing clothing. It is also important to avoid wearing anything that could be considered offensive, such as a shirt with a political message.
Finally, it is always a good idea to travel with a group. There is safety in numbers, and you will be less likely to be targeted by criminals if you are with a group.
Following these safety tips can help ensure that your visit to Tahrir Square is safe and enjoyable.
What souvenirs can I buy?
When you visit Tahrir Square, you will find a wide variety of souvenirs shops to choose from. Here are some of the most popular souvenirs that you can purchase while you are in the area:
Egyptian Cotton Towels - These towels are perfect for taking to the beach or home. They are made from 100% Egyptian cotton and are very absorbent.
Papyrus - Papyrus is a paper made from the papyrus plant. It is a popular souvenir because it is unique and can be used to make paintings, cards, or other crafts.
Alabaster - Alabaster is a type of stone found in Egypt. It is often carved into statues or other artwork.
Spices - Spices are a popular souvenir used in many Egyptian dishes. You can purchase a variety of spices, such as cumin, coriander, and paprika.
Hookahs - Hookahs are water pipes used for smoking tobacco. They are often decorated with intricate designs and are popular souvenirs.
Jewellery - Jewellery is a popular souvenir for both men and women. You can find various jewellery, such as bracelets, necklaces, and rings.
Clothing - Clothing is a popular souvenir, especially for women. You can find various clothing items, such as dresses, skirts, and blouses.
Shoes - Shoes are a popular souvenir for both men and women. You can find a wide variety of shoes, such as sandals, flats, and heels.
Bags - Bags are a popular souvenir for men and women. You can find various bags, purses, tote bags, and backpacks.
Hats - Hats are a popular souvenir for both men and women. You can find various hats, such as baseball caps, fedoras, and sun hats.
No matter what souvenir you purchase, Tahrir Square is a great place to find unique and memorable items that will remind you of your time in Cairo.
What else can I do at Tahrir Square?
Assuming you would like a list of popular activities to do at Tahrir Square:
People watch - Tahrir Square is full of interesting people from all walks of life. You can spend hours people-watching and never get bored.
Check out the street art - The buildings around Tahrir Square are covered in amazing street art. Make sure to take some time to check it out.
Visit the Egyptian Museum before it moves to Giza - It contains an unbelievable collection of Egyptian artefact dating back to pharaonic times.
Shop at the local stores - There are plenty of stores around Tahrir Square selling everything from souvenirs to clothes to food.
Grab a bite to eat - There are plenty of food vendors around Tahrir Square selling delicious food.
Take in the sights - Tahrir Square is full of historical landmarks and interesting architecture. Make sure to take some time to explore.
Listen to the music - There is always music playing in Tahrir Square. Whether from a street performer or a passing car, you're sure to hear some tunes while in the square.
People watch some more - Seriously, there are just so many interesting people in Tahrir Square. You could people-watch for hours on end and never get bored.
What useful tourist tips do you have for visiting Tahrir Square?
Here are some useful tips for visiting Tahrir Square:
Wear comfortable shoes as you will be doing a lot of walking.
Dress conservatively, especially if you are a woman. This means covering your shoulders and knees.
Be aware of your belongings and keep them close to you as pickpockets are common in crowded areas.
If you want to take photos, ask permission first, as some people may not want their photo taken.
Be respectful of religious and cultural customs.
Avoid political discussions or anything that could be construed as criticism of the government.
With these tips in mind, make sure to have a great time visiting Tahrir Square!
Tahrir Square in Cairo: MUST-READ GUIDES ON AMAZON
It's 2011 and Egypt is ripe for change. Hopeful citizens are pouring into the streets. Mariam, an aspiring journalist, finds herself in the center of the excitement, in Tahrir Square, on a fateful day in January.
The Modern Standard Arabic Readers series aims to provide learners with much-needed exposure to authentic language. The fifteen books in the series are at a similar level (B1-B2) and can be read in any order. The stories are a fun and flexible tool for building vocabulary, improving language skills, and developing overall fluency.
The main text is presented on left-facing pages with tashkeel (diacritics) to aid in reading, while parallel English translations on right-facing pages are there to help you better understand new words and idioms. A second version of the text is given at the back of the book, without the distraction of tashkeel and translations, for those who are up to the challenge.
When Egyptians began demonstrating against the regime of President Hosni Mubarak on 25 January 2011, few could anticipate that the demonstrations would grow into a revolution to astonish the world. Millions of Egyptians were soon joining in every day in cities across the country, but Tahrir Square became the beating heart of the revolution, its center, its life force, and its spirit, a spirit that was peaceful, inclusive, creative, and determined. Swedish photographer Mia Gröndahl returned day after day to the square, to record the incredible tent city within a city that would not budge until the president did, and to capture the great humanity of the revolution that impressed Cairo, Egypt, and the world. This book presents a selection of Mia's moving photographs from those historic days, along with the testimony in words of some of the people who were there.
When protesters in Egypt began to fill Cairo's Tahrir Square on January 25th―and refused to leave until their demand that Hosni Mubarak step down was met―the politics of the region changed overnight. And the United States' long friendship with the man who had ruled under Emergency Law for thirty years came starkly into question.

From Franklin D. Roosevelt's brief meeting with King Farouk near the end of World War II to Barack Obama's Cairo Speech in 2009 and the recent fall of Mubarak―the most significant turning point in American foreign policy since the end of the Cold War―this timely new book answers the urgent question of why Egypt has mattered so much to the United States. The Road to Tahrir Square is the first book to connect past and present, offering readers today an understanding of the events and forces determining American policy in this vitally important region.