|
Amman invites you on a journey through Time, as the city's storied past is elegantly revealed in its architecture—the Roman Amphitheater, the Citadel, and the fascinating ruins of Jerash await your exploration. This modern city's thriving arts scene is a testament to its creative spirit, housing a plethora of contemporary galleries, street art, and cultural centres.
Delight your taste buds with the city's vibrant culinary scene, blending traditional flavours with contemporary flair. From tantalizing street food and aromatic local dishes to exceptional international cuisine, Amman's gastronomic offerings will leave you craving more.
Amman continually embraces new trends, ideas, and experiences as an ever-evolving city. From bustling souks to chic boutiques and lively nightlife hotspots to tranquil sanctuaries, Amman caters to every traveller's whim and offers a wealth of unforgettable memories.
In this guide, we will attempt to answer some of the most frequently asked questions about visiting the site, including:
Things to do with Kids? Things to do for Couples? Tips for visiting? - more.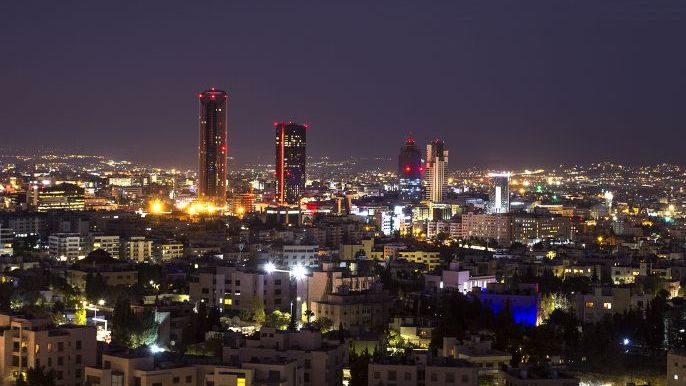 The Ultimate Guide to Amman, Jordan for First-Timers
So you're planning a trip to Jordan, eh? Good choice! With its rich history, friendly locals, and mouthwatering food, it's no wonder that Jordan is quickly becoming a sought-after destination.
Amman, the bustling and vibrant capital city in the heart of this breathtaking country, offers a harmonious blend of ancient and modern attractions. First-timers in Amman might feel slightly overwhelmed by the sheer number of things to see and do, but never fear – we've got your back! This guide aims to provide you with an ultimate list of the best things to do and places to visit in Amman for first-time visitors.
Before we dive into our list, it's important to note that Amman is a city built on seven hills, which means you'll be negotiating some pretty steep inclines and busy streets as you explore. So lace up those comfy shoes, grab your sense of adventure, and let's go!
The Roman Theatre - a trip back in Time
You can only visit Amman by checking out its impressive historical sites. Start with the Roman Theatre, a beautifully-preserved structure built in the 2nd century AD. This impressive theatre can hold up to 6,000 spectators and remains used today for various cultural events. Oh, it's also an awesome spot for selfies!

Next, make your way uphill to the Amman Citadel. This ancient site boasts jaw-dropping city views and is home to the Temple of Hercules, Umayyad Palace, and the Jordan Archaeological Museum.

Pro tip: Schedule your visit to the Citadel just before sunset. Trust us, witnessing the sun setting over Amman's rolling hills is an experience like no other.
Wander the bustling streets of Downtown Amman - immerse in the local culture.
Every trip to Amman is complete with spending time in its bustling downtown district. Lose yourself in the winding alleys adorned with vibrant street art, wares, and chatter as you soak in the local culture.

Pay a visit to the Grand Husseini Mosque, and afterwards, make your way to the nearby souks to put your bargaining skills to the test. From aromatic spices to locally handcrafted souvenirs, you will find delightful gifts for friends and family and a few treasures.
Feast on Jordanian cuisine - your tastebuds will thank you.
Speaking of indulgence, have you ever tried Jordanian food? You're in for a treat! Amman is teeming with local eateries that offer flavoursome and authentic Jordanian dishes. Some must-try items include falafel, musakhan (chicken with onions, olive oil, and sumac), mansaf (Jordan's national dish of lamb cooked in yoghurt), and knafeh (a delicious dessert made from cheese and sugar-soaked pastry).

One highly recommended eatery with a great atmosphere is Hashem Restaurant in downtown Amman. Legendary for its falafel and hummus, you can't go wrong here.
Visit the Jordan Museum - gain insight into Jordan's rich history.
For history buffs, the Jordan Museum is a must-visit destination. Featuring artefacts dating back thousands of years, the Jordan Museum tells the story of Jordan's history and cultural heritage. Among the highlights is the Ain Ghazal statues, some of the oldest large-scale humanoid statues ever found.
To sum it all up, Amman may be steep in incline, but it's even steeper in attraction! Whether you fancy history, food, shopping, or cultural immersion, Amman caters to every whimsy. Remember to pack your spirit of adventure, and be prepared to delight in the magic awaiting you in this captivating city. Enjoy your trip, and remember to take many pictures to make your friends back home envious of your Arabian escapade!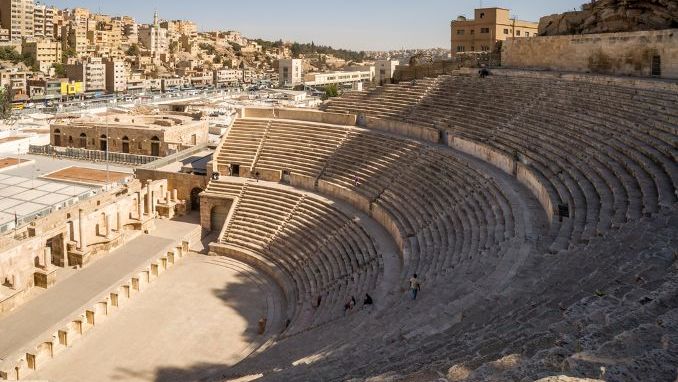 Things to Do in Amman, Jordan for Couples
Amman is an idyllic destination for couples seeking unforgettable adventures together. This remarkable city offers various romantic activities full of bonding experiences and exploration. So, buckle up and let's dive into the best things to do in Amman for lovebirds eager to make new memories!
Stroll Hand-in-Hand Through the Rainbow Street
Begin your romantic escapades by strolling along the vibrant and colourful Rainbow Street in Amman's heart. This bustling thoroughfare is the perfect spot for couples to enjoy window shopping, taste scrumptious local delicacies, and soak in the lively atmosphere. Don't miss out on soaking in the spectacular city views from one of the many charming rooftop cafés, which make for a cosy spot to unwind with your partner as you watch the sunset.
Unearth the Enchanting Ruins of the Amman Citadel
Nothing spells romance better than exploring the mysteries of the past with your significant other. The ancient Amman Citadel, believed to be among the world's oldest continuously inhabited places, invites couples to steal glimpses of Amman's captivating history. Wander hand-in-hand through the remnants of the Roman, Byzantine, and Umayyad periods, and marvel at astonishing structures such as the Roman Temple of Hercules, the Umayyad Palace, and the Byzantine Church.
Savour a Romantic Dinner at a High-End Restaurant
What better way to experience the heart of Jordanian culture than by tickling your taste buds with flavorful local cuisine? Treat yourselves to a romantic evening at one of Amman's fine dining establishments, which promise the perfect blend of mouthwatering dishes and a cosy ambience. The most popular choices include Levant Restaurant, Fakhreldin, and the Nubian-inspired Sufra. Remember to try the renowned Jordanian Mansaf, a delicious and rich feast of spiced rice and tender lamb!
Find Serenity in the Ancient City of Jerash
Just a short drive from Amman lies the awe-inspiring ancient city of Jerash, one of the best-preserved Roman cities in the world. With your sweetheart by your side, traverse the enchanting ruins and imagine life from long ago as you stroll through the ancient streets, marvelling at the magnificent Hadrian's Arch, the vast Oval Plaza, and the stunning Roman Amphitheater.
Rejuvenate with a Couples Treatment at a Luxury Spa
Reward yourselves after a day of exploration with a revitalizing spa treatment. Many of Amman's luxury hotels boast world-class spas offering decadent couples' packages to help you unwind and reconnect. Pamper yourselves with soothing massages, invigorating scrubs, and luxurious therapies as you celebrate your love in a serene, tranquil setting.
Immerse Yourselves in Amman's Vibrant Art Scene
Art-loving couples will find their haven in Amman's thriving art scene, showcasing Jordan's creative spirit. Discover contemporary masterpieces and traditional artworks at the many galleries scattered across the city, such as the Dar Al-Anda Art Gallery, Wadi Finan Art Gallery, and The Jordan National Gallery of Fine Arts. With intriguing exhibits and gorgeous works, they're ideal spots for couples to bond over their appreciation of the arts.
Experience the Nightlife at Amman's Trendy Bars and Clubs
As the sun sets over the city, Amman comes alive with a bustling nightlife scene perfect for couples who enjoy dancing the night away. Sip on enticing cocktails or unwind with a glass of wine at some of Amman's trendiest bars and clubs, such as Chaplin's, Blue Fig, or Sekrab. With great music, fabulous drinks, and a lively atmosphere, it's the perfect way to end a day of romance with your sweetheart.
With its rich history, thriving culture, and endless activities, Amman is undoubtedly an ideal destination for couples seeking to deepen their bond and embark on memorable adventures. So pack your bags, and embark on an unforgettable journey with your loved one in the magical city of Amman, Jordan!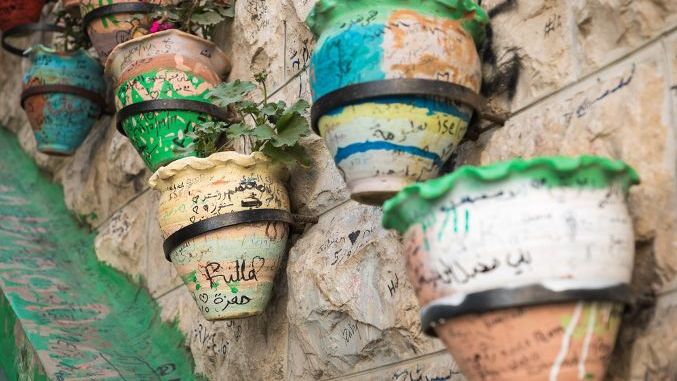 Things to Do in Amman, Jordan, with Kids
Amman, Jordan's bustling and vibrant capital, is a fabulous destination for families seeking unique adventures and unforgettable experiences. It offers a delightful mixture of ancient history, bustling markets, and kid-friendly activities.
Planning a holiday to Amman with your little ones? Don't sweat it! Here's a comprehensive list of things to do in Amman with kids that guarantee an enjoyable and engaging trip for the entire family.
Visit the Children's Museum in Jordan
No family trip to Amman is complete without a visit to the Children's Museum in Jordan. This interactive museum, designed for children aged 1-12, offers over 150 engaging, hands-on exhibits encouraging creativity, curiosity, and learning. The museum is divided into thematic zones, including The Secret Garden, The Human Body, and Techno Future, ensuring that kids of all interests and age groups stay intrigued and entertained.
Have a Splash at the Al-Wadi Water Park
One of the best things to do with kids in Amman, Jordan, is to escape the city's heat by taking a trip to the Al-Wadi Water Park. This exciting attraction features thrilling water slides and multiple swimming pools suitable for toddlers and older kids. The variety of water games and fun-filled aquatic activities make it an ideal spot for families to keep cool while having a fantastic time together.
Journey Through Time at the Jordan Museum
The Jordan Museum, located in the heart of Amman, offers a comprehensive insight into Jordan's rich history and culture. This world-class museum features captivating displays of ancient artefacts, including the famous Ain Ghazal statues and Dead Sea Scrolls. Interactive exhibits and educational programs help children connect with the country's past engagingly. Plus, the museum organizes exhibition-based activities like treasure hunts and storytelling sessions, making it an ideal destination for inquisitive minds.
Indulge in a Creative Experience at The Orenda Tribe Art Studio
Let your little artists run wild at The Orenda Tribe Art Studio. This inclusive, family-friendly space offers regular workshops and classes designed to foster creativity and self-expression in youngsters. With various artistic mediums, including painting, pottery, and collage-making, the studio provides a fantastic opportunity for children to explore their artistic side and participate in an inspiring community.
Take a Trip to the Royal Automobile Museum
Visiting Amman's Royal Automobile Museum is a must for families with car enthusiasts. Home to a stunning collection of classic and luxury cars and motorcycles, this museum is dedicated to showcasing King Hussein's passion for automobiles. The meticulously maintained vehicles on display span a century of automobile history and include rare models, like the 1952 Aston Martin DB2 and the 1958 Mercedes-Benz 300 SL. Children will be thrilled to see these magnificent machines up close and learn about the evolution of the automobile industry.
Amman, Jordan, is an exceptional family-friendly destination with kid-approved attractions and activities. From fascinating museums and historical sites to creative art studios and thrilling water parks, Amman promises an unforgettable experience for families embarking on their first visit to this wondrous city. So pack your bags and get ready to explore the magic of Amman with your little adventurers!
Tips for Visiting Amman: Making the Most of Your Journey
Here are some invaluable tips for visiting Amman, including navigating public transport, finding the best eats, and exploring iconic sights. So grab your passport, pack your sense of adventure, and let's dive into the exciting world of Jordan's vibrant heart.
Embrace the Local Customs
First and foremost, it's essential to embrace local customs and etiquette when visiting Amman. It's helpful to familiarise yourself with some basic Arabic phrases that will come in handy during your stay. Many locals appreciate when visitors make an effort to communicate in Arabic, even if it's to say "hello" (Marhaba) or "thank you" (shukran). Also, keep in mind that Jordan is a predominantly Muslim country, so it's a good idea to dress modestly and cover your shoulders and knees, particularly when visiting religious sites.
Navigating Public Transport
Getting around Amman can be a challenge, but with a little know-how, you'll be zipping around the city like a local in no time. Buses are the most affordable option for traversing the city but can be crowded and sometimes unreliable. In contrast, taxis are convenient and relatively inexpensive

Remember to agree on a price before setting off, or make sure the driver uses a meter to avoid any misunderstandings.Another option is to use ride-sharing apps like Uber or Careem, which have become increasingly popular in Amman. They're affordable, reliable and provide the added convenience of hailing a ride from your phone. Plus, there's no need to worry about haggling over prices or navigating in a language you may not speak fluently.
Feast on Delicious Middle Eastern Cuisine
Visiting Amman without indulging in the mouthwatering local cuisine would be an absolute travesty. You cannot miss out on the fluffy falafel, tender shawarma or the delicious national dish of Jordan, mansaf. To find the best local eats, ask the locals! They are always happy to point you towards their favourite eateries, and there's nothing like discovering an off-the-beaten-path gem brimming with Middle Eastern delights.
Getting Your Culture Fix
Every trip to Amman would be complete with soaking up some of the city's thriving arts and cultural scene. After exploring the ancient ruins, head to the Jordan Museum, which offers an impressive collection of artefacts spanning Jordan's rich history. The Royal Automobile Museum, located in the western part of the city, displays an extensive collection of classic cars owned by Jordan's royal family – motor enthusiasts, you have been warned!

The Darat al Funun contemporary art gallery, nestled within an elegant set of historic buildings, showcases cutting-edge works from regional and international artists, making for a fascinating visit.
With these tips in hand, you're set to embark on an incredible journey through Amman's vibrant and enchanting streets. By engaging with the city's rich culture, preparing for the practicalities of transportation, and indulging your taste buds in the delicious local cuisine, you'll surely have an unforgettable visit to Jordan's capital. Good luck, and enjoy every minute of your adventure!