|
Petra, one of the New Seven Wonders of the World, is a must-see for any traveller to Jordan. But did you know that Petra is even more magical at Night? Petra by Night is a special event every Monday, Wednesday, and Thursday evening. During this two-hour experience, a local expert will guide you through the ancient city, sharing stories about its history and culture. You'll also enjoy traditional Jordanian music, dance, and a delicious Bedouin dinner.
Petra by Night is a truly unforgettable experience. It's the perfect way to end your day in Petra and will leave you with a lasting impression of this incredible place.
In this guide, we will attempt to answer some of the most frequently asked questions about visiting the site, including:
How to get there? Tips for visiting? How much does it cost to visit? - more.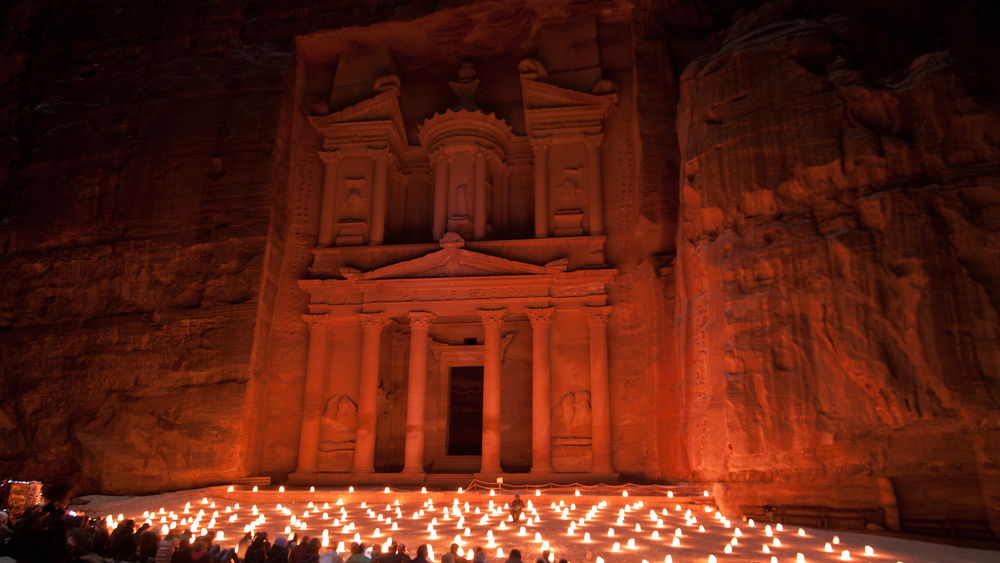 The History and Culture of Petra: A Timeless Treasure
To truly understand and appreciate the significance of Petra by Night, it's essential to delve into this fascinating ancient city's rich history and diverse culture. Having stood proudly for thousands of years in the heart of Jordan's southwestern desert, Petra continues to captivate and intrigue visitors from all walks of life with its astonishing tales of the past, present, and future.
Known initially as Raqmu, Petra's history dates back more than two millennia. Thought to have been settled as early as 9,000 BC, this wondrous site became the capital city of the Nabatean Kingdom around 300 BC, swiftly blossoming into a thriving hub of commerce and trade. Nabateans were gifted merchants, architects, and artists who built their desert dwellings, monuments, and temples directly into colourful sandstone cliffs.
One cannot help but marvel at the ingeniousness of Petra's design – its gorgeous facades now testify to the Nabateans' unmatched craftsmanship, which never fails to enthral its myriad onlookers. Moreover, the area's strategically carved waterways, tunnels, and dams attest to the Nabateans' inventiveness and ability to harness scarce water resources in arid surroundings.
As the focal point of trade between the Arabian Peninsula, Egypt, Greece, Rome, and Asia, Petra naturally blossomed into a melting pot of diverse cultures. This unique blend of influences is evidenced in the city's stunning architectural and artistic legacy, proudly showcasing intriguing Hellenistic, Egyptian, and Roman elements. Undoubtedly, Petra's main attraction is the breathtakingly beautiful red-sandstone Treasury, known as Al-Khazneh. It's intricate façade and jaw-dropping carvings, influenced by Hellenistic styles, leave visitors spellbound.
However, even Petra, so steeped in history and romance, was not immune to the ravages of time – a fact attested to by its several ancient earthquakes, ultimately leading to its decline. It sadly fell off the radar, later becoming a legend whispered amongst Bedouins, who became its sole inhabitants, fiercely guarding its secrets. It wasn't until 1812 that Petra was rediscovered by a Swiss explorer named Johann Ludwig Burckhardt, who dressed as an Arab Sheik to gain passage through the region.
Today, the Bedouins, who have lived in Petra for centuries, are an essential part of the local culture. Their warm hospitality, colourful attires, and beautifully handcrafted souvenirs add to the charm of this awe-inspiring city. For visitors, conversing with a local Bedouin whilst sipping a traditional cup of mint tea provides intriguing insights into Petra's history and the life of its people.
As you prepare to witness Petra by Night, remember that it holds a well-deserved place as one of the Seven New Wonders of the World and is designated as a UNESCO World Heritage site. This speaks volumes about its enchanting allure and adds weight to the obligation to cherish and preserve its beauty for generations.
Petra's appeal extends beyond the daytime hours, with the evening casting a magical aura over this majestic city. When the sun dips below the horizon, the hidden beauty of Petra begins to unfold. There, beneath the moonlight, visitors are invited to unveil the mysteries and secrets veiled within its dimly lit alleys and carved sandstone wonders.
Considering that you now understand Petra's fascinating history and culture better, imagine the soul-stirring experience of walking along the soft-lit Siq, guided by the silvery moon, with each step echoing hauntingly amongst the canyon walls. Before long, as you emerge from the shadows of the Siq, the jewel in the Petra crown – the Treasury – is revealed resplendently in its full glory. The perfect interplay of centuries-old history and unimaginable natural beauty lies in the flickering radiance of thousands of candles.
As you absorb the nuances and subtleties of Petra's bewitching history with each twinkling candle, remember that the marks left behind from the past nourish its surreal presence today – leaving you both enriched and enraptured. As you depart Petra with unforgettable memories etched in your soul, remember it's not just the beauty of this ancient city that leaves an indelible mark but also the opportunity it provides to wander through the annals of time, inhabiting a world that has enthralled many generations before you. So, embrace the extraordinary gift that is Petra by Night, and be prepared to surrender yourself to an evening like no other.
What to Expect at Petra by Night
Picture this, you're walking along a dimly lit path, the wind gently whistling through the air, and surrounded by the stunning natural beauty of ancient rock formations. Then as you continue further along the path, you're suddenly met with the sight of shimmering candles in the darkness, leading up to one of the most astonishing and awe-inspiring structures ever constructed by humankind. No, it isn't a fairytale setting – welcome to Petra by Night, a truly mesmerising and unforgettable experience that will leave you utterly speechless.
Petra, the world-renowned archaeological site in Jordan, is an absolute must-see for any curious traveller. But while most visitors tend to explore her wonders during the daytime, there's a unique and magical aura about visiting Petra under the moonlit sky. That's when the atmosphere takes on an almost indescribable quality, offering you the chance to get up close and personal with this magnificent ancient city in a brand-new light – or, more precisely, the lack thereof.
As the sun sets over Petra, you'll witness a wondrous transformation unfold before your very eyes. After paying your entrance fee and passing through the charming visitor centre, you'll approach the start of the iconic Siq, the narrow gorge that serves as the ancient city's entryway. Here's where your journey into the mysterious and enchanting world of Petra by Night truly begins.
Beginning at around 8:30 pm, you'll stroll along the breathtaking path of Siq, illuminated solely by hundreds, if not thousands, of flickering candles. Their gentle glow casts an ethereal aura across the sandstone cliffs, making the surroundings appear almost otherworldly. The candlelit journey continues for about a kilometre, with the soft, romantic lighting bouncing off the sandstone walls to create ghostly, larger-than-life shadows.
This gentle nighttime walk is unlike anything you'd experience during the day, with the darkness adding a layer of mystique to the already dramatic setting. The sense of anticipation builds as you navigate through the Siq, but nothing quite prepares you for the jaw-dropping sight that awaits you at the end of the path.
As you approach the final bend, you'll catch your first glimpse of Al-Khazneh, the Treasury building, one of Petra's most iconic structures. Standing tall in the candlelit Night, this ancient marvel is truly breathtaking, silhouetted against the clear black sky. It emits a kind of magic as the flickering light dances across the facade, the intricate carvings coming alive against the Night.
Once you've reached the Treasury, you'll settle down on the Bedouin-style mats in front of the monument, which aims to make your experience as comfortable and enjoyable as possible. Then, prepare your senses for an astonishing performance by local musicians, filling the atmosphere with a chill-inducing combination of traditional tunes and haunting melodies. It's almost impossible not to be moved by the flute's melancholic sound, the oud's rhythmic strum, and the low, sonorous chants echoing around the ancient mausoleum.
As you listen, enveloped by the darkness and the enchanting melodies, it's all too easy to let your imagination run wild as you're transported back in time to the days when the bustling city of Petra was at its full glory. The sense of connection with history and the ancient world at that particular moment is truly one of the most unique and priceless experiences you can have.
Ultimately, Petra by Night is a bucket-list-worthy experience you will remember quickly. The captivating beauty of the ancient city, further amplified by the soft glow of candlelight, is both magical and humbling, providing a stunning insight into the rich history and culture that make Petra the gem it is today, whether a seasoned traveller or a first-time explorer, Petra by Night is an evening you'll treasure for the rest of your life – and with good reason.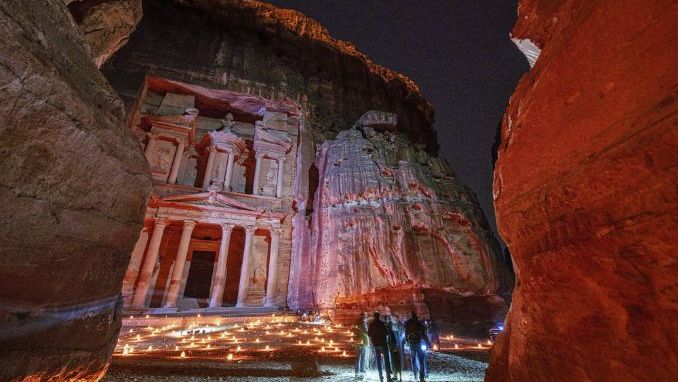 Entrance Fee and Tickets for Petra by Night
As mesmerising as Petra by Night may sound, it's crucial to know about the entrance fee, separate from the standard daytime ticket. So, how much does it cost to experience the wonders of Petra by Night? A ticket for this enchanting event costs 17 Jordanian Dinars, roughly equal to 24 US Dollars. Do bear in mind that prices may fluctuate with the exchange rate or potential increases in fee rates. The entrance fee is universal, meaning it applies to locals and foreign tourists, and it's collected at the Visitor Centre of Petra.
It's essential to note that the Petra by Night entrance fee is not included in the Jordan Pass, which covers only daytime entrance fees to over 40 of Jordan's top attractions, including Petra itself. The Jordan Pass may save you a pretty penny on admission fees to various Jordanian attractions, so it is highly recommended. However, remember to set aside that extra amount for the Petra by Night experience, as it is considered an individual, separate event.
If you're concerned about costs adding up, let's put things into perspective: the Petra by Night entrance fee provides an unparalleled opportunity to immerse yourself in an enchanting and otherworldly atmosphere, something which is truly priceless. For the equivalent of around 24 US Dollars, you can walk down the Siq, a kilometre-long gorge filled with candlelit pathways that guide you to the Treasury or Al-Khazneh. Upon reaching the Treasury, you'll be greeted by the radiant sight of the façade glowing in the warm, flickering lights of countless candles, augmenting its already impressive beauty. With traditional Bedouin music resonating through the air and the arresting play of shadows cast by the candles, it's an experience that'll leave you utterly spellbound.
Now, for those who appreciate a good deal or a nifty travelling hack, there is some good news. If you plan to spend at least two nights in Petra, then the cumulative cost of the Petra entry tickets and the Petra by Night entrance fees can be notably reduced. Here's the lowdown: purchasing the standard two-day entry ticket to Petra will cost 55 Jordanian Dinars as of current pricing. However, buy a three-day ticket instead for 60 Jordanian Dinars. You'll receive free entry to the Petra by Night experience, besides the extra day of access to the famed archaeological site. So, for a mere five Jordanian Dinars more, you'll gain both added daytime exploration and the enchanting experience of Petra at Night - indeed, an offer worth pondering!
Petra by Night entrance fee is worth it. If you're keen on cutting costs, take advantage of the bundled three-day ticket offer to get the Petra by Night experience practically for free. So, pack your sense of wonder and let Petra at Night whisk you on an unforgettable journey amidst the illuminated beauty of Jordan's ancient Rose City.
Tips for a Petra night experience
Petra by Night is a unique experience that should be on everyone's bucket list. So, without further ado, let's dive in and explore a few helpful suggestions!
Arrive Early and Plan Your Time Wisely: Petra by Night takes place several times a week, but remember that it's an enormously popular event, attracting numerous visitors every time. It's vital to arrive early, preferably well ahead of the starting time of 8:30 pm, as there tends to be a large queue to access the show. Factor in plenty of time to stroll through the Siq, the magnificent narrow gorge that leads you to Al-Khazneh, because you'll undoubtedly want to pause now and then to marvel at the beauty of the candlelit path.
Dress in Layers and Bring a Warm Jacket: While daytime temperatures in Petra can soar, a nippy chill often infiltrates the air after sunset. Make sure you're prepared for the change in weather by dressing in layers and packing a warm jacket to ensure your comfort during the performance. It can be particularly chilly while seated during the Bedouin music show at the Treasury, so it's best to be adequately prepared.
Bring a Quality Camera or Smartphone: The magical sight of The Treasury illuminated by hundreds of candles is a memory you'll likely cherish for years. To capture the essence of the evening, you'll need to rely on more than just your senses - a quality camera or smartphone with low-light capabilities is a must. Consider investing in a tripod for stable, clear shots or use a portable surface to support your device. Remember that flash photography is discouraged, as it ruins the ambient atmosphere for your fellow visitors.
Opt for Comfortable and Sturdy Footwear: Walking through Petra's Siq and surrounding areas is challenging, particularly on the uneven cobbled paths lit only by flickering candles. You'll need solid, comfortable footwear to make the experience as enjoyable and as safe as possible. Leave those high heels and flimsy sandals at home, and opt for a good pair of walking shoes or trainers that can handle the terrain.
Prepare to Disconnect and Be Present in the Moment: Wi-Fi and mobile reception can be quite patchy in Petra, so be prepared to disconnect from your devices and fully immerse yourself in the experience. Embrace the ancient city's serenity and let the moment's magic envelop you. Sometimes, the best memories are those etched in our hearts and minds without digital distractions.
Respect the Environment and Local Culture: While it's easy to be swept up in the enchantment of the evening, don't forget the importance of respecting the surroundings and local customs. Ensure that you dispose of your litter responsibly and help preserve the delicate archaeological site for future generations. Refrain from using flash photography, loud noises or disruptive behaviour during the event out of respect for the Bedouin musician's performance and fellow spectators.
Stay Back and Socialise: After the main event ends, meet fellow travellers and mingle with the locals. The delightful conversations and fascinating stories shared by the Bedouin people of Petra will only enhance the beauty of your experience, etching it even deeper into your memory.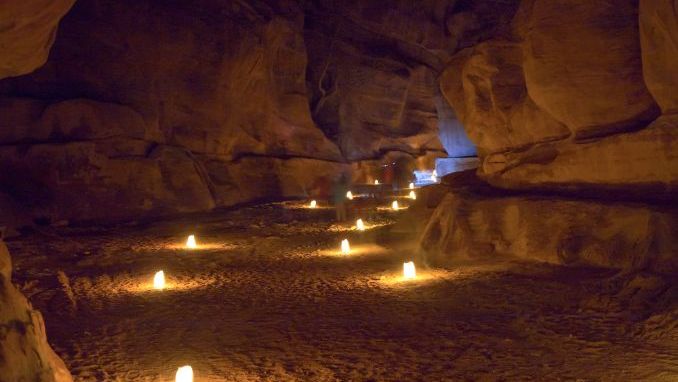 How to get to Petra
The most common way is by flying into Queen Alia International Airport in Amman, the capital city of Jordan. This is a major international airport that is well-connected to cities around the world. Once you touch down in Amman, you have a few choices to proceed to Petra.
If you prefer the convenience of a private transfer, you can arrange for a car and driver to take you directly to Petra. It's a scenic journey of approximately three hours, offering breathtaking views of the Jordanian countryside along the way. Private transfers can be pre-booked online or organized through your hotel. Just sit back, relax, and enjoy the ride!
For those seeking a more immersive experience, I highly recommend taking a domestic flight from Amman to Aqaba, a coastal city located in the southern part of Jordan. From Aqaba, you can embark on a thrilling adventure by road. Rent a car or hire a driver and hit the open highway towards Petra. The drive from Aqaba to Petra takes about two hours, and it's an opportunity to witness the stunning landscapes of the Jordanian desert up close.
If you're a fan of train travel, you're in luck! Jordan boasts a modern rail network that connects key cities, including Amman and Aqaba. Hop on a train in Amman and enjoy a comfortable journey to Aqaba. Once you reach Aqaba, you can follow the road route mentioned earlier to reach Petra.
Another popular option for reaching Petra is by bus. There are regular bus services that operate between Amman and Petra, offering a budget-friendly alternative for travelers. Buses depart from the Abdali bus station in Amman and take approximately four hours to reach Petra. The journey might be a bit longer than other modes of transport, but it provides a chance to mingle with locals and soak in the local flavor along the way.
If you're looking for an offbeat and adventurous way to reach Petra, consider a hiking expedition from the neighboring country of Israel. The Jordan Trail, a long-distance hiking trail that stretches from the northern border of Jordan to the southern tip, passes through Petra. Lace up your walking shoes, pack your backpack, and embark on an unforgettable journey on foot. This option requires careful planning and permits, but the rewards are immense – stunning landscapes, encounters with local communities, and a sense of accomplishment like no other.
Last but not least, let's not forget about the camel rides! Yes, you read that right. If you want to truly embrace the spirit of the desert, hop on a camel and trek your way to Petra. This alternative is not only fun but also allows you to connect with the Bedouin culture, the nomadic tribes that have inhabited this region for centuries. It might be a bit bumpy, but it's an experience you won't soon forget.
What are the costs involved in experiencing Petra by night
It's important to understand and plan for these expenses to ensure a smooth and enjoyable trip. In this essay, we will delve into the various costs that one may encounter when experiencing Petra by Night.
First and foremost, it's essential to consider the entrance fee for Petra. Petra by Night is an additional experience that requires a separate ticket from the regular Petra entrance. As of now, the cost of the Petra by Night ticket is 17 Jordanian Dinars, which is roughly equivalent to 24 US dollars. This fee grants you access to the captivating light show and the opportunity to roam around the Treasury, one of Petra's most iconic structures, illuminated by hundreds of flickering candles.
In addition to the entrance fee, travelers must also consider transportation costs. Petra is located in the southern part of Jordan and can be reached by various means. If you are already staying in the nearby town of Wadi Musa, you can easily walk to Petra. However, if you are staying further away or wish to utilize public transportation, there might be some additional costs.
Taxis are a popular option for getting to Petra, especially for those who prefer convenience and comfort. However, it is important to negotiate the fare beforehand to avoid any surprises. A safe estimate for a round trip taxi fare to Petra would be roughly 20 Jordanian Dinars, depending on your negotiation skills and the distance traveled.
On the other hand, if you prefer a more budget-friendly option, public transportation is available as well. There are buses that operate between major cities in Jordan, including Amman and Aqaba, with stops in Wadi Musa. The bus fare can vary depending on the distance traveled, but a rough estimate for a round trip from Amman to Petra would be around 10-15 Jordanian Dinars.
Once you have arrived at Petra, there are a few additional costs to consider. If you plan on exploring the site during the day before experiencing Petra by Night, you will need to purchase a regular entrance ticket as well. The cost of a one-day ticket to Petra is 50 Jordanian Dinars, which grants you access to the entire site for the day.
There is also an option to hire a local guide to enhance your Petra experience. A knowledgeable guide can provide valuable insights and historical context, giving you a deeper understanding of the fascinating history and significance of the ancient city. Guides can be hired at the entrance of Petra, and the cost can vary based on the duration and level of expertise required.
Another expense to consider is food and beverages. While Petra by Night does not include a meal, there are numerous food stalls and restaurants located within the site where you can indulge in delicious Jordanian cuisine. Prices can vary depending on your preferences, but a meal at a local restaurant can cost anywhere from 10-15 Jordanian Dinars per person.
It's also worth mentioning that souvenirs and handicrafts are widely available throughout Petra. From intricate jewelry to handwoven carpets, there are plenty of options to choose from if you wish to bring back a piece of Petra with you. The prices of souvenirs can vary greatly, so it's a good idea to shop around and compare prices before making a purchase.
Finally, it's important to consider the accommodation costs if you plan on staying overnight in Wadi Musa, the town closest to Petra. There are numerous hotels and guesthouses available, catering to a range of budgets. Prices can vary depending on the type of accommodation and the time of year, so it's advisable to do some research and book in advance to secure the best deal.
Recommendations for places to stay in Petra
First up, we have the Petra Marriott Hotel. This place is a true gem. Located just a stone's throw away from the entrance of Petra, it offers convenience like no other. You can literally walk right into the archaeological site from the hotel, saving you time and energy. The Petra Marriott Hotel boasts spacious rooms with stunning views of the surrounding mountains. The staff is incredibly friendly and always ready to help with any questions or concerns you may have. The hotel also offers a variety of amenities, including a fitness center, spa, and multiple dining options. It's the perfect place to relax and recharge after a long day of exploring Petra.
If you're looking for something a little more boutique, look no further than the Petra Moon Hotel. This charming hotel is located in the heart of Wadi Musa, just a short distance from Petra. The Petra Moon Hotel is known for its warm hospitality and attention to detail. The rooms are cozy and comfortable, with modern amenities that will make you feel right at home. The hotel also offers a rooftop terrace, where you can enjoy stunning views of the surrounding area. The staff is incredibly knowledgeable about the area and can provide you with valuable tips and recommendations for your visit to Petra.
Another great option is the Movenpick Resort Petra. This luxurious hotel is located right at the entrance of Petra, making it an ideal choice for those who want to be as close to the action as possible. The Movenpick Resort Petra offers spacious rooms with modern amenities and stunning views of the archaeological site. The hotel also features a variety of dining options, including a buffet restaurant and a rooftop bar. The staff is attentive and always willing to go the extra mile to ensure your stay is perfect. Plus, the resort offers a pool and spa facilities, so you can unwind and relax after a day of exploring.
If you're a fan of unique and immersive experiences, consider staying at the Seven Wonders Hotel Petra. This boutique hotel is located just a short distance from Petra and offers a truly unforgettable stay. Each room is designed to resemble a traditional Bedouin tent, giving you a taste of the local culture and heritage. The hotel also offers a variety of activities, including camel rides and traditional Bedouin music and dance performances. The staff is incredibly friendly and knowledgeable, and they can provide you with valuable insights into the local customs and traditions.
Last but not least, we have the Petra Guest House Hotel. This charming hotel is located right at the entrance to Petra, giving you instant access to the archaeological site. The Petra Guest House Hotel is known for its warm hospitality and cozy atmosphere. The rooms are comfortable and well-appointed, with all the amenities you need for a pleasant stay. The hotel also features a lovely garden area, where you can relax and unwind after a day of exploration. The staff is friendly and attentive, making you feel right at home.
Tips on photos at Petra by night
First things first, let's talk gear. While it's true that the best camera is the one you have with you, having some essential equipment can make a huge difference. When shooting at night, a tripod is an absolute must-have. It'll keep your camera steady and minimize any blurriness caused by shaky hands. Additionally, consider bringing a wide-angle lens to capture the impressive scale of the scene and a lens with a wide aperture for better low-light performance.
One of the most iconic things about Petra by night is the magical glow of the candlelit walkway leading up to the Treasury. To capture this enchanting sight, be sure to arrive early and secure a good spot. Set up your tripod and frame your shot, making sure to include the candlelight in the foreground, leading the viewer's eye towards the Treasury. Experiment with different angles and perspectives to find that perfect composition.
Now, let's talk about settings. Shooting in low-light conditions can be quite challenging, but with a few tweaks to your camera settings, you'll be well on your way to stunning nighttime shots. Start by switching your camera to manual mode and dialing in a lower ISO to minimize grain and noise. A range between 200 and 800 should work well, depending on the lighting conditions.
Next, adjust your aperture to a wider setting, such as f/2.8 or lower, to allow more light into the camera. This will help you achieve a shallow depth of field, with your subject in sharp focus against a beautifully blurred background. Keep in mind that a wider aperture may result in a shallower depth of field, so be mindful of what you want to be in focus.
Now, let's tackle the shutter speed. Since you'll be shooting in low-light conditions, it's important to use a slower shutter speed to let in enough light. However, using a slow shutter speed can introduce motion blur if you don't have a steady hand or if your subject is moving. To avoid this, make use of your trusty tripod and set your shutter speed to a longer duration, anywhere from a few seconds to several minutes. This will allow for a well-exposed shot without any unwanted blur.
Here's a little bonus tip for you – try experimenting with long exposure shots! Using a longer shutter speed, you can capture the movement of the candle flames, creating a mesmerizing effect. This technique can add a sense of motion and a touch of magic to your photos.
Lastly, don't forget to enjoy the moment and soak up the atmosphere. Trying to capture the perfect shot is important, but remember to take a step back and appreciate the beauty that surrounds you. Sometimes, the most captivating photos are the ones that capture the emotions and experiences of the moment.
Visiting Petra by Night is undoubtedly an evening you will remember in a hurry. By following these practical tips, you'll be well on your way to enjoying this magical event's best. So, prepare for a night to remember as you journey through time and history beneath the stars.