|
Are you searching for a remote yet captivating travel destination that is off the beaten track?
Look no further than the Dakhla Oasis in Egypt. This desert oasis boasts a rich history dating back to the Pharaonic era, making it a fascinating cultural and historical hub. Additionally, the scenery of Dakhla Oasis is breathtaking, with stunning landscapes that will leave you in awe. There is no shortage of natural beauty, from natural hot springs to scenic dunes and lush palm groves.
So pack your bags and join us to discover this hidden gem in Egypt's Western Desert.
In this guide, we will attempt to answer some of the most frequently asked questions about visiting the site, including:
What food is available? Recommended restaurants? Safety tips for visiting? - more.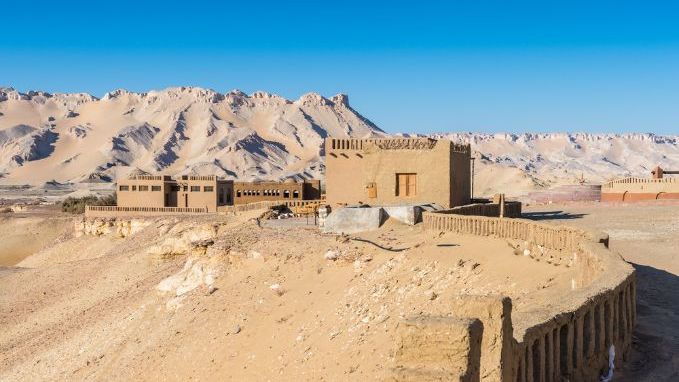 Definition of Dakhla Oasis
Dakhla Oasis is a captivating destination located in Egypt's Western Desert. Historically known as el-Wah or the Inner Oasis, it is characterized by its stunning landscapes and rich history. Once a significant trading route and the region's capital during the Pharaonic period, Dakhla Oasis is today renowned for its impressive monuments, natural beauty, and vibrant culture of its inhabitants.
The oasis is agriculturally cultivated with its numerous underground water sources and offers a relaxing atmosphere with its warm natural hot springs. Visitors can explore ancient villages, indulge in traditional cuisine, and find unique souvenirs handcrafted by Bedouins. Dakhla Oasis truly offers a unique and memorable travel experience.
A brief overview of the History and Geography of Dakhla Oasis
Dakhla Oasis is a desert oasis located west of the Nile River, between Cairo and Luxor in Egypt. It covers an area of about 2,000 square kilometres and is known for its rich history and stunning landscapes.
The oasis was inhabited as early as the 6th dynasty, around 2,550 BC, and was a vital trading route linking Dakhla to other oases and the Nile Valley. Dakhla Oasis is home to several important sites, including Mut, Al-Qasr village, and the Dakhla Oasis Heritage Museum. The region also offers natural attractions, such as hot springs and the opportunity to go on a desert safari tour.
Explore this hidden gem and immerse yourself in its fascinating history and breathtaking scenery.
Getting to Dakhla Oasis
Transportation options
Getting to Dakhla Oasis is relatively easy. The best way is to take an overnight train from Cairo, which will drop you off at the edge of the oasis early in the morning. From there, it's just a short taxi or donkey ride to Mut town, the largest settlement in Dakhla.
Once you're in the oasis, hiring a private driver or joining a tour is the most convenient way to get around, as the area is quite spread out. Exploring the ruins and natural attractions of Dakhla Oasis is worth it, and you'll want to ensure you have enough time to enjoy the crystal-clear pools and stunning landscapes.
Travel time and expenses
When planning a trip to Dakhla Oasis, it is important to consider travel time and expenses. The oasis is about 350 kilometres from Cairo, and several transportation options are available.
The most common way is to take a bus or a private car, which can take around 5-6 hours, depending on traffic and road conditions.
Another option is to take a domestic flight to the nearest airport, which is in Kharga Oasis, and then take a taxi or a shared minibus to Dakhla.
In terms of expenses, the cost of transportation will vary depending on the mode of transportation chosen. Buses and shared minibuses are usually the most affordable, while private cars and flights can be more expensive. It is also important to consider the cost of accommodations, meals, and additional activities or tours.
Travelling to Dakhla Oasis can be a unique and rewarding experience, but planning and budgeting for the trip is essential.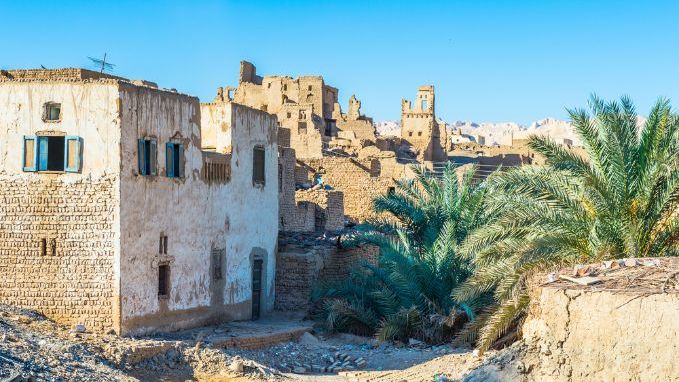 Accommodations in Dakhla Oasis
Types of accommodations available
When visiting the Dakhla Oasis, various accommodations are available to suit different preferences and budgets.
Traditional guesthouses and bed and breakfast establishments offer a cosy and authentic experience. These options often provide comfortable rooms with basic amenities and warm Egyptian hospitality.
Upscale hotels and resorts offer modern amenities, spacious rooms, and additional services such as swimming pools and spa facilities.
Camping is also an option, allowing visitors to immerse themselves in the natural beauty of the oasis fully.
No matter what type of accommodation you choose, you will find a comfortable and memorable place to stay during your visit to Dakhla Oasis.
Recommended places to stay
If you plan to visit the enchanting Dakhla Oasis, you'll want to ensure a comfortable and memorable stay. Luckily, there are some fantastic accommodation options in this desert paradise.
Al Tarfa Desert Sanctuary - Lodge & Spa
The Al Tarfa Desert Sanctuary: Lodge & Spa is highly recommended. Nestled among beautiful palm trees and surrounded by a pristine desert landscape, this lodge offers breathtaking views and a tranquil atmosphere. The rooms are uniquely designed with custom-made lamps and carpets, and the ceilings are made of interwoven palm leaves. The suites are equipped with fireplaces and plunge pools, and the swimming pool on the terrace offers stunning views of the surrounding desert.
Desert Lodge
Another excellent choice is the Desert Lodge, which features a traditional style with mud brick construction and elegant interiors. The lodge is set in a palm grove, and the rooms have private terraces with views of the desert. The lodge also has a swimming pool, a restaurant, and a bar.
Both of these options provide a unique and authentic experience, allowing you to truly immerse yourself in the beauty and charm of the Dakhla Oasis.
Top Things to See and Do in Dakhla Oasis
1. Visit the Al-Qasr village.
Located in the heart of the Dakhla Oasis, Al-Qasr village is a must-visit destination for travellers looking to immerse themselves in the rich history and culture of the region. This ancient village is steeped in tradition and boasts well-preserved buildings that date back centuries.
As you wander the winding streets, you'll feel like you've travelled back in time. There is much to explore and discover, from the school and mosque to the olive oil factory and court. Please take advantage of the opportunity to interact with the friendly locals eager to share their stories and traditions.
A visit to Al-Qasr village is a journey into the past and an experience you will remember.
2. Explore the ancient city of Mut.
The ancient city of Mut is the largest and most important location within Dakhla Oasis. Its history dates back to the 6th dynasty, around 2550 BC when it was a crucial trading route connecting Dakhla to other oases and the Nile Valley.
Mut is known for its iconic mud-brick houses and narrow lanes, reminiscent of old Islamic architecture. One of the main attractions is the spa of Bir Talata, which offers warm water rich in sulfur and iron, renowned for its therapeutic properties.
Nearby, you'll find the necropolis of Al Muzwaqa, with around 300 rock-hewn tombs, including the famous Petosiris and Petubastis, adorned with traditional ancient Egyptian artwork and symbolism.
3. Discover the Islamic village of Balat.
When exploring the fascinating Dakhla Oasis, visiting the Islamic village of Balat is a must.
This historical village, located northeast of Bashindi, holds significant importance from both a historical and architectural perspective. It is famous for being the site of two of the most renowned archaeological sites in Egypt's Western Desert: the Qila El Dabba Necropolis and Ain Asil, the capital of the Oases during the Old Kingdom.
Here, you can witness the mesmerizing remnants of the past, including fantastically decorated tombs and ancient structures. With its rich history and enchanting architecture, visiting the Islamic village of Balat will surely leave you in awe.
4. Enjoy the natural hot springs.
Visiting the natural hot springs in Al Dohous village is a must-try experience in Dakhla Oasis.
The hot springs are a perfect way to unwind and relax amidst the stunning desert landscape. The water, rich in sulphide and iron, is heated to around 40 degrees Celsius, making it perfect for a refreshing dip.
Whether you visit early or during the day, these natural hot springs provide a calming and rejuvenating experience that will leave you feeling refreshed and revitalized. Take advantage of this opportunity to connect with nature and pamper yourself in the healing waters of Dakhla Oasis.
5. Take a desert safari tour
When visiting the Dakhla Oasis, one activity that you definitely should take is taking a desert safari tour. This thrilling adventure will allow you to explore the breathtaking beauty of the surrounding desert landscapes and experience the traditional Bedouin culture.
You can opt for a day trip that includes visits to Al-Gedida and Qalamun, where you can drive through the dunes, visit a rejuvenating spring, and explore the ancient village of Al-Qasr. For a more immersive experience, you can also embark on longer trips arranged by expert camel guides. Check for necessary permits if you want to venture into distant areas.
A desert safari tour in Dakhla Oasis is an unforgettable experience that will leave you with lasting memories of this unique desert paradise.
Food and Drinks in Dakhla Oasis
Traditional Dakhla Oasis cuisine
Regarding traditional cuisine, Dakhla Oasis has some delightful dishes to offer.
Molokhia is a green leafy vegetable cooked with a flavorful broth and served over rice or bread.
Fattah is a hearty dish made with bread, rice, and meat, usually lamb or chicken.
These traditional dishes are not only delicious but also reflect the rich culinary history of the oasis.
So, if you're a food lover looking to explore new flavours, indulge in the traditional cuisine of Dakhla Oasis during your visit.
Restaurant recommendations
When it comes to dining in Dakhla Oasis, there are some fantastic restaurant options to choose from.
One popular spot is in Sharia Al Wadi, behind El Forsan Hotel. They offer delicious grilled meat, shish kebab cuisine, and dishes like potatoes in tomato sauce, rice, and beans.
If you're looking for Egyptian cuisine, head to Sharia Al Thawra Al Khadra. There you will find a variety of delicious traditional dishes, fresh juices and shisha.
And for those with a sweet tooth, there's a bakery that offers fresh pastries right out of the oven.
These dining choices will satisfy your cravings and provide a taste of the local cuisine.
Shopping in Dakhla Oasis
Local souvenirs to bring home
When visiting Dakhla Oasis, there are several local souvenirs that you can bring back home as a reminder of your trip.
One popular choice is the handcrafted Bedouin items sold in the towns of Dakhla Oasis. These souvenirs showcase the genuine beauty of ancient Egyptian Bedouin culture, and you can find a wide range of items such as jewellery, textiles, and pottery.
Another great souvenir to consider is the locally produced olive oil, known for its high quality and rich flavour.
Remember also to explore the local markets and shops, where you can find unique handicrafts and traditional Egyptian products.
Markets and shops to visit
When visiting Dakhla Oasis, exploring the local markets and shops is a must-do activity. These vibrant spaces offer a glimpse into the local culture and provide opportunities to purchase unique souvenirs.
One of the top markets is Al-Qasr, where local farmers sell various goods, including basketry, food, and straw hats. Here, you can immerse yourself in the bustling atmosphere and interact with the friendly locals.
Mut Town also offers a tourist office where you can find more information about the surrounding area and discover more shops. Take the chance to bring home a piece of Egyptian culture from these wonderful markets and shops.
Safety Tips for Travelers
General safety guidelines
When travelling to Dakhla Oasis, it is important to remember some general safety guidelines to ensure a smooth and enjoyable trip.
Plan your itinerary. This includes researching transportation and accommodation options.
Dress modestly and respectfully, especially when visiting religious sites.
Carry a copy of your identification, important contact information, and travel insurance.
Stay hydrated and protect yourself from the sun by wearing sunscreen and a hat.
Be aware of your surroundings and follow any local laws and customs.
By following these general safety guidelines, you can have a worry-free and memorable experience in Dakhla Oasis.
Cultural norms and customs to be aware of
When travelling to Dakhla Oasis, it is important to be aware of the cultural norms and customs of the area.
Egyptians are known for their hospitality and friendliness, so it is important to reciprocate this kindness.
It is customary to greet people with a smile and a handshake.
Modesty is valued in Egyptian culture, so it is advisable to dress modestly, especially when visiting religious sites.
It is also important to respect local customs and traditions, such as removing your shoes when entering someone's home and always using your right hand for greetings and eating.
By respecting these cultural norms, you will have a more authentic and immersive experience and show respect for the local community.