|
Khan el-Khalili is one of the most famous and interesting places in Cairo, Egypt. It is a large bazaar and market area over 600 years old. It is where you can find almost anything, from spices to souvenirs to clothing.
It was built in the 14th century by the Mamluk Sultan and is one of the largest markets in the Middle East. It is a popular tourist destination, one of the few places in Cairo that have maintained its traditional architecture and atmosphere.
The market was once the largest in the world and was home to over 3,000 shops. However, over the years, it has shrunk and only has around 1,500 shops.
This guide will cover the history, architecture, crafts and festivals at Khan El-Khalili. It will also try to answer some of the most frequently asked questions about visiting the site, such as: Why visit? When is the best time to go? Is it safe? What souvenirs can I buy? How do I get there? - and more.
Bazaar history
The market was initially built in the 14th century by the Mamluk sultan, Barquq. It was originally known as the Souq al-Juma, or Friday Market.
The market was built to be a place where people could come to buy and sell goods, and because of that, it quickly became one of the busiest places in Cairo.
In the 16th century, the market was renamed Khan el-Khalili, after the Mamluk sultan, Khalil. The market continued to be a thriving place for commerce and was even frequented by foreign travellers.
In the 18th and 19th centuries, the market underwent a decline. This was due to the rise of European-style department stores and the opening of the Suez Canal, which made it easier for Europeans to get goods from Asia. However, the market began to rebound in the early 20th century.
Today, it is once again a thriving market. It is full of shops selling everything from spices to souvenirs. The market is also a popular place to eat, with many restaurants and coffee shops.
Khan el-Khalili is a place with a long and rich history. It is where people from various walks of life come to shop, haggle, and eat. The market is an accurate representation of Cairo and its people.
The Architecture
Khan el-Khalili is renowned for its Mamluk-style architecture. The Mamluk Sultanate was a medieval Muslim state that ruled Egypt and Syria from 1250 to 1517.
This style of architecture is characterized by its use of stone and brick, ornate decorations, and tall, slender minarets.
Khan al-Khalili's most famous Mamluk-style buildings include the Mosque of Ibn Tulun, the Mosque of Sultan Hasan, and the Mausoleum of Sultan Qalawun.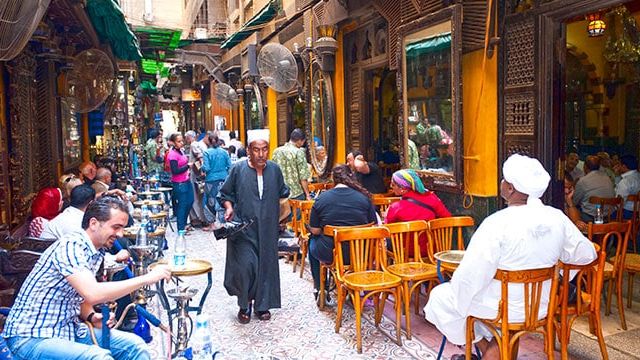 Crafts
The market is home to hundreds of labourers and artists who specialize in hand-crafted wonders, including carpets, crystals, papyrus, gold artefacts and silver jewellery, and traditional crafts.
Additionally well-known are its exquisite pharaonic artefacts, handicrafts, diverse stones, natural herbs, and oud imported from Saudi Arabia, as well as stained-glass abrasions and hookahs (Arabic shisha).
In addition to the pharaonic papyrus with hieroglyphic signs and colours that narrates the story of Isis and Osiris, the market has a section dedicated to leather and copper products as well as ancient accessories like swords, copper helmets, and belts.
Festival
The carnival of Khan El Khalili visitors is a celebration where you can try the Bedouin customs and take some photos.
Women of all nationalities make sure to buy the Ein Horus necklace. The necklace is made of various materials. It was believed that Horus's eye protects its owner from envy and harm, but make sure you haggle to get the best price!
Frequently Asked Questions
Why Visit Khan el-Khalili?
There are many reasons to visit Khan el-Khalili.
First, it is a great place to find souvenirs and gifts for friends and family back home. The market is full of stalls selling Egyptian souvenirs, from traditional hand-painted pottery to papyrus scrolls. You can also find spices, perfumes, and other local products. Bargaining is expected, and it is part of the fun to haggle with the vendors for the best price.
Second, It is a great place to experience Egyptian culture. The market is full of life, with people from all walks of life coming to shop, eat, and socialize. One of them is the famous Nageeb Mahfouz, a Nobel Prize winner.
Third, It is a great place to eat. Many stalls and restaurants serve traditional Egyptian food, from falafel and koshary to grilled meats and fuul. You can also find snacks and drinks to keep you going as you wander through the market.
Finally, It is a great place to take photos. The market is full of colour and life, making it a great place to take pictures. Visitors can also find a wide variety of traditional Egyptian architecture in the market.
So why not add Khan el-Khalili to your travel plans? It is an exceptional place to find souvenirs, experience Egyptian culture, and eat delicious food. The market can be a bit overwhelming at first, but it is worth visiting.
Who will enjoy visiting Khan el Khalili Bazaar?
Whether you are looking to bargain for a good deal or enjoy the sights and sounds of this bustling marketplace, The Bazaar is sure to delight you. Here's a list of groups of people who will enjoy visiting the market:
Shopaholics: The Bazaar is a shopper's paradise, with vendors selling everything from spices to souvenirs. Whether you are seeking a great deal or want to browse, you will find what you are looking for in this bustling marketplace.
Foodies: The Bazaar is home to many restaurants and cafes, making it the perfect place to enjoy a delicious meal. From traditional Egyptian cuisine to international dishes, there is something for everyone to enjoy.
Bargain hunters: Visitors to the market can bargain with vendors for the best prices on goods.
Those looking for an authentic Egyptian experience: The market is a great place to experience some of Cairo's culture and get a feel for the city's vibrant atmosphere.
History buffs: The history of The Bazaar dates back centuries, and it is one of the most iconic and well-known markets in Cairo. If you are interested in learning about this market's history, take a stroll through it and soak up the atmosphere.
Photographers: The Bazaar is a photographer's dream with its colourful shops and lively atmosphere. Be sure to bring your camera and capture the beauty of this market.
Adventure seekers: The Bazaar is an excellent place to people-watch and explore. Get lost in the winding alleyways and see what surprises this market has in store for you.
Whether you are an experienced traveller or this is your first time visiting Egypt, Khan el-Khalili is sure to be a pleasurable and memorable experience.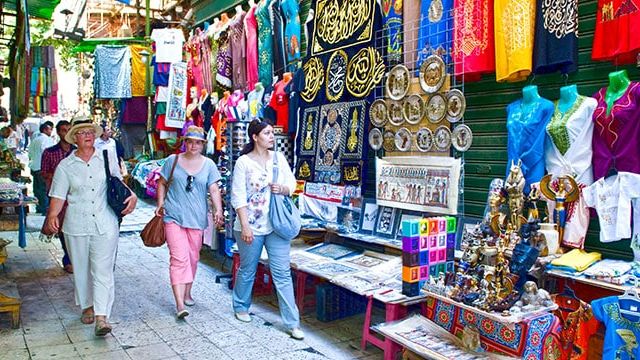 What is the best time of the year to visit Khan el-Khalili?
The market is open all year round, but the best time to visit is during winter.
The weather in Cairo is usually scorching and humid during the summer months. This can make shopping in the market very uncomfortable. The winter months are much cooler and more comfortable for shopping.
Another reason to visit here during the winter is the Christmas decorations. The market is decorated with lights and Christmas trees. It is a very festive atmosphere.
If you are looking for the best deals on souvenirs, the winter months are also the best time to visit. Many of the shops in the market offer discounts on their merchandise during this time of year.
However, if you seek a more authentic experience, the best time to visit is during the Islamic holy month of Ramadan. This is when the market is busiest and most vibrant.
How do I get to Khan el Khalili?
Khan el Khalili is located in the heart of Cairo's old city. It is near Al-Muizz Street, one of the oldest and most famous streets in Cairo. Al Muizz Street contains many old building, religious complexes, and other stunning Islamic architecture, and is a must see on any visit to the Khan el Khalil.
Assuming you're at Cairo International Airport:
Take the highway towards Cairo.
After about 30 minutes, take the exit for Tahrir Square.
From Tahrir Square, take the street that goes towards the Cairo Citadel.
Khan el-Khalili will be on the left-hand side after about 10 minutes.
These are the following transportation choices if you need to commute:
You can take a taxi, Uber, or Careem anywhere in Cairo. The ride should cost around 30-40 EGP ( Egyptian Pounds).
You can also take the metro to the Khan el-Khalili stop. The metro ride will cost around 2-3 EGP. Once you exit the metro station, you will see the entrance to the market area.
Note: Transportation fees are subject to change without prior notice.
How much does it cost to visit Khan el-Khalili, and when is it open?
The market is open from around 9am to 9pm every day, although some shops may close earlier.
As for how much it will cost to visit, that depends on what you want to buy. If you're browsing, then it won't cost you much. But if you're planning on purchasing some souvenirs, you should expect to pay a little more.
What should I wear at Khan el-Khalili?
Due to its popularity with tourists, The Bazaar can be pretty crowded, especially during the peak tourist season. It is, therefore, important to be aware of the local customs and dress code when visiting the area.
The recommended dress code for women visiting is to cover their shoulders and knees. This can be done by wearing a long-sleeved shirt or dress or wearing a scarf or shawl over the shoulders. Skirts and shorts should be of a reasonable length, and trousers should be loose-fitting.
For men, the recommended dress code is to wear long trousers and a shirt with sleeves. It is also suggested to wear a hat or headscarf to protect against the sun.
Footwear is also an important consideration when visiting. Visitors should avoid wearing open-toe shoes, as they may be seen as disrespectful. It is also important to avoid wearing heels, as they can make it challenging to navigate the market's narrow streets.
The dress code in Khan el-Khalili is generally more relaxed than in other parts of Cairo, but it is still important to dress respectfully. Wearing revealing clothing or behaving offensively can be disrespectful and may offend.
By following the recommended dress code, you can ensure that your visit is respectful and enjoyable.
How fit do I need to be?
The recommended fitness level to visit is moderate.
This is because the market is large and can be pretty crowded, so you will need to be able to walk for long periods.
There are also a lot of stairs and narrow alleyways, and the ground is often uneven. However, there are also a number of open spaces and wide boulevards, so it is possible to find a route that suits your fitness level.
Additionally, the market is located in a hot and dusty city, so it is important to be able to tolerate high temperatures.
Therefore, it is important to be physically healthy before visiting. If you have health conditions that might limit your ability to walk or stand for long periods, it is best to avoid Khan el-Khalili.
Is it safe to visit Khan el-Khalili?
Khan el-Khalili is one of the most popular tourist destinations in Egypt. However, due to the current political situation in Egypt, many travellers wonder if it is safe to visit.
The answer is yes, it is safe to visit. While the political situation in Egypt is changeable, there has been no recent violence directed at tourists or Westerners in general. The Egyptian government has increased security in tourist areas like Khan el-Khalili. However, travellers should still use caution and avoid large crowds and demonstrations.
It is a great place to experience Egyptian culture and shop for souvenirs. Just be sure to use common sense and be aware of your surroundings, and you will have a safe and enjoyable visit.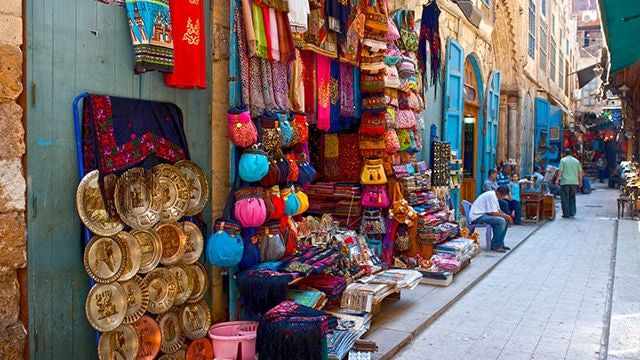 Safety Recommendations
When visiting Khan el-Khalili, there are a few recommended safety conditions to keep in mind.
First and foremost, Keep an eye on your surroundings. The market can be crowded, and it is easy to get bumped or pushed. If you carry valuables, keep them close to your body to avoid pickpockets.
Wear comfortable shoes. You will be doing a lot of walking and don't want your feet to hurt.
The surrounding area is generally safe, but as with any large city, there are areas to avoid. The neighbourhood around the market is busy, so it's best to stick to the main streets.
It can be a bit dangerous after dark, as there are narrow alleyways and dark corners where criminals can hide. If you walk around at night, stay in well-lit areas and don't go off the beaten path.
Another safety concern is scams. There are many scams in the area, and it can be easy to fall victim to one if you are not careful. Some common scams include being overcharged for goods, being sold fake souvenirs, and being offered "free" tours that end up being expensive. If someone approaches you with a deal that sounds too good to be true, it probably is.
If you are using public transportation to and from Khan el-Khalili, be sure only to use reputable services. Do not accept rides from strangers, and keep an eye on your belongings. When possible, try to travel with a group of people.
If you are planning on bargaining for goods in the market, it is important to be aware of the prices before you start so that you do not get ripped off. It is also a good idea to have small denominations of cash available, as vendors may not have change for larger notes.
Following these safety tips ensures that your visit to Khan el-Khalili is enjoyable and safe.
What souvenirs can I buy?
There are many souvenirs available for purchase at the bazaar. Some of the most popular souvenirs available are traditional Egyptian items such as:
Egyptian cotton shirts are a popular choice for a souvenir. They are available in a variety of colours and styles.
Alabaster statues are also a popular choice. These statues can be of Egyptian gods, goddesses, animals, or people.
Papyrus paintings are another popular souvenir. These paintings depict ancient Egyptian scenes or landscapes.
Gold and silver jewellery is also available for purchase. This jewellery is often inlaid with precious stones.
Carved wooden boxes are another popular souvenir. These boxes can be used for several purposes, such as storage or decoration.
Beautiful handmade carpets
Brass coffee pots and glass hookahs are also popular souvenirs. These items can be used to make Egyptian-style coffee or tea.
Spices are also a popular choice for a gift. There are many different spices available, such as:
Cinnamon
Nutmeg
Cloves
Allspice
Pepper
Many shops also sell traditional Islamic items such as prayer beads, incense burners, and miniature mosques.
With so many souvenirs, there will surely be something for everyone at Khan el-Khalili.
What is the best way to haggle at the Khan al Khalili market?
Haggling is an important part of Egyptian life and especially in the Khan el-Khalili Bazaar. Prices are rarely displayed and you will always need to ask the price of anything you want buy. The price you will be given is just a starting point and you'll need to haggle hard to get the best deal.
Haggling is not normal in western cultures and can sometime be difficult for tourist to master. Here are a few tips to help you get the best deals on the souvenirs you want to buy:
Always haggle with a smile. Make it light-hearted and don't get angry.
Try to avoid saying a price. Most vendors will ask you "how much will you pay?" or "what do you think it's worth?" as they want you to say a price (usually far too high), and of course once you've done that you can't take the price any lower.
Keep asking "what's your best price?" "is that the best you can do?" i'll pay the lowest price you'll give me?" "i've seen it much cheap in another shop" etc. and keep doing this until they will go no lower and are prepared to let you walk away. Once you know their lowest price, then offer a even lower price and you can start haggling properly.
Try looking in several shops and compare prices to get some idea of the "real price".
Take your time and enjoy the battle. If done well it should be fun!
Be prepared to walk away, you can always go back if you can't find it cheaper.
If you look like you have money the starting price will always be higher.
At the end of the day, if you're happy with what you've paid, then you shouldn't feel like you've paid too much.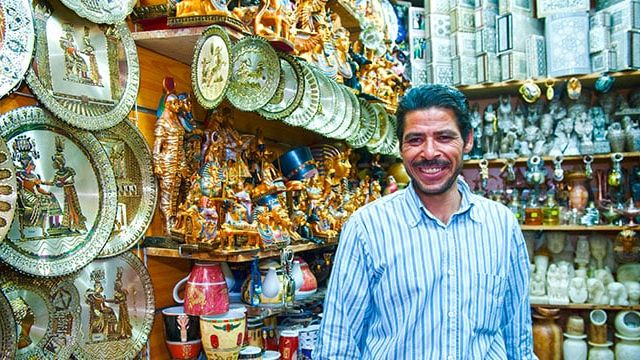 What else can I do at Khan el Khalili market?
There are several activities available at the Khan el-Khalili.
One of the most popular is shopping. Many shops sell gifts, jewellery, and other handmade items. There are also a lot of restaurants and cafes in the Khan el-Khalili, making it a great place to spend a day or evening.
In addition to shopping, there are several other activities that tourists can enjoy in Khan el-Khalili.
There are several mosques and other religious sites in the area that are worth visiting. The Al-Azhar Mosque and Al-Hussein Mosque are two of the most popular tourist destinations in the area.
There are also several museums in Khan el-Khalili, including the Islamic Cairo Art Museum and Egyptian Antique Museum.
Finally, activities like henna painting and belly dancing lessons are also available for visitors to enjoy.
What useful traveller tips do you have for visiting Khan el-Khalili?
There are many things to see and do in Khan el-Khalili, which can be overwhelming for first-time visitors. Here are some tips to help you make the most of your visit:
Plan and do your research. Khan el-Khalili is a large area with many shops and stalls. It can be easy to get lost, so it's a good idea to know what you want to see and where you want to go before you arrive.
Start your visit early in the morning. This is when the market is at its busiest and most vibrant. You'll see the stalls and the shops opening for business.
Have cash on hand. Many shops in the market only accept cash, so it's a good idea to have Egyptian pounds with you.
Be patient. The market can be a bit overwhelming, and it's important not to rush through the experience.
Take your time. There's no need to hurry. Stroll through the market, taking in the sights and sounds. Stop to browse the wares on offer and chat with the shopkeepers.
Haggle. It's expected that you will haggle over prices, so don't be afraid to bargain.
Dress appropriately. Although it is a bustling market, it is still a place of worship. Cover your shoulders and knees and remove your shoes before entering the mosques.
Drink plenty of water. It can get scorching in Cairo, especially in the summer months. Make sure you stay hydrated by drinking plenty of water.
Take breaks. If you're finding the heat and crowds overwhelming, take a break in one of the cafes or restaurants that line the market.
Finally, have fun! Khan al-Khalili is a unique and fascinating place. Enjoy your visit, and don't forget to bargain for those souvenirs!