|
Many tourists are fond of visiting the Palace of baron empain because it is one of the most unique and exciting buildings in all of Egypt. It was built between 1907 and 1911 by Belgian businessman Edward Empain, and the Palace is a mix of Art Nouveau and Orientalist styles. The result is a building that looks like it was transported straight out of a fairy tale. Despite its storybook appearance, the Palace has a dark history. In the 1960s, it was abandoned by Empain and left to fall into ruin. It was in 2006 that the Egyptian government began restoration work on the Palace, which finally reopened to the public in 2014.
The Baron Empain Palace is one of the top tourist destinations in Egypt. Its history and architecture are fascinating, and its beauty is simply stunning. Tourists love visiting this Palace because it offers a unique and unforgettable experience. If you're looking for something special to add to your travel itinerary, including the Baron Empain Palace, you won't regret it!
This guide will cover the history and architecture of the Baron Empain Palace. Additionally, it will attempt to respond to some of the most frequently asked questions about visiting the Palace, such as The top 5 reasons to visit Baron Empain Palace, Opening hours, Price of admission, and more...
The History of Baron Empain Palace
The Baron Empain Palace (Arabic: "Qasr el Baron Emban"), also known as Le Palais Hindou (literally, "The Hindu Palace"), Is located in the Heliopolis District of Cairo Heliopolis is a neighbourhood located about 20 kilometres to the northeast of Cairo. Heliopolis suburb, also known as "Masr El Gedida" or "New Egypt", was established around 1907 by the owner of the Palace, Belgian industrialist Edouard Louis Joseph Empain. The Baron Empain Palace is based on 12,500 square meters and is located on the famous Aurora Street highway leading to Cairo International Airport.
Here are some of the most interesting facts about this iconic building.
The Baron Empain Palace was built between 1907 and 1911 by Baron Edouard.
French architect Alexander Malace designed the Palace.
The Palace was intended to be a luxurious home for Baron Henri Empain and his family.
The Palace is located in Heliopolis, Cairo, Egypt.
The Palace is built in the Art Nouveau style.
The Palace is one of the most popular tourist attractions in Cairo.
The Palace has been featured in many movies, and one example is Restricted Area: Baron Palace.
The Tramway Trolley was installed as a reminder that Baron Empain introduced the tramway to Heliopolis.
The story behind Baron Empain Palace and its mysterious past
Alexandre Marcel, born in Belgium, designed the Palace. Georges-Louis Claude decorated the Palace. Inspired mainly by the Hindu temples of South India, it was built between 1907 and 1911. The Palace is built with three floors above ground and a basement level. The basement level contains several secret passages and rooms, presumably used by the Baron for nefarious purposes.
Baron Edouard Empain was an electric railway pioneer responsible for building Egypt's first electric railway, which ran from Cairo to Heliopolis. He also made some other railways in Egypt, including the Alexandria tramway. In addition to his business ventures, the Baron was also a Freemason and an active member of occult societies. It is believed that he used the secret passages and rooms in his Palace's basement to host magical rituals.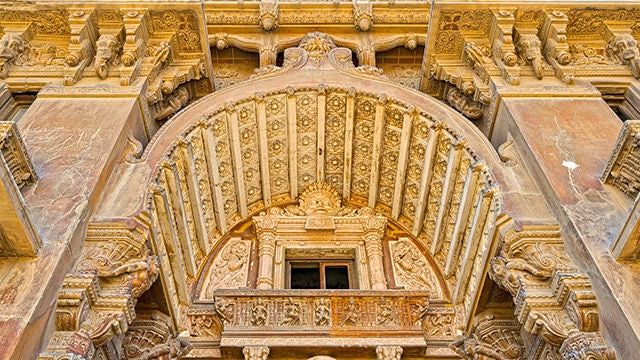 A Tour of Baron Empain Palace
When visiting Cairo, Egypt, there is one stop that you cannot miss - Empain's Palace. This architectural wonder was in the early 1900s by Belgian industrialist Edouard Empain. Upon its completion, the Palace was the site of many lavish parties and balls. Today, it is open to the public for tours. Here are some things you will see when visiting Baron Empain Palace.
The Palace. Hindu, Indian, and Cambodian temples inspire architecture. The Dragon-like creature's statues stand as guards at the entrance and are inspired by Hindu and Buddhist temples in India and Southern Asia. While the Seven-Headed Statue depicts the Asian deity Naga, Naga is a half-human, the half-serpent that can occasionally take human form.
Inside the Palace, you will see ornate rooms decorated with marble floors, stained glass windows, and elaborate chandeliers. One of the most impressive rooms is the Hall of Mirrors which features an array of mirrors that reflect light from all directions creating a dazzling effect.
The Palace consists of 3 floors and a roof, and a large garden from all sides also surrounds it.
The Basement Floor contained the residence area for the servants and staff, consisting of a group of rooms connected by corridors. The Palace building is surrounded by a spiral staircase and an elevator that connects all the palace floors with the basement.
The Ground Floor contains the reception hall, dining room, and billiard room.
Baron's first floor has bedrooms attached to its bathroom with its balcony.
The roof of the Palace comes with an open space on one side of the tower which overlooks the Heliopolis Cityscape. This terrace provides an excellent vantage point for taking photos or simply admiring the beauty of Cairo's skyline at nightfall.
FREQUENTLY ASKED QUESTION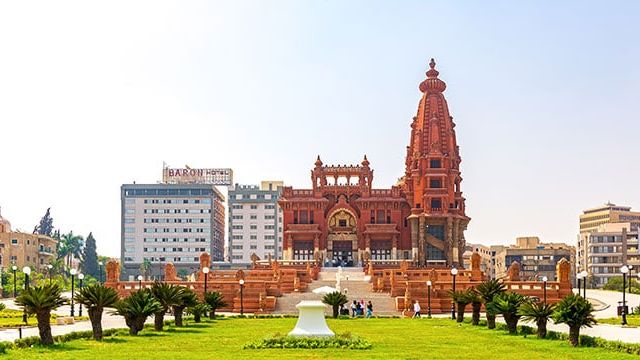 Top 5 reasons to visit Baron Empain Palace
Have you ever dreamed of visiting a real-life castle? Your dream can become a reality when you visit Baron Empain Palace! This incredible structure is located in Egypt and is a must-see for anyone interested in architecture or history. Here are five reasons why you should add Baron Empain Palace to your travel bucket list:
It's a unique piece of architecture
The Baron Empain Palace is unlike any other building in Egypt. A mixture of Art Deco, Hindu, and Neo-Egyptian styles creates a genuinely one-of-a-kind structure. Even if you're not an architecture buff, you'll be impressed by the Palace's intricate details and beautiful design.
It has a fascinating history
The Palace was built in the early 1900s by a Belgian businessman named Edouard Empain. Empain was obsessed with Egyptian culture & antiquity, and wanted to create a modern-day version of the ancient city of Memphis. Unfortunately, the Palace was never completed due to financial problems and Empain's sudden death. However, its unique history makes it an exciting place to visit.
It's surrounded by mystery
There are many theories about what happened to the Baron Empain Palace after Empain's death. Some say that it was abandoned and left to decay. Others say it was used as a government office or a military base. Whatever the case, the Palace is shrouded in mystery, making it all the more intriguing.
It's a great place to take photos
The Baron Empain Palace is gorgeous, making it a great place to take photos. Whether you're a professional photographer or a casual snapshot taker, you'll be able to get some fantastic shots of the Palace and its surroundings.
What Type Of Travellers Will Enjoy Visiting The Attraction
The Baron Empain Palace in Cairo appeals to all travellers, from those looking for an educational experience to those who want to admire its beauty. History buffs will appreciate learning about Egypt's past through its many rooms and courtyards, while art lovers can admire its intricate designs and ornate details. Adventure seekers can explore its many activities, such as guided tours, workshops and exhibitions, while foodies can sample some traditional Egyptian dishes at one of its many nearby restaurants or cafes.
What Is The Recommended Dress Code For Visiting The Attraction
There are no dress codes at the Baron Empain Palace in Cairo, however we always advise visitor to dress modestly out of respect for local customs and traditions. Men should preferably wear long trousers or jeans with a shirt or t-shirt, while women should wear long skirts or trousers with a shirt or blouse that covers their shoulders and arms. Shoes should be flat-soled so as not to damage any surfaces inside the Palace, such as carpets or tiles, while hats should be removed upon entering any room inside the Palace out of respect for other visitors who may be present that time.
What Is The Best Time Of Year To Visit This Attraction
The best time to visit this attraction would be during spring (March - April) when temperatures are milder than in summer (May-August) when temperatures soar up high, making sightseeing more difficult due to heat exhaustion. During spring months, visitors will get more out of their visit since they won't have to worry about extreme temperatures allowing them to fully appreciate all aspects this beautiful site has to offer. Additionally, during these months, there tend to be fewer crowds meaning shorter lines enabling you to get more out of your experience without waiting too long.
Are There Any Activities Available At This Attraction, And If So, What Are They
Several activities are available at this attraction, including guided tours where visitors can learn more about the history behind this site and workshops teaching traditional Egyptian crafts like pottery making, weaving etc. Additionally, regular events are held throughout the year featuring music performances, art exhibitions etc., providing plenty of entertainment options no matter when you decide to come here.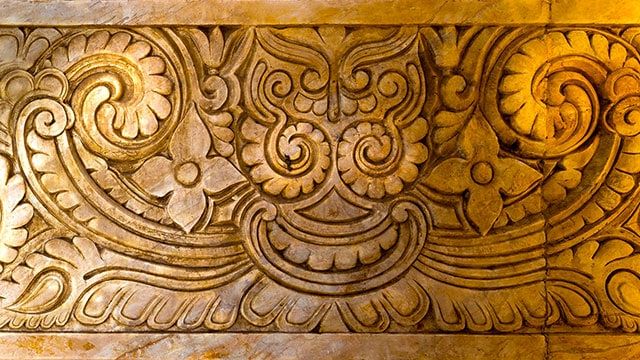 What Is Recommended Level Of Fitness To Visit This Attraction
This attraction does not require any particular level of fitness. However, a good physical condition would help since there is a lot of walking involved during the sightseeing tour plus climbing stairs due to the fact building has several floors so being able to walk up stairs without feeling exhausted would help you get the most out of your experience here. Additionally, if you plan on participating in any workshops, then having good physical condition would help since some activities might require a lot of standing up/sitting down depending on the action itself, so being able to do these without feeling tired afterwards would help you enjoy your experience even more.
Opening Hours
The Baron Empain Palace is open daily from 9 am to 4 pm.
The best time to visit the Baron Empain Palace is early or later in the afternoon, as it can get quite crowded during peak hours. Trust me; you'll want to avoid the crowds if you can! If you can't make it during those times, don't worry - the Palace is still worth visiting, even if it's a bit more crowded.
A Step-by-Step Guide to Getting to Baron Empain Palace
Getting to the Baron Empain Palace is relatively easy. The Palace is located in Heliopolis, about 10 kilometres northeast of downtown Cairo. The easiest way to get there is by taxi or private car. Taxis are plentiful in Cairo and can be hailed from any significant street corner or hotel lobby. Personal vehicles can also be hired by most hotels or car rental companies.
If you don't have access to a car, several public transportation options are available for getting to the Palace.
The most convenient option is to take the metro from downtown Cairo to Heliopolis Station (Line 2). From there, it's a short walk (about 10 minutes) to the palace entrance. Alternatively, you can take a bus from downtown Cairo to Heliopolis Square (bus numbers 5 or 6). From there, it's another short walk (about 5 minutes) to the palace entrance.
Admission
Once you arrive at the palace entrance, you'll need to purchase tickets before entering. Tickets available at the ticket office are on Ibn Batota Street on the side of the Palace.
Entrance Fee: 100 Egyptian pounds per person (approximately USD 4.00).
To get to the roof: 50 Egyptian pounds (roughly USD 2.00)
Reminder: The Palace charge an additional 50 pound for DSLR Cameras, but taking photos and videos on your mobile phone is free.
Once inside, visitors can explore the Palace's many rooms and courtyards as well as its beautiful gardens and fountains.
What restaurants are near Baron Palace
Recommended dress code for visiting The Baron Empain Palace
A few things to remember when visiting the Palace include the dress code. Here are the top 5 recommended dress codes for visiting the Baron Empain Palace:
1. Wear comfortable shoes. The Palace is full of stairs, and a lot of walking is involved. You will be glad you wore comfortable shoes when you are done.
2. Wear loose, comfortable clothing. The heat can be intense in Cairo, and you want to enjoy your time at the Palace without discomfort.
3. Cover your shoulders and knees. While the Palace is not as strict as some other tourist sites in Cairo, it is still important to respect the culture and dress modestly.
4. Bring a scarf or shawl. The sun can be intense, even in the winter months. A scarf or shawl will help keep you cool and protect you from the sun.
5. Drink plenty of water. This is important no matter where you are in Cairo, especially when visiting the Baron Empain Palace. The heat can dehydrate, and you want to stay hydrated.
Safety Recommendations when Visiting Baron Empain Palace
When travelling to a new place, it is always best to be cautious. To help you out, here are some safety recommendations we suggest you follow when visiting Baron Empain Palace:
Wear clothing that covers your arms and legs. This will protect you from the sun and also from mosquito bites.
Bring along a hat and sunglasses to protect your face from the sun.
Stay hydrated by carrying a refillable water bottle with you. Avoid drinks with ice cubes as they may not be made with clean water.
Wear comfortable shoes as you will be doing a lot of walking.
Carry a small backpack or crossbody bag to have your hands accessible while exploring the palace.
Be aware of your surroundings and keep an eye on your belongings to prevent pickpocketing.
If you are using a camera, be mindful of who is around you, as they may try to snatch it away. Keep your camera in your bag when not in use, and only take it out when you are ready to take a picture.
Beware of fake guides who will try to offer their services to you in exchange for money. If you do not wish to use their services, politely decline and walk away.'
If you need help, go to the ticket office or information desk inside the palace grounds. Egyptians are friendly people.
Most importantly, enjoy your time at Baron Empain Palace!