|
The Bab Zuweila Gate and Mu'ayyad Mosque are iconic historical sites in the Old City of Cairo that people will love to visit. The beautiful Mamluk-style mosque is a must-see for any tourist visiting Cairo. The mosque is home to some of the most stunning Islamic art in the world. But that's not all that makes this site special--it's also one of the few remaining examples of early Mamluk architecture in Cairo. The Bab Zulweila Gate is one of three remaining medieval gates in Cairo. The other two are the Bab al-Futuh Gate and the Bab al-Nasr Gate.
Bab Zuweila is a true gem, and it's no wonder that it attracts tourists from all over the world for what it offers. From the top of the Zuweila gate, you can see all of Cairo stretched before you. It is an incredible sight, one that you will never forget, and a great place to shop. Many stalls and shops sell different things, and you will surely find something you'll love. Whether you are looking for souvenirs or new clothes, you can find them all in the shops and stalls around the Bab Zuweila Gate and Mu'ayyad Mosque.
Here are 3 reasons why tourists will love visiting this historical site:
The Mosque is exquisitely designed and houses beautiful Islamic art.
It's one of the few examples of early Mamluk architecture.
It's located in the heart of Cairo's Old City, making it easy to get to from most hotels.
This guide explains the history of Bab Zuweila Gate & Mu'ayyad Mosque. It will also attempt to answer some of the most frequently asked questions about visiting the site, such as: What is the best time to visit? What are the entrance fees? What to do? - and more.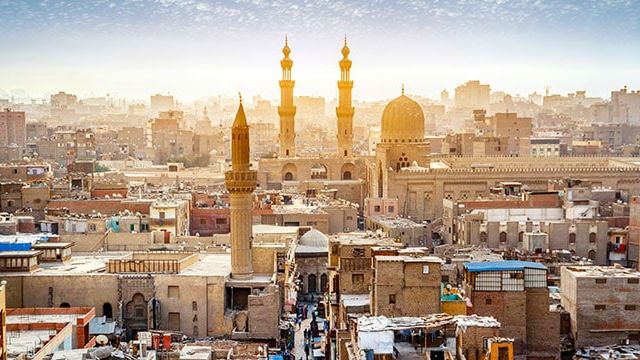 History and Significance
Bab Zuweila
One of the three remaining gates of the Old City of Cairo, the Egyptian capital, is called Bab Zuweila or Bab Zuwayla. During the Ottoman era, also known as Bab al-Mitwalli. It is regarded as one of the city's most prominent features. It is the final surviving southern gate from Cairo's walls during the Fatimid dynasty in the 11th and 12th centuries.
Bab Zuweila (or Zuwayla) was finished in 1092 AD and dates to the Fatimid Cairo. One of the three remaining medieval gates of Cairo's old city walls, this historic site is situated in the Muslim neighbourhood of Al-Darb al-Ahmar. You shouldn't miss the area because it was designated a UNESCO World Heritage site in 1979. Visitors can enter the two minarets surrounding the entrance for a small price. The view from the top of the spiral staircase is worth the effort, even if it's a fast ascent.
The Bab Zuwaila is an iconic landmark in Cairo, Egypt, since 1092 AD. It was built during the Fatimid dynasty when caliphs ruled Egypt from North Africa, making it a great place to learn about Egypt's history and culture. The gate stands tall and imposing, with its intricate carvings and ornate decorations making it an impressive sight to behold. It serves as a reminder of Egypt's past and its religious significance, making it a popular tourist attraction for those looking for something different from their usual sightseeing experiences in Cairo.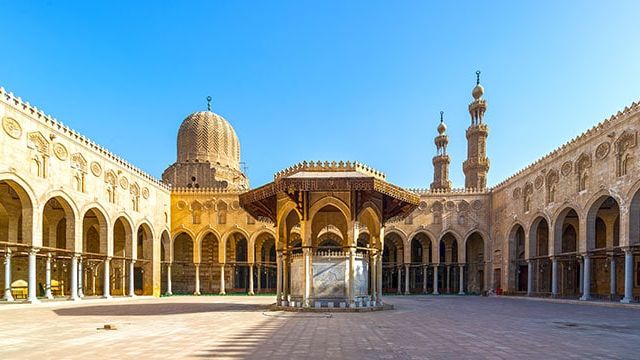 Mu'ayyad Mosque
The Mu'ayyad Mosque is a historical mosque located in Cairo, Egypt. It was constructed in the late 14th century by the Mamluk Sultanate during the reign of Mamluk Sultan Al-Mu'ayyad Sheikh. The mosque's unique architectural style blends elements of the Mamluk and Ottoman styles and is adorned with intricate decorations and calligraphy.
Over the years, the Mu'ayyad Mosque has played an important role in Cairo's religious and cultural life. It has served as a learning centre, a place for worship, and a symbol of the city's rich history and heritage. It has also undergone several renovations and restorations, including a major restoration in the early 20th century.
Today, the Mu'ayyad Mosque remains a significant landmark and cultural treasure in Cairo, attracting visitors worldwide who admire its beauty and learn about its rich history.
Exploring the Area
When visiting the Bab Zuwaila and Mu'ayyad Mosques, you can expect to be surrounded by locals eager to share their knowledge about this historic landmark with visitors. Vendors often sell souvenirs outside the gate, so if you're looking for something unique to take home, this is worth checking out! You can also explore the area around it or sit back and admire its beauty from afar.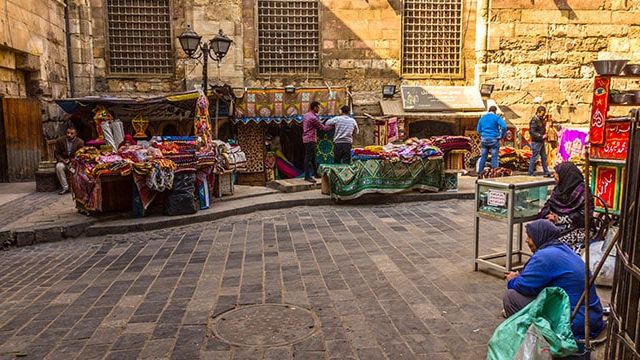 Rewarding Experience
Visiting the Bab Zuwaila and Mu'ayyad Mosques can be an incredibly rewarding experience if you're looking for something unique and special during your time in Cairo. Not only will you get to see one of Egypt's most iconic landmarks, but you also get to learn more about its history and culture while surrounded by locals passionate about sharing their knowledge with visitors! So if you're looking for an
Bab Zuwaila Supports Two of the Finest Mamluk Minarets in Cairo
Bab Zuwaila is home to two of Cairo's finest Mamluk minarets, which serve the Sultan Muayyad mosque next door. Like the other gates, its towers are built with solid masonry to two-thirds of their height. The smooth stonework of the curved façades is only relieved by arrow slits and a moulding that defines a shallow vertical panel crowned with a pointed arch.
The inside flanks of the towers have recessed panels with lobed arches in the Moorish style, the earliest examples in Cairo.
A semi-circular gate supports a gallery between the two towers. Above it is an open semi-circular arch forming a thick-set barrel vault. The gallery is thought to have once housed musicians who accompanied ceremonial processions as they passed through the gate. Two semi-circular niches originally flanked the vestibule inside the entrance, but Muayyad changed the one on the east. The Byzantine style's shallow dome on pendentives covers the entire interior space.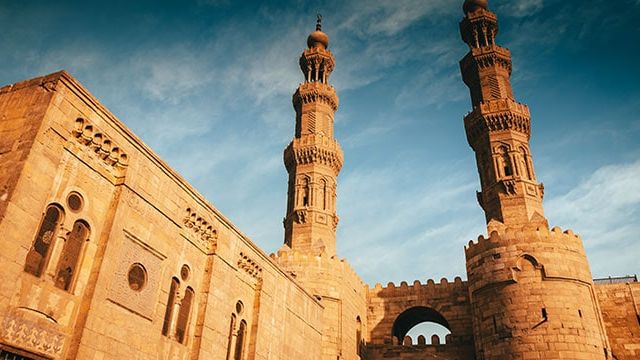 The Top 10 Reasons You Need to Visit Bab Zuweila
It's one of the oldest remaining structures in Cairo: Bab Zuweila was built in the early 1200s, which makes it over 800 years old! It's one of the few remaining structures from Cairo's medieval period. When you stand at Bab Zuweila, it's easy to imagine what the city must have looked like centuries ago.
It's an integral part of Cairo's history: Bab Zuweila was once one of the main gates into the city and was used by locals and travellers alike. It was also an essential part of Cairo's defence system, as it was built to be strong enough to withstand attacks from invaders. Today, it is a reminder of Cairo's long and fascinating history.
The views from Bab Zuweila are incredible: From its vantage point atop a hill. Bab Zuweila offers stunning views over Old Cairo and the Nile River. On a clear day, you can see Giza! This is it if you're looking for a great spot to take photos.
It's a great place to watch people: The busy streets surrounding the gate and mosque are perfect places to watch local Egyptians go about their daily lives.
Bab Zuweila is in a bustling area of shops and stalls: Selling everything from souvenirs to spices. There's always something going on here, so it's a great place to people-watch and soak up the local atmosphere.
You can bargain: This is the place to come if you're looking for souvenirs or gifts to take home. Bargaining is expected (and even encouraged!), so make sure you haggle for the best price possible.
You'll find some unique souvenirs here: At the same time, you can find plenty of mass-produced souvenirs at Bab Zuweil. From hand-painted pottery to carved wooden boxes, plenty of treasures can be seen if you know where to look.
The food here is delicious and cheap: No need to worry if you are hungry while touring Bab Zuwaila; several food options are available, including kebabs and falafel wraps (and everything in between). The costs are also inexpensive, which is excellent for those on a tight budget because this is a tourism region.
You can learn about traditional Islamic arts: If you're interested in conventional Islamic arts like calligraphy and woodworking, several shops in Bab Zuwaila offer classes and workshops teaching these skills.
The architecture is incredible: Even if you're not particularly interested in history or architecture, it's impossible not to appreciate the skill and craftsmanship that went into building Bab Zuwaila - especially when you compare it to the modern buildings surrounding it.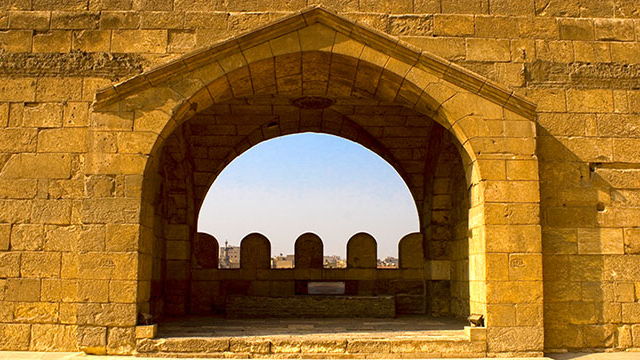 Top Activities to Do in and around Bab Zuweila
There are plenty of things to see and do in Bab Zuweila, but here are our top 10 recommendations:
Visit the Mu'ayyad Mosque: This mosque is one of the most architecturally significant in Cairo and is worth visiting!
Climb to the top of the minaret for a breathtaking view of the city: If you're feeling adventurous, why not climb to the top for a birds-eye view of Cairo? Just be sure to wear comfortable shoes!
Marvel at the intricate carvings on the exterior walls of the mosque: The outer walls are covered in intricate carvings - something to see when you're in the area!
Step back in time at the nearby medieval market: If you want to get a feel for what life was like in medieval Cairo, check out the nearby market! You can find everything from spices to traditional clothing.
Explore the remains of the medieval wall: The area around Bab Zuweila is full of history. You can also explore the remains of the medieval wall that once defended Cairo from invaders.
Learn about Islamic architecture at the nearby Museum of Islamic Art: The Museum of Islamic Art is a great place to learn about Islamic architecture and its influence on Bab Zuweila specifically. It's also home to some incredible art pieces from the Muslim world.
Have lunch at one of Bab Zuweila's Cafes: There are plenty of cafes and restaurants in Bab Zuweila, so you're sure to find something to your taste. We recommend trying some traditional Egyptian dishes!
Shop for souvenirs at the local shops: Plenty of shops sell souvenirs and trinkets in Bab Zuweila, so you're bound to find something special to take home with you.
Things to see when you visit Bab Zuweila and al-Muayyad Mosque
The minaret: towering over Cairo at the height of 36 meters, the minaret is one of Bab Zuweila's most iconic features. Visitors can climb to the top of the minaret for panoramic views of Islamic Cairo.
The ablutions fountain: worshippers use to cleanse themselves before prayer. The ablutions fountain is ornately decorated with marble and mosaic tiles.
The Qibla wall: adorned with intricate carvings and inscriptions, the Qibla wall points worshippers in the direction of Mecca.
The courtyard: surrounded by an arcade of arches and columns, is a peaceful oasis in the bustling city.
The calligraphy: Visitors will find beautiful examples of Arabic calligraphy throughout the mosque.
The mihrab: traditionally used to indicate the direction of Mecca, the mihrab at Bab Zuweila is decorated with carved marble and mosaics.
The chandeliers: suspended from the ceiling, the chandeliers are made of brass and glass and date back to the 18th century.
The stained glass windows are another 18th-century addition that adds color and light to the mosque's interior spaces.
The wooden doors: embellished with mother-of-pearl inlay work, are among Bab Zuweila's most beautiful features.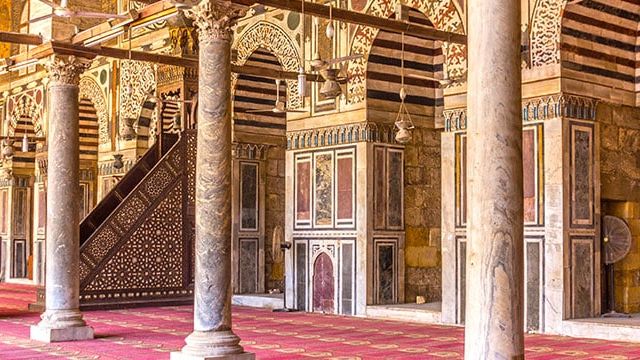 FREQUENTLY ASKED QUESTIONS
How to get to Bab Zuweila
By Taxi or Uber:
The easiest way to get to Bab Zuweila is by taxiing or Uber. This should take around 9-10mins. This will drop you off right at the monument. The cost will be around 50 EGP ( Egyptian Pounds) for a cab and around 30 EGP for an Uber.
By Bus:
Another way to get to Bab Zuweila is by bus. The bus does not go directly to Bab Zuwaila, but it does drop you off nearby. From there, it is about a 9 minutes walk to the monument. The cost for the bus is around 2 EGP (fees may change).
What is the Best Time of the year to Visit Bab Zuweila safely?
The best time to visit Bab Zuweila is during the cooler months between October and April. During this period, temperatures are pleasant and perfect for exploring all Cairo offers. However, suppose you plan to visit during peak season (December to February). In that case, we recommend you book your tour in advance as this is when the attraction is at its busiest.
How to make the most out of your visit to Bab Zuweila
Get There Early to Avoid the Crowds - Bab Zuweila can get quite crowded, especially during peak tourist season. We recommend getting there early to avoid jostling your way through crowds. That way, you'll have plenty of time to explore and take photos without worrying about fighting through crowds.
Don't Miss the Minaret - One of the most striking features of Bab Zuweila is its minaret, which soars high into the sky. Be sure to take some time to appreciate this architectural wonder up close. You can even climb to the top of the minaret for some stunning views of Cairo below (be sure to bring your camera!).
Haggle with the Shopkeepers - If you want souvenirs at Bab Zuweila, haggle with the shopkeepers first. It's expected, and you'll be able to get a much better price if you bargain with them a bit. Just don't go too low, or you might offend them!
Dress Appropriately - When visiting any religious site, it's important to dress respectfully. It means avoiding anything too revealing or provocative. It would be best if you also covered your arms and legs. Not only will this show respect for the site, but you'll also be more comfortable in the heat if you're not wearing too many layers. When heading into the Mosque, women should cover their heads with a scarf.
Explore Other Attractions Nearby - Bab Zuweila isn't the only attraction worth checking out in Cairo - there are plenty of other things to see and do nearby.
Take plenty of photos - Last but not least, remember to take plenty of pictures during your visit! Bab Zuwaila is a photographer's dream, with its beautiful architecture and stunning views. So be sure to capture as many memories as possible - you'll want to look back on them for years to come!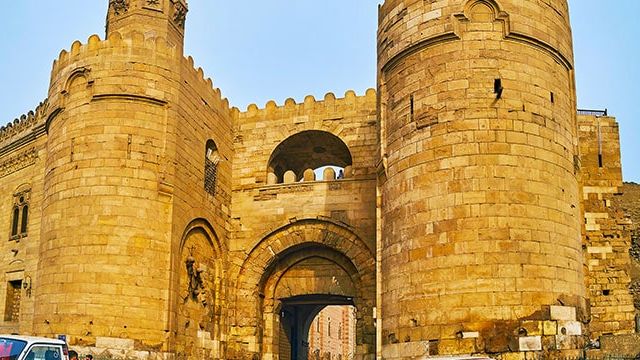 Admission Fees & Opening Hours
Admission fees to the gate are quite reasonable, costing just EGP 40 for adults and EGP 20 for students. The gate is open every day from 9 am to 5 pm. The last entry is at 4 pm.
The mosque has no admission fees, and it is open 24/7.
Overall, Bab Zuwaila and Mu'ayyad Mosque are a must-see for anyone visiting Cairo. Its beautiful design, rich history, and convenient location make it easy to see why this gate and mosque are such popular tourist attractions. So, add the Mu'ayyad Mosque and Bab Zuwaila to your travel itinerary--you won't regret it!