The Best Time to go to Egypt for an Unforgettable Experience
Our team have worked hard to create this short travel guide to help you decide "The Best Time to go to Egypt" based on what's important to you.
We understand that every person is unique and different.
While some travellers might like the sun and higher temperatures, others might prefer Egypt when it is a bit cooler, or some when it's not overcrowded.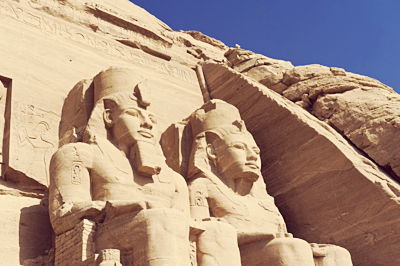 So, of course, "Best" is very dependent on what you consider best, based on your personal preferences.
This travel guide will show you the Pros and cons of travelling to Egypt, for each season, along with monthly temperatures, rainfall and daylight, so that you can decide the "Best Time to go to Egypt" based on what you are looking for on your Egypt trip.
Whether you're interested in history, culture, festivals, city breaks or relaxing on a sandy beach, there's a good chance that you'll fall for Egypt in a big way.
Travellers from across the globe flock to Egypt each year to marvel at its many wonders, from ancient Egyptian monuments to Islamic architecture, to the beautiful Red Sea coast.
It is one of the best tourist destinations in the Middle East, if not the world, particularly for visitors from North America, the United Kingdom, Australia, New Zealand, and South Africa.
Egypt is an intriguing choice for many tourists when it comes to overseas travel.
Cairo boasts amazing sites such as the Great Pyramid of Khufu, the enigmatic Sphinx, Islamic mosques, and the Grand Egyptian Museum.
Further up the Nile Valley lies the ancient sites of Karnak Temple in Luxor and the picturesque Philae Temple and myriad islands around Aswan, both just a stone's throw from the majestic River Nile.
Further south stands the spectacular Temple at Abu Simbel.
Those searching for a beach holiday can relax at the many Red Sea resorts such as Hurghada, el Gouna, Marsa Alam, and Sharm el Sheikh, on the Sinai Peninsula.
So, let's explore Egypt by season and see what the best time to take an Egypt holiday might be.
Visiting Egypt in Winter
December, January and February fall in the peak travel time for an Egypt holiday tour. Although the weather is much cooler, making travel a more pleasant experience, accommodation prices and airfares are much more expensive, and overcrowding at tourist attractions can be a problem between October and April.
Pros of going to Egypt during Winter
The temperature is a lot cooler, which makes visiting tourist attractions more comfortable.
Red Sea resorts will be much less busy to visit.
Charter flights to the Red Sea are much cheaper during the winter.
Cons of going to Egypt during Winter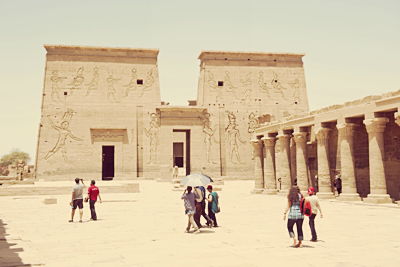 The temperature in Cairo can get quite cold, especially in the evenings and at night.
There is a much higher chance of rain in the Cairo, but Luxor & Aswan will still be dry and mild during the days.
The lower temperature along the Red Sea coast is not the best for sun lovers.
Tourist attractions can be very busy, particularly around Christmas which is one of the best times to visit Egypt.
Airfares into Cairo airport are much higher during the winter months, peaking around the Christmas period.
Accommodation prices away from the Red Sea resorts are also generally higher during the winter.
Egypt weather in December
Min Temp: +9 °C (48 °F)
Max Temp: +21 °C (70 °F)
Rainfall: 5 millimetres (0.2 inches)
Daylight: 10 hours a day
Egypt weather in January
Min Temp: +7 °C (45 °F)
Max Temp: +19 °C (67 °F)
Rainfall: 5 millimetres (0.2 inches)
Daylight: 10 hours a day
Egypt weather in February
Min Temp: +7.5 °C (45 °F)
Max Temp: +21 °C (70 °F)
Rainfall: 5 millimetres (0.2 inches)
Daylight: 11 hours a day
Visiting Egypt in Spring
March, April and May is probably the best time to visit. The weather during the days is warmer, but not yet too hot to make touring uncomfortable, and from April onward the Red Sea resorts start to fill up with beach goers in search of a tan. It's also the best time to take an Egypt Nile cruise.
Pros of going to Egypt during Spring
The weather is warmer across Egypt and it's a great time to visit the ancient site, take a river cruise and also spend time on the beach.
Early and late in the spring there are often bargains available for hotels, airfare and touring.
The Easter holiday is the perfect time to travel to Egypt.
Cons of going to Egypt during Spring
Tourist attractions can get very busy, so be prepared for large crowds.
Prices for hotels, airfare and hotels get more expensive, peaking around Easter time.
If travelling on an organised trip, group sizes can get very large so best check your maximum group size.
Beaches hotels are often crowded making access to amenities like restaurants, pools and beaches more difficult.
Egypt weather in March
Min Temp: +10.5 °C (51 °F)
Max Temp: +24 °C (76 °F)
Rainfall: 2 millimetres (0.08 inches)
Daylight: 10.5 hours a day
Egypt weather in April
Min Temp: +13 °C (55 °F)
Max Temp: +28.5 °C (83 °F)
Rainfall: 1.5 millimetres (0.06 inches)
Daylight: 12 hours a day
Egypt weather in May
Min Temp: +16 °C (61 °F)
Max Temp: +32 °C (90 °F)
Rainfall: 1.5 millimetres (0.06 inches)
Daylight: 13 hours a day
Visiting Egypt in Summer
June, July and August is low season in Egypt due to soaring summer temperatures during the days, particularly in South Egypt, which includes Luxor, Aswan and Abu Simbel, and on the beaches of the Red Sea. A visit during these summer months is not the best due to the heat, and often tourist amenities are more likely to be closed or harder to locate if you plan to travel independently.
Pros of going to Egypt during Summer
Best deals on holidays to be found due to cheaper airfares and hotels.
Much less crowded.
All round prices are generally lower during the summer due to the lack of tourists.
If it's just a beach holiday you want, then sun is guaranteed!
Cons of going to Egypt during Summer
The heat can be intense during the days if you're on an organised trip, so be prepared. A visit to Abu Simbel can be very hot so it's always best to visit early morning and avoid the highest temperatures of the day.
Tourist activities and local transport are less reliable unless you are on an organised visit, due to the lower number of visitors.
It;s definitely not best to consider holidays to the Western Desert as it is just too hot!
Egypt weather in June
Min Temp: +19 °C (67 °F)
Max Temp: +35 °C (95 °F)
Rainfall: 0 millimetres (0 inches)
Daylight: 14 hours a day
Egypt weather in July
Min Temp: +21 °C (69 °F)
Max Temp: +35 °C (94 °F)
Rainfall: 0 millimetres (0 inches)
Daylight: 13.5 hours a day
Egypt weather in August
Min Temp: +21 °C (69 °F)
Max Temp: +34.5 °C (94 °F)
Rainfall: 0 millimetres (0 inches)
Daylight: 13 hours a day
Visiting Egypt in Autumn
September, October and November can be an ideal time to visit Egypt. The scorching summer temperatures fall away and travel around Egypt becomes more enjoyable again. On the downside crowds start to gather again at the tourist sites and prices are on the rise.
Pros of going to Egypt during Autumn
Cooler weather and lower temperatures makes travel easier.
Tourist attractions are not too busy to visit, so overcrowding is less of an issue.
Beach lovers will still find the weather perfect for relaxing on beach holidays.
Accommodation prices and airfares are more competitive, so there are good travel deals to be had.
Cons of going to Egypt during Autumn
If you choose to go during school holidays overcrowding at tourist sites and beach can be a problem.
Egypt weather in September
Min Temp: +19 °C (66 °F)
Max Temp: +32.5 °C (91 °F)
Rainfall: 0.2 millimetres (0.008 inches)
Daylight: 12 hours a day
Egypt weather in October
Min Temp: +17 °C (62 °F)
Max Temp: +30 °C (86 °F)
Rainfall: 0.5 millimetres (0.02 inches)
Daylight: 10.5 hours a day
Egypt weather in November
Min Temp: +13 °C (56 °F)
Max Temp: +25 °C (78 °F)
Rainfall: 3.9 millimetres (0.15 inches)
Daylight: 9 hours a day
Ramadan
Calendar of dates for Ramadan, the holy month of fasting, introspection and prayer for Muslims. Travel can be a little more challenging during this period, but it is also a very interesting time to visit.
Ramadan 2022 | starts Saturday, April 2 and ends Monday, May 2
Ramadan 2023 | starts Thursday, March 23 and ends Friday, April 21
Ramadan 2024 | starts Monday, March 11 and ends Wednesday, April 10
Ramadan 2025 | starts Wednesday, March 1 and ends Sunday, March 30
Ramadan 2026 | starts Saturday, February 18 and ends Friday, March 20
Ramadan 2027 | starts Monday, February 8 and ends Tuesday, March 9
Best Things to Do & See in Egypt
Marvel at the Great Pyramids & Sphinx
The Pyramids at Gisa are certainly Egypt's most icon sights, as they tower over the desert landscape.
One of the Seven Wonders of the Ancient world, they attract visitors from around the globe who marvel at the sheer size of these colossal sandstone structures. Built around 4,500 years ago as burial chambers for the Pharaohs, they have stood the test of time and are a lasting testament to the skill and engineering of the ancient Egyptians.
The most impressive, and largest of the three Pyramids, is the Great Pyramid of Khufu, which stand a monumental 481 feet (147 metres) high.
Close by in the shadow of the Pyramids sits the enigmatic Sphinx. Built around the same time as the Pyramids in what is known as the Old Kingdom, the Sphinx is a giant sandstone statue of a lion with a man's head.
Built as a spiritual guardian of the Pyramids it is a representation of the solar deity and was built from a single block of sandstone.
It is thought to have taken over 3 years to build and although the ravages of time and man has taken its toll on this magnificent structure, it remains a beautiful view to behold.
Explore the Temple of Karnak
Situated on the banks of the River NileRiver Nile in Luxor, the temple of Karnak is perhaps one of Egypt most impressive attractions.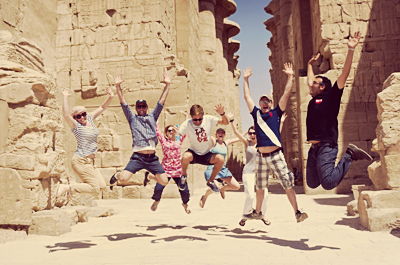 Originally built on the site of ancient Thebes, and known as the Temple of Amun, the structure dates to around 2,000BC, however construction continued through to as late as 300BC. What sets Karnak Temple apart from other temples in Egypt is the sheer size of it.
The Great Hypostyle Hall alone contains 134 intricately carved ornate columns covering an area of 5,000 m2.
Although the Temple of Amun is the only part open to the public, the original site at Thebes stretched over 3km and comprised of more than 25 temples.
This popular site can get extremely busy during the peak tourist season so it's best to be prepared!
Find Mummies in the Valley of the Kings
Hidden in the hills on the east bank of the river at Luxor lies the famous Valley of the Kings.
Burial place of the Pharaoh's, to date over 60 tombs have been discovered each marking the final resting place of one of the once rich and powerful rulers of ancient Egypt.
Upon the death of a Pharaoh, their body would be mummified and placed in an ornate sarcophagus.
It would then be buried deep in the ground, along with possessions that would be needed for the afterlife, which often included vast treasures of gold and jewels.
Over the years most of the hidden tombs have been discovered and looted by tomb robbers.
The most famous undiscovered tomb of king Tutankhamun was finally uncovered in the early twentieth century and revealed a vast array of priceless treasures.
Although the treasures are long gone, many of the tombs today have been restored and still have beautifully painted walls and ceilings The original stone sarcophagus are often on display along with other artifacts, including the mummified body of Tutankhamun.
Discover King Ramses Temple at Abu Simbel
Abu Simbel temple was constructed more than 3,200 years ago by pharaoh Ramses II.
It is in fact two temples, one dedicated to the Pharaoh himself and the other to his queen Nefertari.
The main temple has four massive, seated statues of King Ramses II and the smaller temple has six standing statues of both him and Queen Nefertari.
Cut into a rock face overlooking Lake Nasser, Abu Simbel is not only a testament to the skill and workmanship of the ancient Egyptian's, but also to the ingenuity and determination of modern engineers.
During the creation of Lake Nasser in the south of Egypt, the Temple of Abu Simbel was completely deconstructed and then reconstructed at a new location.
This was done to save it from being submerged in the newly created lake. The new location is about 200 metres further inland and 65 metres higher up than the original.
Travel like a king on an Egyptian Felucca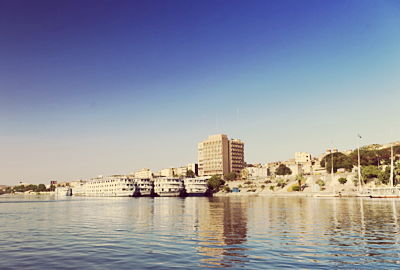 One of the most memorable travel highlights of any trip to Egypt is taking a traditional felucca sailboat ride on the River Nile.
Whether it's just a few hours or a longer overnight journey, it gives you an ideal chance to relax between your busier sightseeing tours.
Drifting down the river is an ideal way to experience the authentic day to day life of the locals that live along its riverbanks.
Feluccas have been used to move up and down the country for thousands of years and a ride on one of these graceful vessels is the closest chance you'll get to step back to a time when Pharaohs ruled the land.
The best places to take a felucca ride are Aswan, Luxor and Cairo.
Snorkel or dive among the coral in the Red Sea
There are many beach resorts along Egypt's Red Sea coast, including Sharm el Sheikh, Dahab, Hurghada, El Gouna, Sahl Hasheesh, Makadi Bay and others.
All these resorts offer fantastic diving and snorkelling on the beautiful coral reefs that fringe the Red Sea.
If you already have a diving qualification, then a trip out into the colourful and amazing marine environment found among the corals is an absolute must.
But it is also an excellent chance to learn to dive if you've never experienced it before.
Many of the resort hotels have in-house dive schools, and there are also plenty of local, independent dive schools that will organise the perfect day trip or beginner courses.
If diving seems a bit daunting, then snorkelling over the coral reefs can be equally rewarding and is open to anyone. Boat trips out to the coral reefs can be organised during your holidays through your hotel or an independent dive school, and all equipment will be provided.
Desert Safari
A visit to one of lush Egypt's desert oases is an adventure worthy of the explorers of old.
There are several interesting Oasis to visit, some easier than others.
One option is to go on a short drive out from Cairo to the Bahariya Oasis to visit the nearby White Desert and marvel at the weird, otherworldly rock formations.
A longer drive out from Cairo to the Siwa Oasis to visit the famous Temple of the Oracle.
If you are looking for the grand desert experience you could go on the full desert loop from Cairo to Luxor, visiting the Farafra, Dakhla and Kharga Oases.
Although harder to visit the extra time and effort is well worth it and great times to venture into the desert are the cooler winter months.
Warning: at the time of writing there are restriction on travel in to the desert due to security issues, please check current news on the safety of desert travel.
Conclusion
With high season being October to May and low season being the hotter summer months, at first glance there we have the answer to the question "BEST TIME TO GO TO EGYPT".
However, if it's a beach holiday to the Red Sea you are more interested in, then visiting during the higher temperatures of the summer month might be more attractive time, if the heat doesn't get too much for you!
On the other hand, if you're looking to take in a tourist attraction or two or a Nile River cruise, sticking to the cooler temperatures of peak season will make an Egypt trip a much nicer experience, if you can handle the crowds of course.
If you're clever about it, making the most of the start and end of high and low season might just get you the best of both worlds!
Finally, when considering tours to Egypt, the key thing to remember is that Egypt is one of the best places to combine history, culture, and beach time altogether into a once in a life-time holiday.
If you are interested in booking Egypt tours, either private or as part of a small group, Egypt Uncovered offers a wide range of tours to suit your specific requirements, time, and budget.
We can also advise you in more detail the right time to visit Egypt for you.
You might also be considering combining Egypt with nearby Jordan, where we also offer a with range of holidays.