|
Wadi el Rayan is a tourist destination in Egypt that is becoming increasingly popular with adventurous tourists. This popularity is because Wadi el Rayan offers a unique and exciting experience, unlike any other tourist destination in Egypt.
When visiting Wadi el Rayan, tourists can expect to find a number of different attractions and activities to keep them entertained. One of the most popular attractions at Wadi el Rayan is the intriguing Valley of the Whales.
Another popular attraction at Wadi el Rayan is the Wadi el Rayan Waterfalls. The Wadi el Rayan Waterfalls are the largest waterfalls in Egypt and are a sight to behold. Tourists can also take a dip in the refreshing waters of the Wadi el Rayan Waterfalls.
Overall, Wadi el Rayan is a tourist destination that offers a unique and exciting experience that is unlike any other tourist destination. If you are looking for an unforgettable experience, then be sure to add Wadi el Rayan to your list of must-visit tourist destinations.
The history of the Wadi eL Rayan will be covered in this guide. It will also attempt to address some of the most often asked questions regarding the site, such as: Best way to see Wadi el Rayan? How To Plan A Tour? Directions? and Activities available at Wadi el Rayan?
Tourist spots surrounding Wadi el rayan & the Fayoum area
WaterFalls
el Modawara Mountain
el Rayan Mountain
The Valley of the Whales (Wadi el-Hitan)
Wadi el Rayan Waterfalls
Located about 15km from the reserve's gate on the left side of the road. Wadi el Rayan's waterfalls are one of the most beautiful natural wonder and largest waterfall in Egypt, that is definitely worth a visit!
The Wadi el Rayan reserve is composed of a 50.9 square kilometre upper lake and a 62 square kilometre lower lake, with waterfalls between the two. It was designated as a Protected Area in 1989 and it protects the area's biological, geological and cultural resources. The Protected Area covers 1,759 square kilometers in the southern part of el Fayoum oasis, which are supplied by a 9 km open canal and an 8 km tunnel that crosses the desert. The northern lake is situated higher than the southern one, which creates the waterfalls as the water flows from the higher lake to the lower one.
It's a great spot for a day trip or a weekend getaway, and there are plenty of activities to keep you busy. hiking, swimming, and picnicking are just a few of the things you can do at the waterfall.
The waterfalls vary in height, but are all impressive and worth seeing. They are a perfect place to unwind and escape the stresses of everyday life. The natural setting and peaceful atmosphere are sure to rejuvenate your mind, body, and soul.
So, if you're looking for an amazing natural wonder to add to your travel itinerary, be sure to check out the waterfalls of Wadi el-Rayan.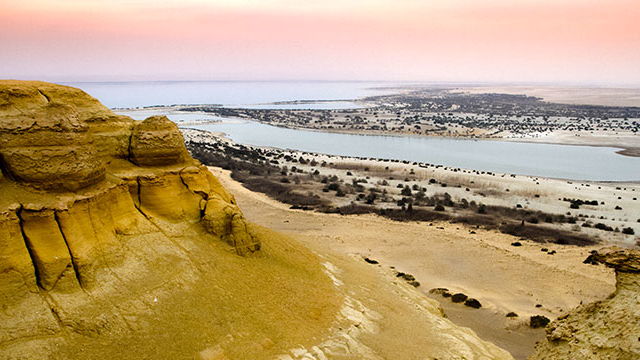 El Modawara Mountain
The mountain is known for its stunning views across the surrounding desert landscape. There are also a number of caves and rock formations that tourists can explore.
El Modawara Mountain is a large sandstone dome rising up out of the desert sand. It's easy to get to you'll need to be pretty sure-footed to get up on the top as it will require a bit of scrambling/climbing reach the summit. The views from the top of the mountain are incredible, and definitely worth the effort it takes to get up there! If climbing is not your thing the photos from the bottom will still make the visit worthwhile.
El Rayan Mountain
El Rayan Mountain is one of the most popular tourist destinations in the world. Located in the heart of the Sahara Desert, El Rayan is known for its beautiful sand dunes and stunning views to the summit, and the journey can be completed in a day.
The mountain is also home to a number of religious sites, including the shrine of Sidi Ali Ben Hamdouch. This shrine is a popular pilgrimage site for Muslims and is said to be the final resting place of the saint.
Valley of the Whales
Wadi Hitan (Valley of the Whales) is located in the Western Desert in Egypt and it was first discovered in the early 1900s by a group of British explorers. The valley get its name from the large number of whale fossils that can be found in the area and is also known as Egypt's Whale Graveyard.
The Valley of the Whales is the final resting place for many whales that have died over the years in a time when Egypt was covered by a large ocean. Over time, the ocean receded and the fossils were left behind. Today, the Valley of the Whales is a popular tourist destination for those interested in seeing these amazing fossils up close.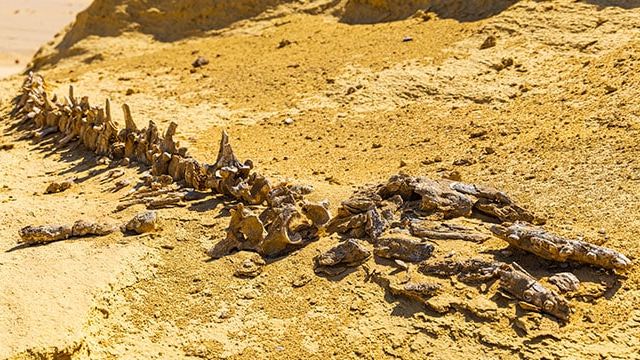 What's the best way to see Wadi el-Rayan?
The best way to see Wadi el-Rayan is by taking a jeep tour. This will allow you to explore the wadi at your own pace and to stop and take in the views whenever you want. The jeep tour will also take you to some of the best spots for swimming and birdwatching.
If you are interested in learning more about the history and culture of the area, then you should consider taking a guided tour. These tours are led by knowledgeable guides who can tell you all about the wadi and its surroundings.
Whichever way you choose to see Wadi el-Rayan, you are sure to have an unforgettable experience.
How To Plan A Tour To Wadi el Rayan?
Wadi el Rayan has multiple waterfalls, making it a well-liked tourist destination. When organizing a journey to wadi el-rayan, there are a few things to consider, such as the ideal time of year to go and what to pack.
Wadi el Rayan is not accessible by public transportation. Driving along the southern shore of Lake Qarun to its western end is possible. The road is very interesting and has some breathtaking scenery. Wadi el-Rayan turnoff is 28 kilometers west of the Panorama Hotel. A large overhead sign clearly marks the location. Despite the occasional twist and dogleg, the road heads south, and in 8.5 kilometers, one arrives at the entrance gate to the Wadi el Rayan Protected Area. The gate is not always staffed, but if it is, each vehicle and each occupant must purchase a ticket here. After passing through the gate, one is suddenly in a clean wide open desert, which becomes more beautiful, with sculpted yellow dunes, the further south one travels.
How To Reach Wadi el Rayan protected area?
In case you need a private transfer to Wadi el Rayan , tour agencies can arrange that for you by AC modern vehicle from anywhere in Giza or Cairo.
Duration Of The Trip: 9 hrs. approximately
Since there are few restaurants or stores nearby, bring lots of water and food when preparing for a trip to Wadi el Rayan. Due to the lack of shade, a hat and sunscreen are also essential. Due to the possibility of rocky terrain, hiking boots are recommended.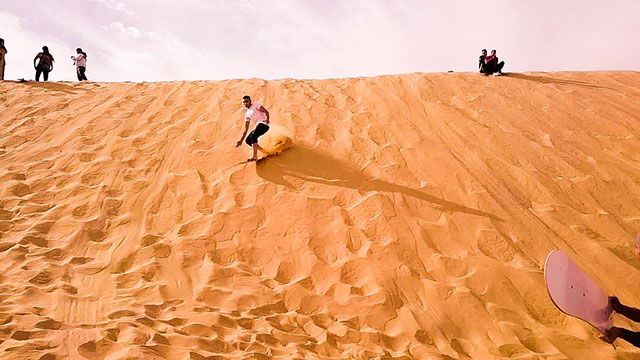 Frequently ask questions
Best time to visit Wadi el-Rayan?
There are a few considerations when organizing a trip to Wadi el Rayan. The winter season, which runs from November to February, is the ideal time to travel. Because of the colder temperatures, waterfalls are more likely to be in motion. Pack some warm clothing because the temperature at night can go below freezing. It would be best if you packed lots of water and food for your trip to Wadi el Rayan because there are few stores or eateries nearby. Since there is limited shade, a hat and sunscreen are also necessary. Since the ground can be rocky, hiking boots are a smart option.
What is the dress code for visiting Wadi el Rayan Waterfall?
If you're planning on visiting Wadi el Rayan, it's important to be aware of the dress code. While you won't need to wear anything too fancy, it's important to try to dress modestly. This means covering your shoulders and knees, and avoiding any clothing that is too tight or revealing. Swimsuits are ok for swimming but try to cover up when you get out of the water.
What activities are available at Wadi Rayan?
There are a number of different activities available for visitors to Wadi el Rayan.
Bird watching: The area is known for its large number of bird species, as well as its population of endangered plants and animals.
Hiking, camping, and picnicking: There are a number of different trails that wind through the different ecosystems in the area, and visitors can also camp overnight in designated areas. Exploring the sand dunes is another great way to enjoy the scenery.
Visitors to Wadi el Rayan can also enjoy a number of different water activities. The area has two lakes, and visitors can go swimming, on boat rides, and fishing in them.
Overall, Wadi el Rayan is a great place to visit for anyone who loves nature or wants to learn more about Egyptian history and culture. There is something for everyone in this beautiful and unique protected area.