|
This lake in northern Israel has various names, including Lake Tiberias, Lake Kinneret, and the Sea of Gennesaret. It is the title of the lowest freshwater lake globally and the second-lowest lake overall.
The Jordan Rift Valley is where the Sea of Galilee can be found, a significant fault line in the Earth's crust. The Jordan River feeds the lake from the north and flows into the Dead Sea in the south. This lake is a favoured tourist spot due to its picturesque views, historical importance, and warm climate. It is also a popular location for fishing, swimming, and boating activities.
In this guide, we will attempt to answer some of the most frequently asked questions about visiting the site, including:
How much does visiting The Sea of Galilee cost, and when is it open? How do I get to The Sea of Galilee? What is the best time of the year to visit The Sea of Galilee? - more.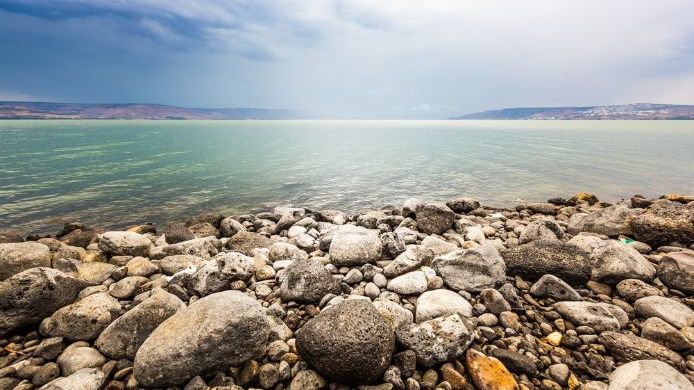 Why visit the Fresh Water of Tiberias Lake?
There are many reasons to visit Tiberias Lake: The Sea of Galilee. Some of the reasons include:
The beautiful scenery: Surrounded by mountains and hills, the views from the lake are stunning.
The historical significance: It is mentioned in the Bible and is a popular pilgrimage site for Christians and Jews.
The warm climate: Tiberias boasts warm and sunny weather all year round, making it a perfect place to visit in winter and summer.
The activities: There are many activities to enjoy at the Sea of Galilee, including swimming, boating, fishing, and hiking.
Who will enjoy visiting The Sea of Galilee?
The Sea of Galilee is great for people of all ages and interests. Some of the types of travellers that will enjoy the lake include:
Families: Great for families with children. Children can enjoy many activities, including swimming, boating, and fishing.
Couples: Couples looking for a romantic destination can consider the Sea of Galilee. The place offers many beautiful spots to unwind and admire the breathtaking scenery.
Religious pilgrims: A popular pilgrimage site for Christians and Jews. Visitors can explore numerous historical sites and find spiritual significance at the lake.
Nature lovers: If you're a nature enthusiast, It is a great place to explore. You'll find numerous hiking trails and nature reserves in the vicinity.
What is the best time of the year to visit The Sea of Galilee?
Now, let's start by talking about the weather 'cause I know that's what's on your mind. Picture yourself strolling along the shores of The Sea of Galilee in the springtime. The sun is shining, the birds are chirping, and flowers are bloomin' left and right. It's like a little slice of paradise, I tell ya. The temperatures are mild, ranging from a comfortable 70 to 80 degrees Fahrenheit (21 to 27°C), making it the perfect time to explore the surrounding areas and take a dip in the crystal-clear waters.
If you're more of a summer person, don't you worry. The Sea of Galilee is not one to disappoint. From June to September, the temperatures reach a toasty 90 degrees Fahrenheit (32°C) and above. The beaches are bustling with locals and tourists alike, and the water is more inviting than ever. You can rent yourself a boat or hop on a cruise and experience the beauty of this magnificent lake from a whole new perspective.
Fall, oh glorious fall, is another fantastic time to visit The Sea of Galilee. The scorching summer heat starts to mellow down, and the lake takes on a whole new vibe. The surrounding hills come alive with vibrant colors as the trees shed their leaves, and the air becomes crisp and refreshing. If you're a hiker, this is the time for you. Lace up those boots and hit the trails, because the panoramic views from up above are simply breathtaking.
And finally, we can't forget about winter. Now, I know what you might be thinking, "Who in their right mind would want to visit a lake in the dead of winter?" While it may not be your typical beach weather, winter brings its own unique charm to The Sea of Galilee. The surrounding mountains get a dusting of snow, creating a picturesque backdrop that would make even the most seasoned photographer weak in the knees. And guess what? The lake is still there, waiting for you to explore it. So grab a jacket, bundle up, and get ready for some cosy, peaceful moments by the water's edge.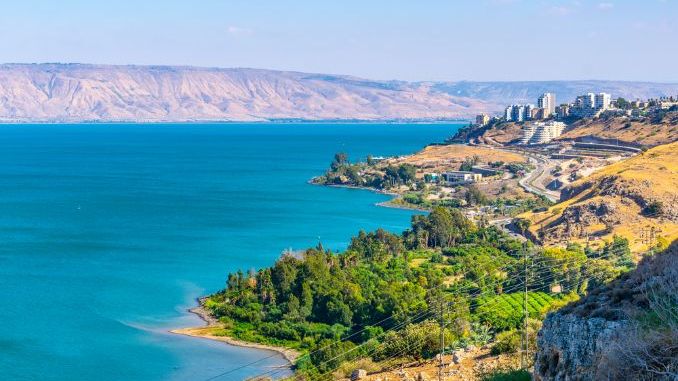 How do I get to The Sea of Galilee?
The Sea of Galilee is located in northern Israel. The nearest major airport is Ben Gurion International Airport, located about 100 kilometres (62 miles) south of the lake. Several bus stations are located near the lake, and a railway station serves the city of Tiberias.
How much does visiting The Sea of Galilee cost, and when is it open?
When planning a trip to the Sea of Galilee, remember that the cost will vary depending on the activities you want to participate in. Although there is no admission fee for the lake, fees may apply for swimming, boating, or fishing. While the Sea of Galilee is open year-round, the best weather is typically spring or fall.
What should I wear to Tiberias Lake?
First and foremost, it's important to dress appropriately for the weather conditions. Tiberias Lake is located in a region known for its warm and sunny climate, so lightweight and breathable clothing is a must. Opt for loose-fitting clothes that allow airflow and help to keep you cool. You don't want to be stuck in heavy and restrictive clothing, especially when exploring the outdoors.
A popular choice for many visitors to Tiberias Lake is a comfortable pair of shorts or a skirt. Not only do they provide ample ventilation, but they also allow for ease of movement, making it easier to engage in activities like walking along the shoreline or even swimming in the lake itself. Pair your bottoms with a lightweight, short-sleeved shirt or a tank top. This combination will keep you cool and comfortable throughout the day.
While dressing for warm weather is important, it's also essential to protect yourself from the sun's harmful rays. Tiberias Lake is surrounded by vast open spaces, leaving little to no shade for visitors. It's crucial to wear sunscreen with a high SPF to shield your skin from the sun's ultraviolet rays. Additionally, don't forget to bring a wide-brimmed hat and a pair of sunglasses to further protect yourself from the intense sunlight.
As you explore the lake's surroundings, you may also encounter uneven terrain and rocky surfaces. It's wise to wear sturdy and comfortable footwear that offers good traction. Avoid wearing flip-flops or any footwear that may cause you to slip or stumble. Remember, comfort and safety should always take precedence when it comes to choosing your footwear.
Another factor to consider is the possibility of getting wet. Tiberias Lake is a tempting place for swimming, boating, or even just splashing in the water. If you plan on indulging in any of these activities, be sure to bring along a swimsuit and a towel. It's always a good idea to have a change of clothes handy in case you get soaked, especially if you have plans to continue exploring the surrounding areas after your aquatic adventures.
In addition to the practical considerations mentioned, it's worth noting that Tiberias Lake is a popular tourist destination. Many individuals embrace the opportunity to capture memories by taking numerous photographs. If you're one of them, it might be worth dressing in an outfit that makes you feel confident and photogenic. After all, there's no harm in looking your best while surrounded by such natural beauty.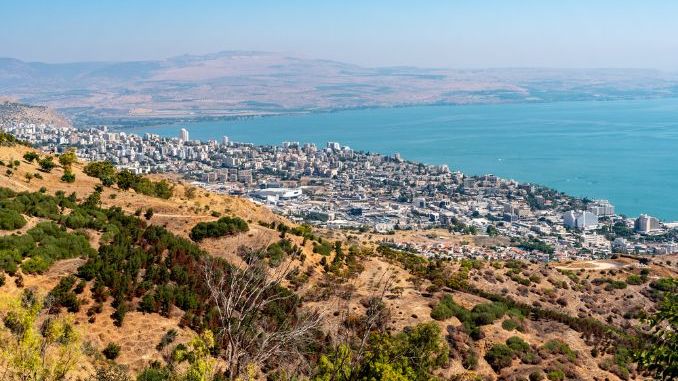 How fit do I need to be?
To fully enjoy the Sea of Galilee, it's recommended to have a moderate level of fitness, as there are walking trails and activities like swimming and boating that require some physical effort. Nonetheless, numerous activities are available for individuals with varying fitness levels, like sunbathing, fishing, and unwinding on the beach.
Is It Safe to Visit the Tiberias Lake?
Yes, it is safe to visit the Sea of Galilee. The lake is peaceful, and there is no crime or violence. The water in the lake is also clean and safe to swim in.
Safety Recommendations
The following are some recommended safety conditions of the attraction and the surrounding area when visiting The Sea of Galilee:
Be aware of the weather conditions: It's crucial to dress suitably and be ready for rain and heat since the climate in this region is subject to rapid changes.
Be aware of the wildlife in the area: When hiking or walking in the woods, it's crucial to exercise caution due to venomous snakes.
Be aware of the currents in the lake: The currents in the lake can be strong, so it is important to swim in designated areas and to be aware of your surroundings.
If you are planning to swim in the lake, it is important to be aware of the following safety tips:

Always swim with a buddy.
Never swim alone.
It is important to only swim in areas specifically designated for swimming. Avoid swimming in any other areas. Be aware of the currents and the depth of the water.
Do not swim if you are under the influence of alcohol or drugs.
Do not swim if you are feeling unwell.
What souvenirs can I buy?
The Sea of Galilee attracts many tourists who often buy souvenirs as mementoes. Here are some of the most popular souvenir options available for purchase.
Olive oil: Olive oil is a Mediterranean diet staple and is abundant around the area. You can find olive oil for sale in various sizes and bottles, making it a great gift for friends and family back home.
Honey: Honey is another popular souvenir. Many types of honey are available, from wildflower honey to date honey. You can also find honey-flavoured products, such as honey candy and soap.
Dates: Dates are a delectable fruit that originates from the Middle East. They are a beloved treat and are versatile for baking and cooking. Dates come in various sizes and flavours, making a delightful gift for anyone with a sweet penchant.
Spices: Spices are a popular souvenir from the Middle East. Many different spices are available; you can find them in whole and ground form. Spices make a great gift for people who love to cook and can also be used to add flavour to food.
Ceramics: Ceramics are a popular souvenir with many different types, from simple bowls and plates to intricate figurines and sculptures. Ceramics make a great gift for people who love decorating their homes and can also be used to store food and other items.
Jewellery: Jewelry is also a popular souvenir with many types available, from simple necklaces and earrings to intricate bracelets and rings. Jewellery is a great gift for people who love to accessorize and can be a cherished keepsake.
T-shirts: T-shirts are another popular souvenir from the lake. You can find t-shirts with various designs, from simple logos to elaborate scenes from the region. T-shirts make a great gift for people who love to show their support for their favourite places, and they can also be used to remember a special trip.
Hats: You can find hats in various styles, from baseball caps to cowboy hats. Hats make a great gift for people who love to accessorize, and they can also be used to protect your head from the sun.
Magnets: You can find magnets with various designs, from simple maps to elaborate scenes from the region. Magnets make a great gift for people who love to collect souvenirs, and they can also be used to decorate your fridge or other magnetic surfaces.
Postcards: You can find postcards with various designs, from simple photos to elaborate paintings. Postcards make a great gift for people who love to write letters, and they can also be used to send a message to friends and family back home.
The Sea of Galilee offers a wide variety of souvenirs to choose from. With abundant options, you're bound to find the perfect gift for everyone on your list.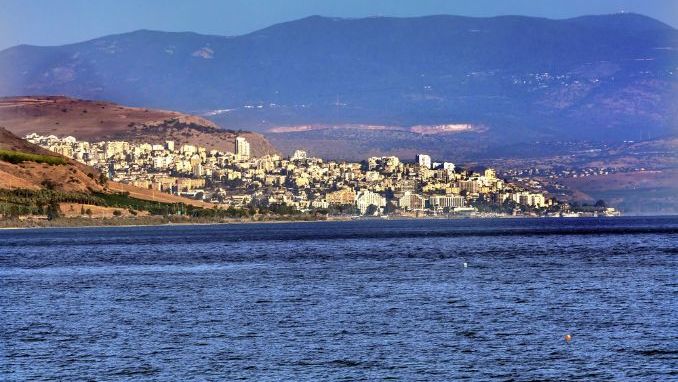 What else can I do at Tiberias Lake?
Here are some popular activities you can enjoy at the Sea of Galilee, also known as Tiberias Lake:
Swimming: During the hot summer months, the famous Sea of Galilee is a popular spot for swimming. The water is refreshing and clear, and there are several beaches where you can relax and enjoy the sun.
Boating: There are several boat tours available on the Sea of Galilee. You can take a boat trip to the surrounding countryside or rent a boat to explore the lake alone.
Fishing: It is a great place to go fishing. The lake has many fish species, including trout, carp, and catfish. You can fish from the shore or a boat.
Sunbathing: The shores have multiple beaches that offer a perfect place to unwind and bask in the sun while enjoying the breathtaking scenery.
Hiking: The lake is surrounded by multiple hiking trails providing breathtaking views of the lake and the nearby countryside.
Walking: There are also several walking trails surrounding the Sea of Galilee. These trails are a great way to explore the area and get some exercise.
Biking: Discover the many biking trails that surround the Sea of Galilee. Not only will you be able to explore the area, but you can also get some exercise while at it.
Camping: There are several campgrounds located near the Sea of Galilee. These campgrounds offer a great way to experience the outdoors and enjoy the area's beauty.
Sightseeing: You can find numerous historical sites nearby, such as the remains of ancient cities, churches, and synagogues.
Learning about the local culture: There are several opportunities to learn about the local culture surrounding the lake. You can visit museums, attend cultural events, or talk to the locals.
The Sea of Galilee truly has many activities that cater to the interests of all its visitors. Whether you're an adventure seeker looking for fun outdoor escapades or a history enthusiast seeking to unravel ancient tales, this superb location undoubtedly offers a myriad of experiences perfect for you.
Experience the revitalizing and inspiring beauty of Tiberias Lake's crystal-clear waters, captivating landscapes, and rich cultural heritage. Enjoy creating lifelong memories in this enchanting destination you'll be excited to share. Don't wait any longer. The Sea of Galilee is waiting for you to arrive.