|
The Hanging Church is one of the most iconic Christian tourist destinations in Cairo, Egypt, near the Coptic Museum. It is also known as the al-Muʿallaqa Church and is one of the oldest Coptic Orthodox churches in the world.
The church is built atop the southern gate of the Roman Babylon Fortress and was originally built in the 4th century AD. The Hanging Church gets its name from its unique location - it seems to be hanging from the fortress walls.
The church has been renovated and restored for centuries and currently houses a library. The Hanging Church is one of Cairo's most popular Christian tourist destinations and is worth visiting!
This guide explains the history and architecture of the Hanging Church. It also attempts to answer some of the most frequently asked questions about visiting the site, such as: What is the best time to visit? What are the entrance fees? What should I wear? - and more.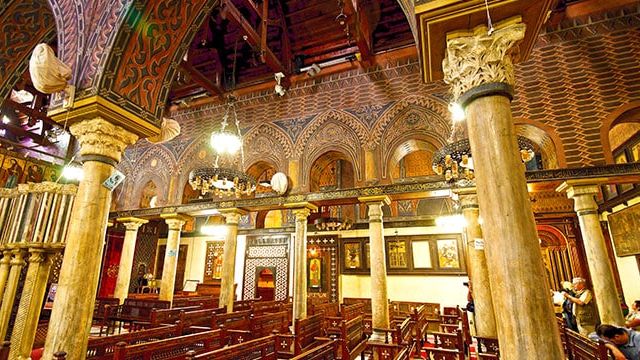 The Hanging Church History
The Hanging Church has a long and rich history and was first built during the time of the Roman Empire. During this period, Christianity was still relatively new and was not widely accepted by many Egyptians. It is dedicated to the Virgin Mary and contains sanctuaries for her saints John the Baptist and George.
As such, it was not uncommon for Christians to be persecuted and even killed for their beliefs. The Hanging Church was built as a sanctuary for these persecuted Christians and a place of refuge from religious persecution.
The earliest known reference to the Hanging Church dates back to the 8th century AD when it was mentioned in the biography of the patriarch Joseph I when the governor of Egypt visited the establishment.
The current structure of the Hanging Church was built during the 10th century by Patriarch Abraham of Alexandria, a Coptic Pope who wanted to create a haven for persecuted Christians. It also became the official residence of the Coptic Orthodox Pope at this time.
The church features several unique architectural features, such as its bell tower, which hangs over a large courtyard and its distinctive domed roof, which gives it its name, "Hanging" or "Suspended" Church. Inside, several beautiful icons depict scenes from biblical stories, such as Jesus walking on water and Mary holding baby Jesus in her arms.
Throughout its long history, the Hanging Church has been damaged several times due to natural disasters such as earthquakes and floods. Still, it has always been restored by local Coptic communities who take great pride in their religious heritage.
Recently, it has become a popular tourist attraction in Cairo, with thousands of visitors visiting every year to admire its unique architecture and learn more about its fascinating history.
Today, the Hanging Church remains an important symbol of faith for many Coptic Christians worldwide, who view it as a sacred place to come together to worship God and celebrate their faith. It also serves as an important reminder of how far Christianity had come since its early days when it was still largely persecuted across much of Egypt and other parts of the world.
Architecture
The Hanging Church is renowned for its unique architecture, blending Coptic and Roman styles. The church is built on top of the remains of an ancient Roman fortress, which can still be seen in its basement.
The church's exterior is decorated with beautiful carvings and paintings, and its interior is full of vibrant colours and detailed artwork. The Hanging Church is one of the most beautiful and unique churches in Cairo and is worth a visit.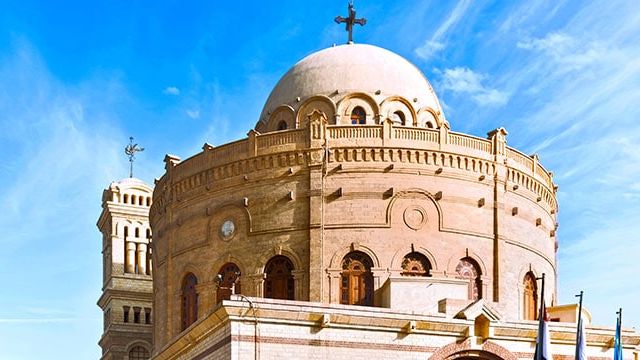 FREQUENTLY ASKED QUESTIONS
Why visit the Hanging Church in Old Cairo?
The Hanging Church is one of Cairo's most beautiful and interesting churches.
The church is located in Old Cairo, a fascinating area to explore.
The church has a fascinating history and is unique.
The church is very popular with tourists and worth visiting.
The church is great for taking photos and represents one of Cairo's many architectural styles.
Who will enjoy visiting this Coptic Orthodox church?
Photography enthusiasts will enjoy snapping pictures of the intricate architecture inside and outside the church.
Travellers interested in history and culture will find the church's origins and Coptic influences fascinating.
Those looking for a dose of spirituality will appreciate the church's religious significance.
Architecture buffs will be impressed by the church's unique construction
Lastly, the Hanging Church's elegance won't disappoint anyone who enjoys admiring beautiful buildings.
What is the best time of the year to visit the hanging church today?
The best time of the year to visit the hanging church is winter. The weather is more relaxed, and the crowds are smaller.
How to get to the hanging church in Coptic Cairo?
Getting to the Hanging Church in Coptic Cairo can be done by several means of transportation.
The most convenient way to get there is by taxi or car. Taxis are available throughout Cairo and can be found at any major intersection or hotel. Most taxis will have a meter, but agreeing on a price before getting into the taxi is important. It should take approximately 30 minutes to get from downtown Cairo to the Hanging Church.
The next option is to take a bus if you prefer public transportation from downtown Cairo to the Hanging Church. The journey takes longer depending on the traffic, and tickets can be purchased from any bus station or kiosk.
Finally, Cairo's metro station is very close to the Hanging Church. Take the Metro Line 1 south, and once you arrive at Mar Girgis Station, it's only a short walk up some stairs and through an alleyway until you reach the entrance of the Hanging Church.
Regardless of your transportation method, it's important to remember that traffic in Cairo can be unpredictable, so plan accordingly and give yourself plenty of time to get there!
Note: Fees are subject to change without prior notice.
How much does it cost to visit the hanging church? And when is it open?
The cost of visiting the hanging church is free and open from 9:00 am to 5:00 pm every day.
Note: Fees and Opening Hours are subject to change without prior notice.
What should I wear to the Hanging Church?
The Hanging Church is open to visitors from all walks of life, regardless of religious affiliation. However, it is recommended that visitors dress conservatively when visiting the church.
For men, this means wearing long pants.
For women, this means wearing skirts below the knee or loose trousers.
Both men and women are advised to cover their shoulders.
Visiting the Hanging Church is a great cultural experience. The church's beauty, religious significance, and history are fascinating. If you find yourself in Cairo, add the Hanging Church to your list of must-see sites.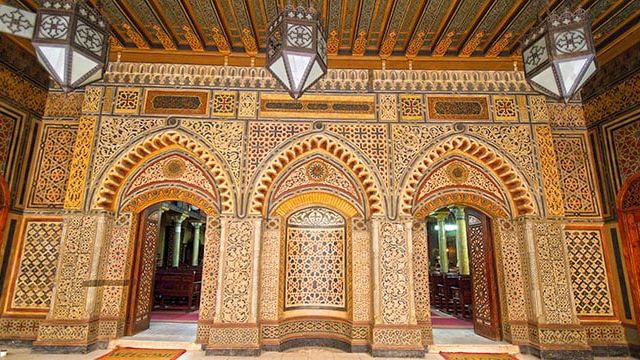 How fit do I need to be?
To visit the Hanging Church, you should have a good level of physical fitness.
You should be able to walk for at least 30 minutes without feeling overly tired or out of breath.
You should also have good balance and coordination as many steps and uneven surfaces surround the church grounds.
Additionally, it would be best to have good upper body strength as there may be times when you need to pull yourself up onto higher levels or hold onto railings for support while walking around.
Is it safe to visit the hanging church?
The answer to this question is yes. The church is well-maintained and has security guards on duty to ensure visitors' safety.
Additionally, the area around the church is generally safe and crime-free. However, tourists should take precautions when visiting any area of Cairo, as pickpocketing and other petty crimes are common in crowded areas.
What is the recommended safety condition?
When exploring the surrounding area of The Hanging Church, visitors should take extra precautions for their safety.
It is best to avoid walking alone at night or in areas that are not well-lit or populated by other people; instead, it is recommended that visitors travel with a group or with a local guide who knows the area well.
Additionally, visitors should avoid carrying large amounts of cash or valuables when exploring outside of The Hanging Church's grounds; instead, they should store these items securely in their hotel room or other safe location before venturing into Cairo's streets.
Finally, visitors to The Hanging Church need to be aware of any potential health risks associated with visiting Egypt; these include diseases such as malaria and dengue fever which can be contracted through mosquito bites.
To reduce these risks, it is recommended that visitors wear insect repellent when exploring outside The Hanging Church's grounds and take other precautions, such as sleeping under mosquito nets at night if possible.
In conclusion, all visitors to The Hanging Church must be aware of recommended safety conditions inside and outside its grounds to ensure a safe and enjoyable experience while visiting this unique attraction in Cairo, Egypt.
By following these guidelines, visitors can ensure an enjoyable visit without compromising their safety while staying in Egypt's capital city.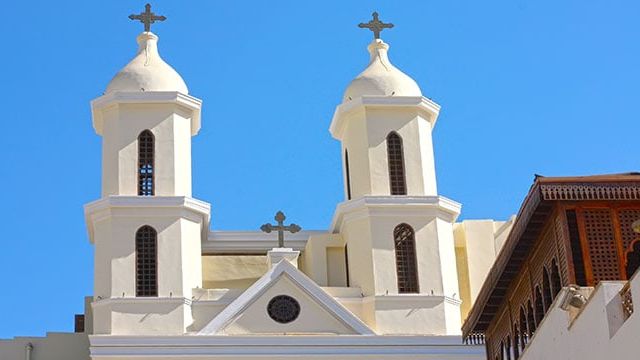 What souvenirs can I buy?
Visitors to the church can purchase souvenirs to take home with them as a reminder of their visit. Here are some of the most popular souvenirs that you can buy in and around the Hanging Church:
Coptic Crosses: Coptic crosses are a popular souvenir from the Hanging Church. These crosses are wood or metal and feature intricate designs representing the Coptic faith. They come in various sizes and styles and make great gifts for friends or family members who share your faith.
Coptic Icons: Coptic icons are another popular item at the Hanging Church. These icons depict religious scenes from the Bible or other religious stories, such as Jesus' birth or resurrection. They come in various sizes and styles, making great decorations for any home or office space.
Incense: Incense is a common item found at many churches, including the Hanging Church, and it makes a great souvenir to take home with you after your visit. Incense comes in various scents, such as frankincense, myrrh, sandalwood, jasmine, patchouli, lavender, rosemary, and more. It is believed that burning incense helps to purify a space spiritually as well as physically.
Candles: Candles are another popular item found at many churches, including the Hanging Church, and they make great souvenirs too! Candles come in various colours, such as white, red, blue, green, yellow, purple, pink etc., and can be used for prayer or meditation or to add ambience to any room in your home or office space.
Books: Books about Christianity are also available at the Hanging Church, which makes great souvenirs too! These books range from biographies of saints to collections of prayers to books about Christian history and theology; there's something for everyone!
Jewellery: Jewelry featuring religious symbols such as crosses or other Christian symbols can also be found at the Hanging Church, making it an ideal place to buy gifts for friends or family members who share your faith! Jewellery pieces range from necklaces to earrings to bracelets; there's something for everyone!
Statues: Statues depicting religious figures such as Jesus Christ or Mary can also be found at the Hanging Church, which makes excellent decorations for any home or office space! Statues come in various sizes ranging from small figurines to large sculptures; there's something for everyone!
These are just some of the most popular souvenirs you can buy in and around the Hanging Church when visiting Cairo! Whether you're looking for something special for yourself or someone else who shares your faith, something here will suit everyone's tastes!
What else can I do at the Hanging Church?
One popular activity at the Hanging Church is taking a guided tour. Tour guides will take visitors through the church's history, explaining its significance and importance to Coptic Christianity. They will also explain some of the unique features of the building, such as its suspended location over the Nile River and its intricate architecture.
Another popular activity at the Hanging Church is attending one of its services. The church offers services in English and Arabic, so visitors can choose which language to use during their visit. During these services, visitors can experience traditional Coptic music and learn about their faith from experienced priests.
Visitors who want to learn more about Coptic Christianity should consider participating in one of the many educational programs offered at the Hanging Church, such as lectures on Coptic history or classes on traditional Coptic music and art forms.
These programs provide an excellent opportunity for visitors to gain insight into this ancient religion and culture while exploring this historic site at their own pace.
Finally, no visit to Cairo would be complete without sampling some of its delicious cuisines! Many restaurants near The Hanging Church serve traditional Egyptian dishes such as koshari (a rice dish) or ful medames (a fava bean dish).
Visitors should also try local desserts like baklava or qatayef (a sweet pastry filled with nuts).
Visitors can enjoy many activities while visiting The Hanging Church in Cairo, Egypt! From guided tours to educational programs and delicious cuisine, there's something for everyone at this historic site!
What useful tips do you have for visiting the Hanging Church?
Here are some tips to help you make the most of your visit.
First, plan your visit. The Hanging Church is open daily from 9 am to 5 pm but can get crowded during peak times. To avoid long lines and ensure that you have enough time to explore, it's best to plan your visit.
Second, dress appropriately. The Hanging Church is a religious site, and visitors should dress modestly out of respect for its significance. Women should cover their shoulders and wear long skirts or pants, while men should wear long pants and shirts with sleeves that cover their shoulders.
Third, bring a camera or smartphone to capture the beauty of the church's architecture and artwork. However, be sure to ask permission before taking photos inside the church, as some areas may be off-limits for photography.
Fourth, take advantage of guided tours if available. Guided tours are a great way to learn more about the history and significance of the Hanging Church and other sites in Old Cairo that you may not have known otherwise.
Fifth, don't forget to explore outside the church walls too! Many interesting shops and restaurants nearby offer unique souvenirs and delicious local cuisine that you won't want to miss out on!
Finally, be respectful when visiting the Hanging Church by refraining from loud conversations or disruptive behaviour inside the church walls. This will help ensure that all visitors can enjoy their experience without disruption from others around them.
Visiting the Hanging Church is an unforgettable experience that will give you insight into Cairo's rich culture and history. By following these tips, you can ensure your visit goes smoothly so you can enjoy every moment!