|
Many tourists love going to and returning to Ras Mohammed Nature Reserve because one of the most famous dive sites in Egypt. The Reserve is home to a stunning coral reef, one of the most popular tourist attractions. In addition to the coral reef, the Reserve also features mangrove forests, lagoons, seagrass beds, and various fish and bird species.
One of the things that makes Ras Mohammed Reserve so unique is that it is one of the few places in the world where you can see red sea turtles nesting.
Another draw for visitors is that Ras Mohammed Reserve offers a wide range of activities for visitors to enjoy. One of these is the fantastic snorkelling trip and best diving sites from shore and spending a relaxing day visiting mangroves.
In this guide, the Ras Mohammed Reserve will cover stunning coral reefs under the water, abundant wildlife, and a wide range of activities. Additionally, it will attempt to respond to some of the most common inquiries about visiting the website, such as What to expect when visiting Ras Mohamed Reserve? What is the best time to visit? What are the entrance fees? What to wear?
What to expect when visiting Ras Mohammed National Park?
An Unforgettable Experience
The crystal clear waters teeming with colourful fish and other marine life and reefs of Ras Mohammed are breathtaking. Whether snorkelling or diving, you'll be mesmerized by the beauty of this underwater paradise.
A Fun Activity For The Whole Family
Perfect for Tourists of all ages. Kids will have a blast swimming and playing in the shallower waters near the shore. And adults will enjoy exploring the deeper waters further off from land. There's something for everyone at Ras Mohammed Reserve!
A Great Way To Learn About Marine Conservation
Ras Mohammed Reserve is also a great way to learn about marine conservation. The staff at the Reserve are passionate about educating visitors about the importance of protecting our oceans and their inhabitants. You'll leave Ras Mohamed Reserve with a greater appreciation for the importance of marine conservation.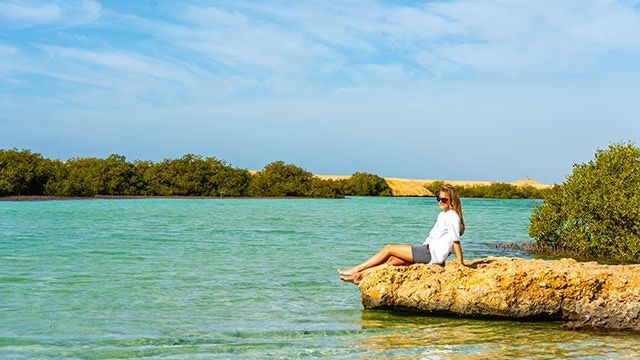 8 reasons why you should visit Ras Mohamed National Park:
Unique Flora and Fauna - The reserve boasts an impressive variety of flora and fauna, including over 200 species of plants, over 200 species of birds, and over 1000 species of invertebrates. There are also several rare species that can only be found in this area.
Spectacular Scenery - Ras Mohammed Nature Reserve offers breathtaking views of the Red Sea, with its crystal clear waters and coral reefs. The reserve also has a wide range of landscapes, from rugged mountains to sandy beaches.
Rich History - The reserve has a rich history that dates back to ancient times. It was once part of the ancient kingdom of Punt, which was an important trading centre between Egypt and other parts of Africa.
Great for Wildlife Watching - The reserve is home to a wide range of wildlife, including dolphins, turtles, sharks, sea snakes, sea urchins, octopuses and more! You can also spot some rare species such as the dugong (a large marine mammal) or even the Egyptian vulture (an endangered bird).
Perfect for Snorkelling - With its crystal clear waters and vibrant coral reefs, Ras Mohammed Nature Reserve is perfect for snorkelling or diving! You can explore the underwater world up close and personal while admiring its beauty from above as well!
Great for Camping - If you're looking for an unforgettable camping experience then look no further than Ras Mohammed Nature Reserve! There are plenty of camping spots available in the area where you can enjoy some peace and quiet while admiring nature's beauty all around you!
Educational Opportunities - The reserve offers educational opportunities such as guided tours where visitors can learn about the history and ecology of this unique area.
Cultural Experiences - Visitors can also take part in traditional Bedouin activities such as camel riding or sand boarding while learning about their culture at the same time!
A Guide to Ras Mohammed National Park
The Beaches of Ras Mohammed
Ras Mohammed has some of the most beautiful beaches in the world. The white sand and turquoise waters are simply stunning. There are many species of corals in the area, which make for great snorkelling and scuba diving.
Top Hidden Gems You Didn't Know Were Near Ras Muhammad National Park
Saline Lake
Hidden Beach
Ras Mohammed Reef
The Mangroves
The Enchanted Lake
The Main beach
Seven Pool Coral Reef
Overview of the Ras Mohammed National Park
Ras Mohammed National Park is located at the southern tip of the Sinai Peninsula where the Gulf of Aqaba meets the Gulf of Suez, near the city of Sharm El-Sheikh.
This marine reserve is a protected area that covers 480 kilometres of pristine shoreline and the waters of Ras Mohammed boast an exceptional coral reef. These are among the world's best shorelines, in addition to an inland area that includes a diversity of mountains, valleys, and dunes. Ras Mohamed is literary translated into Mohamed's Head. Mohamed refers to the prophet (PBUH), and the head relates to land. It was inaugurated in 1983 by the Egyptian environment affairs agency as a marine reservation to protect this unique complex that houses thousands of aquatic species and a diversity of wildlife, including gazelles and desert foxes. This vast assortment of species composes a complete ecosystem which helps them escape their predators, find necessary supplies for survival, and reproduce. The nature reserve boasts more than 200 species of corals, of which 125 species are soft corals, approximately 1,000 species of fish, 40 types of starfish, more than 100 species of mollusc, 25 species of sea urchins, and 150 varieties of crustaceans.
Furthermore, the reservation contributes significantly to bird migration owing to a 1.1 km area, located at the extreme southern and of Ras Mohammed's Peninsula, that serves as a place for resting and nourishment.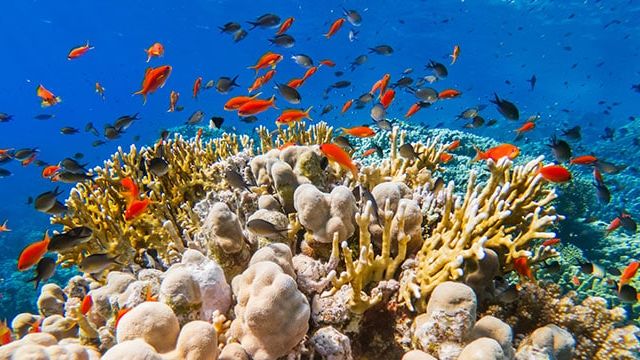 Frequently asked questions by Tourists
How to Get to Ras Mohammed Nature Reserve in the Sinai
Getting to Ras Mohammed Nature Reserve can be done by air, land or sea. The nearest airport is Sharm el Sheikh International Airport, located about 20 kilometres away from the reserve. From there, visitors can take a taxi or rent a car to get to the reserve.
For those who prefer to travel by land, there are several tour companies that offer guided tours of the area, which include bus transportation from Sharm el-Sheikh to Ras Mohammed Nature Reserve. These bus tours run daily and take around two hours to reach the reserve.
For those who prefer to travel by sea, there are several boats that leave from Sharm el-Sheikh and sail directly to the reserve. These boats typically take around two hours and offer stunning views of the Red Sea along the way.
Once visitors arrive at Ras Mohammed Nature Reserve, they will find a variety of activities available for them to enjoy. One popular activity is snorkelling in the Red Sea's crystal clear waters, where visitors can observe colourful coral reefs and exotic fish species up close. Other activities include hiking through the desert landscape or exploring some of the many ancient ruins located within the reserve's boundaries. Visitors can also take part in bird watching tours or explore some of the many caves located within its boundaries.
What is the Best Time to Experience Ras Mohammed National Park?
The answer depends largely on what type of experience you're looking for. If you're interested in seeing the area's abundant wildlife, then springtime.
(March-May) is your best bet. During this time of year, temperatures are mild and sea conditions are ideal for snorkelling and diving. The warm waters also attract a variety of fish species, making it an ideal time to spot some of the area's more elusive creatures such as dolphins, turtles, and even sharks.
If you're more interested in exploring the area's stunning coral reefs then autumn
(September-November) is your best bet. This season brings cooler temperatures and calmer seas which make it easier to explore the area's underwater wonders. The cooler water also encourages a variety of colourful coral species to bloom, making it an ideal time for snorkelers and divers alike.
For those looking for a combination of both wildlife viewing and reef exploration then summer
(June-August) may be your best option. During this season temperatures are at their highest but sea conditions remain relatively calm which makes it easier to explore both above and below the surface. However, due to high temperatures during this season there may be fewer fish species present in the waters so if you want to see some of Ras Mohammed's more elusive creatures then spring or autumn may be better options.
No matter what time of year you choose to visit Ras Mohammed National Park you can be sure that you will have an unforgettable experience exploring one of Egypt's most beautiful natural areas. Whether you choose to explore its abundant wildlife or its stunning coral reefs there is something here for everyone!
10 Tips for Visiting the Nature Reserve & Coral Reef
Pack plenty of water and sunscreen - Temperatures in the Egyptian desert can exceed 40 degrees Celsius, so staying hydrated and protecting yourself from the sun is essential.
Wear water shoes - It's always best to wear comfortable water shoes on the beach and in the shallows to avoid cutting your feet on rocks or coral and to protect against stepping on sea urchins.
Bring a hat or scarf to cover your head - The sun can be very intense in Egypt, so it's essential to cover up as much as possible.
Wear light, breathable clothing - You'll be doing a lot of walking in potentially scorching weather, so it's essential to wear clothes that won't make you too sweaty and uncomfortable.
Bring your camera - The Mohammed Nature Reserve is full of beautiful landscapes and wildlife, so make sure to bring your camera along to capture some memories.
Be aware of your surroundings at all times - The desert can be dangerous if you're not careful, so always pay attention to where you're walking and what's around you.
Respect the wildlife - Remember, you are visiting their home, not the other way around. Do not approach or attempt to touch any animals, no matter how tame they may seem.
Stay on marked trails and paths - Don't wander off into the desert by yourself--you could easily get lost. Stick to designated trails and directions at all times.
Do not litter - Please help us keep the Mohammed Nature Reserve clean by disposing of all your rubbish in the bins provided.
Have fun! -This is an enjoyable experience, so relax and take everything in. The Mohammed Nature Reserve is truly a place like no other on Earth, so soak up every minute!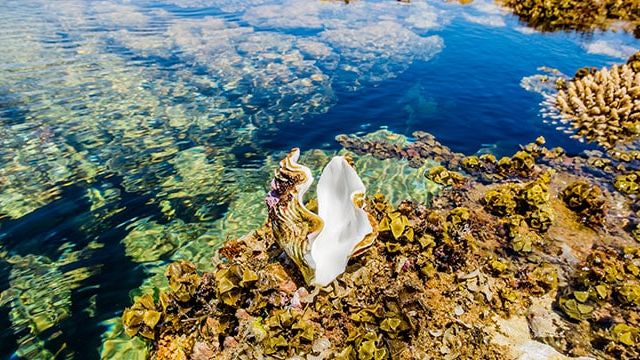 Things to do when you visit the Nature Reserve
Go snorkelling or diving
Take a short hike
Go bird watching
Take a boat trip
Relax on the beach
What Tourist should BRING and WEAR when visiting the Nature Reserve
A hat or sunhat
Sunglasses
Loose, comfortable clothing
A light jacket or sweater
Water shoes
Swimwear or wetsuit
Insect repellent
Sunscreen
A reusable water bottle
Binoculars
Ras Mohammed National Park Admission Fees
Ras Mohammed National Park does have an admission fee. The fees vary depending on the activity visitors plan to do while visiting the Reserve. For example, Egyptian citizens pay 25 Egyptian pounds per person, while non-Egyptian visitors pay 25 or 100 Egyptian pounds per person. Additional fees may apply for snorkelling, scuba diving and boat trips. There is also a 10 Egyptian pound environmental protection fee per person. All proceeds from these fees are reinvested into conservation efforts within Ras Mohammed Nature Reserve.
The fees for visiting Ras Mohammad National Park are set by Egypt's Ministry of Environment and Tourism (MOET). The prices help cover costs associated with maintaining and protecting the Reserve's natural resources. All proceeds from these fees are reinvested into conservation efforts within Ras Mohammed National Park.
Discover the Unique Souvenirs for Ras Mohammed
Glass Coral Ornament - One of the most popular souvenirs for Ras Mohammed Nature Reserve is a coral glass ornament. These ornaments are made by local artisans and are designed to look like natural coral reefs. They come in various colours and sizes, so you can find the perfect ornament to fit your taste and budget.
Starfish Keychain - If you're looking for a practical and stylish souvenir, look no further than the starfish keychain! These keychains are made with real starfish found on the shores of Ras Mohammed Nature Reserve. They're perfect for keeping your keys organized while also adding a bit of flare to your style
Shell Necklace - A shell necklace is another great souvenir from Ras Mohammed Nature Reserve. These necklaces are made with shells that have been collected from the beaches of the Ras Mohammed nature reserve They come in various colours and styles, so you can find the perfect necklace to match your taste.
If you're looking for a natural reserve that offers something for everyone, then Ras Mohammed Reserve in Egypt is worth a visit! With its stunning coral reef, abundant wildlife, and wide range of activities, there's something for everyone at this world-renowned preserve. So what are you waiting for? Start planning your trip to Ras Mohammed Reserve today!