|
Located just a stone's throw from the bustling metropolis of Cairo, the Museum of the Pharaonic Village offers visitors a rare opportunity to step back in time and experience Ancient Egyptian culture first-hand. The brainchild of Dr Hassan Ragab, one of Egypt's foremost archaeologists, the Museum is spread over 30 acres of land and includes several reconstructions of actual Pharaonic-era structures.
Walking around the museum grounds, you'll get to explore a replica of an Old Kingdom tomb, see how papyrus was made using traditional techniques, and even take a ride in a ceremonial barge. There are also some workshops where artisans demonstrate their skills in creating everything from pottery to jewellery. And don't forget to stop by the Museum's very own zoo, which is home to ancient animals revered by the Ancient Egyptians, such as crocodiles and hippos!
The most impressive part of the Museum of the Pharaonic Village is its replica of an actual ancient Egyptian village. Here, you'll see how everyday Egyptians lived during different historical periods. Stroll through farmers' markets, enter homes and temples, and generally get a feel for what life was like in Ancient Egypt. It's an experience you won't soon forget!
This guide will cover the Brief history of Pharaonic Village. Additionally, it will attempt to address some of the most popular questions regarding visiting, such as: What is the best time to visit? What are the entrance fees? Opening Hours? - and more.
Location
The Pharaonic Village is an open-air museum located in Cairo, Egypt. It is a unique and fascinating attraction that provides visitors with a glimpse into the ancient world of the Pharaohs. The village is home to a variety of replicas of ancient Egyptian monuments, including temples, tombs, and pyramids. Visitors can explore the village and learn about the history of the Pharaohs through interactive exhibits and activities.
What to See at the Pharaonic Village
Museums: There are a number of great kid-friendly museums at the Pharaonic Village including the mummification museum, Nubian life museum, Heritage museum and Pyramids museum.
The Temple of Ramses II: This temple is a replica of the original temple built by Ramses II in Abu Simbel. It is one of the most famous temples in Egypt. Inside, you will find statues of Ramses II and hieroglyphics telling stories from Egyptian mythology.
The Bazaar: After exploring the temples, take some time to browse the shops in the Bazaar. Here, you can buy souvenirs and gifts for your friends and family back home. You can also try to bargain with the shopkeepers - it's all part of the experience!
The Tomb of Tutankhamun: One of the most popular attractions in the Pharaonic Village is the tomb of Tutankhamun. This replica of king Tutankhamen's tomb is based on the original tomb that was discovered in 1922 by Howard Carter. It contains replicas of some of Tutankhamun's most famous treasures, including his gold death mask.
5 Exciting Activities available at Pharaonic Village
Traditional Dance Performances: Enjoy traditional Egyptian dances performed by professional dancers in colourful costumes. The performances take place in an open-air theatre near the entrance of the village.
Boat Rides: Take a boat ride along the Nile River and admire the stunning views of Cairo from afar. The boat rides are available during certain times of the day and can be booked in advance.
Shopping: Shop for souvenirs or artisanal products at one of the many shops located throughout the village or at its bustling marketplaces where you can find everything from spices to jewellery to clothing items made by local artisans.
Museum Visits: Learn about Egypt's rich history at one of several museums located within the village such as The Museum of Ancient Egypt or The Museum of Islamic Art & Culture which offer interactive exhibits as well as educational programs for children and adults alike.
Cultural Experiences: Immerse yourself in Egyptian culture by participating in traditional activities such as henna painting, pottery making, or learning how to make perfumes. These experiences are offered throughout the year by local artisans who specialize in these crafts.
The History of the Pharaonic Village
The Pharaonic Village was founded in 1986 by Dr Abdel Haleem Ramadan, an archaeologist who wanted to create a living museum where people could experience Ancient Egyptian life first-hand. The Village is built on 10 acres of land next to the Nile River and features a replica of a typical Ancient Egyptian village complete with temples, houses, workshops, and gardens.
The Village is home to over 200 artefacts recovered from archaeological sites across Egypt. These artefacts are displayed throughout the Village and provide insight into everyday life in Ancient Egypt.
The Village also has a school where children can learn about Egypt's history and culture. Visitors can watch traditional dance performances, listen to lectures about Ancient Egyptian civilization, or participate in one of the many interactive activities available at the Village.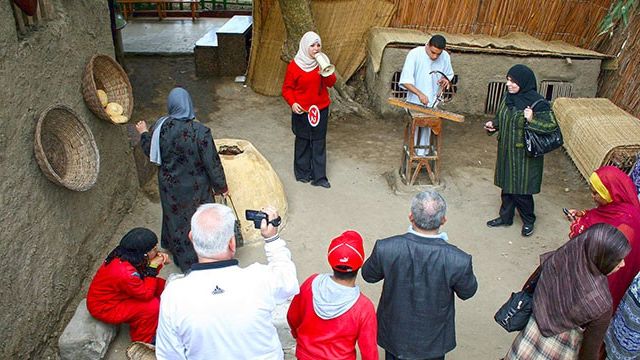 Explore the Museum of the Pharaonic Village
Hassan Ragab's Hall
Dr Hassan Ragab founded the Pharaonic Village. This exhibit highlights the life of the Pharaonic Village's creator and includes some of his personal belongings, photographs, and innovations, including the Papyrus Restoration Machine and Cryptograph.
Life in Ancient Egypt's Museum
The Museum houses a massive collection that provides an insight into the pharaonic daily life of Ancient Egypt, from models and displays depicting king & queen rituals to hunting techniques.
Mummification Museum
Come to the Museum and learn about what it takes for a body part or person in this world today! You'll get an exclusive look into how Egyptians dealt with their medical issues back then, specifically through trauma surgery. We also have replica mummies on display that will open up all sorts of secrets - like the oldest prosthetics ever found (and they're still working). Prognosis methods were used before modern-day medicine was invented.
Boats of Ancient Egypt Museum
The exhibit features models of ancient Egyptian boats, such as King Khufu's solar boat and Tutankhamun's funerary vessels.
Pyramids & Sphinx Museum
Imagine how it must have felt to build one of the most significant buildings in human history. You are given limited tools and materials, but your intelligence is enough for success! The exhibit not only tells you about their methods with stone cutting & transporting, and the story behind construction processes makes this an invaluable educational opportunity--the artefacts showcase ancient technology and great myths of the Pyramids and Sphinx.
Coptic Museum
Coptic Christians have long been famous for their monasticism. In Egypt, this practice began with the settlers from Alexandria who first established themselves at the Monastery of St Anthony and then went on to found many more throughout Middle East regions such as Syria or even Europe, where Christian scholars like Athanasius originated from this culture of monks that developed primarily. As a result, Christianity's first great monasteries were built near Alexandria between 350 AD - 500 AD.
Egypt's Modern History Museum
A history museum is a place where you can see the rich royal decor and find 52 public figures from modern times in 38 statues. From Khedive's throne to King George VI's queen, this building houses many important historical moments that shaped our world as we know it today.
Explore the Exhibit of the Pharaonic Village
Cleopatra's Exhibit
This exhibit is all about the famous Queen Cleopatra. It also showcases her history with Alexander The Great and Ptolemy's Dynasty, as well as an informative look at how she impacted our world through architecture, such as what you would find in Alexandria - the ancient Library of ALEXANDRIA or Pharos (i e lighthouse), which was one of the seven wonders of the ancient world.
Art & History of Islam Exhibit
The exhibit displays different models of Islamic art from around the world and some famous mosques.
Gamal Abdel Nasser Exhibit
The excitement in this Museum is tangible. The visitor to Egypt explores the life, accomplishments and belongings of Egypt's second President, Gamal Abdel Nasser. At the same time, they get an up-close look at a maquette representing Aswan High Dam - one he had planned for when it came time to build his country's future with modern technology.
Chinese Civilization Exhibit
The Museum presents facts about China's past, its emperors, and the emergence of the "new China." It exhibits Chinese education, agriculture, economy, and industry through models of the Chinese map, the Great Wall of China, and the forbidden city.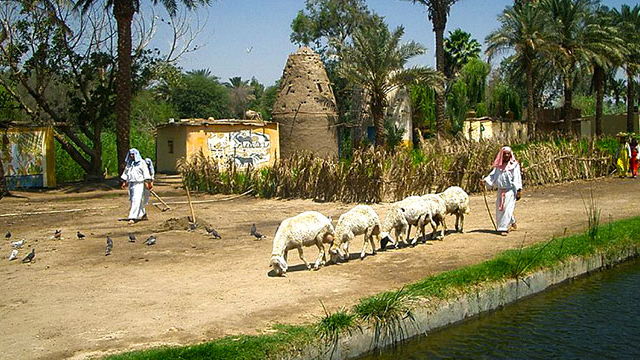 Frequently Asked Questions
9 reasons why you should add Pharaonic Village in Cairo to your travel itinerary
See Egyptians Living as Their Ancestors Did: One of the best things about the Pharaonic Village is that it offers a glimpse into what life was like in ancient Egypt. Stroll through the Village, and you'll see people going about their daily lives just as their ancestors did centuries ago.
Watch Artisans at Work: One of the highlights of the Pharaonic Village is watching the artisans at work. From pottery makers to weavers, these skilled workers will give you a firsthand look at traditional Egyptian crafts.
Learn About Ancient Egyptian Religion: Religion played a significant role in Ancient Egyptian society, and the Pharaonic Village provides a unique opportunity to learn about it. From the Temple of Isis to the Tomb of Tutankhamun, there are plenty of religious sites to explore.
See a Re-enactment of an Ancient Egyptian Funeral: One of the most popular attractions at the Pharaonic Village is the re-enactment of an ancient Egyptian funeral. This moving ceremony gives visitors a taste of what death meant for the Ancient Egyptians.
Visit a Traditional Egyptian Market: The Pharaonic Village has its traditional Egyptian market, where you can buy everything from spices to souvenirs. This is a great place to pick up some authentic Egyptian gifts for friends and family back home.
Try Your Hand at Traditional Egyptian Games: If you're looking for fun, head to the game area where you can try your hand at traditional Egyptian games like senet and mehen. These games are still played today and are fun for all ages.
Enjoy Traditional Egyptian Cuisine: No visit to Egypt would be complete without trying some traditional Egyptian cuisine, and the Pharaonic Village is no exception! Stop by one of the many restaurants and cafes on-site and enjoy some delicious food.
Watch the Performing Live Music: One of Egypt's most popular musical instruments is the oud, and at the Pharaonic Village, you can watch an authentic oud player performing live music. This is a great way to experience traditional Egyptian music up close and personal.
Have Your Fortune Told by an Authentic Psychic Reader: Last but not least, one of the most fantastic things about the Pharaonic Village is that you can have your fortune told by an authentic psychic reader. These readings are said to be entirely accurate, so if you're looking for guidance from beyond, this is worth checking out.
It is safe to visit?
The Pharaonic Village is a popular tourist destination is because it's very safe. The Village is situated on an island and is well-guarded, with security guards stationed throughout the area. In addition, the Village is located in a busy part of Cairo, so there are always people around.
Another reason why the Pharaonic Village is safe is that it's a family-friendly destination. The Village is designed for families with children, and there are plenty of activities for kids to enjoy. There are also several restaurants in the Village, so you can grab a bite to eat if you get hungry.
What is the best time of the year to visit?
The best time of year to visit Pharaonic Village is during the winter months, from December to February. During this time, the weather is cool and comfortable, making it ideal for exploring all the Village offers. Plus, the crowds are typically smaller during this time of year, so you'll have a more relaxed experience overall.
If you cannot travel during the winter, the next best time to visit Pharaonic Village is during the spring months, from March to May. The weather during this time is still pleasant, although it can be a bit warmer than during winter. However, the crowds will likely be larger since this is a popular time for school field trips and other group outings.
5 Tips for Visiting Pharaonic Village
Purchase your tickets in advance: You can buy tickets online or at the gate, but remember that ticket prices go up if you purchase them on the day of your visit. If you plan on visiting other attractions in Cairo, such as the Pyramids of Giza or the Egyptian Museum, consider buying a combination ticket to give you access to all the sites.
Arrive early: Pharaonic Village opens at 9 am, but arriving closer to opening time is best to avoid the heat of the day. This is especially important if you're visiting during summer when temperatures can soar.
Dress appropriately: Although it's not religious, Pharaonic Village requires guests to dress modestly out of respect for Egyptian culture. This means covering your shoulders and knees, so pack appropriate clothing if you plan to visit the Village.
Rent a horse-drawn carriage: One of the best ways to explore Pharaonic Village is by taking a leisurely ride through the site in one of the Village's horse-drawn carriages. Not only is it a fun way to get around, but it's also a great way to learn more about Ancient Egypt from your knowledgeable driver/guide.
Visit the souvenir shop before you leave: The Village has an excellent souvenir shop where you can purchase traditional Egyptian handicrafts, such as papyrus paintings and alabaster sculptures. You'll also find plenty of books on Ancient Egyptian history and culture if you want to do further reading after your visit.
How to get to the Pharaonic Village?
The Pharaonic Village is located in Giza to the west of Cairo. If you're coming from central Cairo, the best way to get there is by taking a taxi. The fare should cost around 50 EGP (about USD 3). Be sure to negotiate the price with the driver before getting in the car. Once you're at the Village, there is no need to take a tour - you can explore at your own pace and go at whatever activity interests you.
Opening Hours?
Everyday: 09:00 am ‒ 05:00 pm.
Summer: 09:00 am ‒ 07:00 pm.
Entrance Fees?
The entrance fee for adults is 420 Egyptian pounds per person (around $13 USD). Discounts may be available for children. Visitors can also purchase tickets for special events or activities at an additional cost.