|
Welcome to a gastronomic journey through Byblos in Lebanon, an ancient city steeped in history and culture, where the old meets the new, creating a unique blend of flavours and experiences. In this guide to the best Lebanese restaurants in Byblos, we will embark on a culinary adventure, scouring the city's winding streets and charming passageways to discover authentic cuisine that tantalizes the taste buds and leaves an everlasting impression on all who are fortunate to dine within its walls.
With a rich array of traditional Lebanese dishes, bursting with sublime flavours and tantalizing textures, these establishments are dedicated to providing the ultimate authentic dining experience.
So, buckle up and prepare for a food escapade as we explore the best restaurants in Byblos on a delicious feast of outstanding Lebanese cuisine.
This guide will also attempt to answer some of the most frequently asked questions, such as: What are the best restaurants? What to expect on the menu? Is it necessary to make a reservation? - and more.
Importance of food in travel experiences
As humans, we are driven by the need to explore and discover new things. Travelling is one of the most exciting ways to fulfil this need. When we travel, we are bound to experience different cultures, traditions, and ways of life.
One of the most important aspects of travel is food. Food is an essential part of every culture, and experiencing new cuisines is a crucial aspect of an individual's travel experience. It is through food that we can learn about a culture's history, traditions, and values. Food is a great connector that brings people together, even those who do not speak the same language.
The first thing that comes to mind when we think of the importance of food in travel experiences is taste. Travelling to a new place and trying out the local cuisine can be both exciting and intimidating. However, trying new and exotic dishes can be a wonderful experience that opens up your palate to new flavours and combinations.
With that being said, here are the top Restaurants that you must try:
1. Feniqia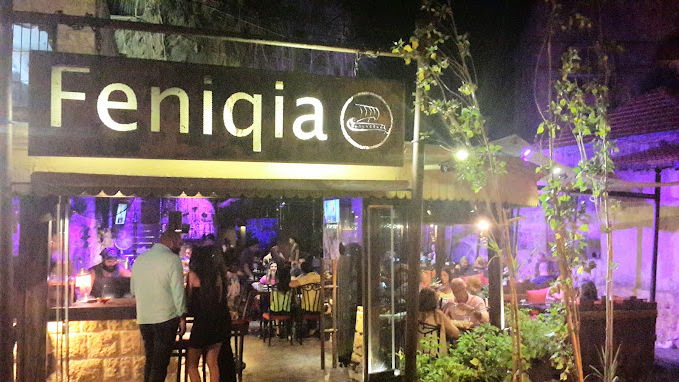 This Lebanese gem offers mouthwatering traditional dishes served in a warm and friendly atmosphere. Whether you're a local or a tourist, you will be impressed with the quality and authenticity of the food, the excellent service, and the overall ambience of Feniqia.
The exterior of the restaurant is nondescript and unassuming, but once you step inside, you are transported to a cosy and inviting space. The walls are decorated with vibrant photographs of Lebanese landscapes and traditional motifs. The lighting is soft and warm, adding to the comfortable and welcoming feel. The tables and chairs are made of dark wood, and the overall effect is a rustic charm that makes you feel like you're in a traditional Lebanese kitchen.
The menu at Feniqia is extensive, offering a range of delicious options for meat lovers, vegetarians, and even vegans. The focus is on fresh and locally sourced ingredients, with an emphasis on using traditional spices and flavors. One of the most popular dishes is the mezze platter, which features a variety of small plates, including hummus, baba ghanoush, tabbouleh, and falafel. The hummus is particularly noteworthy, with a creamy texture and a subtle kick of garlic and lemon.
If you're in the mood for grilled meat, Feniqia has you covered. The shish taouk is a classic Lebanese dish featuring marinated chicken skewers grilled to perfection. The meat is juicy and tender, with a smoky flavour from the grill. The lamb chops are another standout, with a bold and spicy marinade that will leave your taste buds tingling.
Vegetarians will love the many options available to them at Feniqia. The moujadara is a popular choice, featuring lentils and rice cooked with caramelized onions. The dish is simple yet flavorful, with a comforting and satisfying texture. The stuffed vine leaves are another standout, with a tangy and aromatic filling of rice, herbs, and spices.
One of the things that set Feniqia apart from other Lebanese restaurants is the attention to detail and the overall quality of the experience. The staff is friendly and knowledgeable, providing suggestions and guiding you through the menu with ease. The presentation of the dishes is also impressive, with an emphasis on creating beautiful and delicious food that looks as good as they taste.
2. Chez Pépé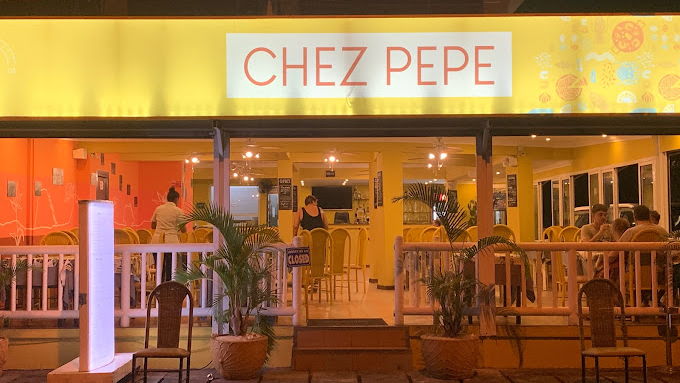 Firstly, this restaurant offers a unique and authentic dining experience that will satisfy your taste buds and leave you craving for more. From traditional Lebanese dishes to international cuisine, there is a diverse selection of dishes to choose from that will cater to every palate. Each dish is crafted with care and presented with elegance, making it not only a feast for your taste buds but also for your eyes.
One of the most popular dishes you should try is the famous "Moules Frites," a classic French dish that consists of mussels cooked in white wine, butter, and garlic, accompanied by crispy fries. The freshness of the mussels combined with the rich and buttery sauce creates a burst of flavours in your mouth that you won't forget any time soon.
If you're a fan of meat, then the "Filet de Boeuf Sauce Foie Gras" is a must-try. The tender piece of beef is cooked to perfection, topped with a thick and creamy foie gras sauce, and served with thinly sliced sautéed potatoes. The combination of the juicy beef and the velvety sauce creates a delectable and satisfying dish that will leave you feeling satisfied.
For seafood lovers, the "Calamars Farcis" is a delightful treat. The tender squid is stuffed with a flavorful mixture of herbs, spices, and breadcrumbs, baked to perfection, and served with a tangy tomato sauce. The dish is light, refreshing, and bursting with flavours that will take you on a culinary journey to the Mediterranean coast.
Apart from the delicious food, the ambience of Chez Pépé restaurant is another reason why you should visit this place. The restaurant is situated in a charming and cosy building that dates back to the Ottoman era, with a beautiful courtyard adorned with greenery and flowers. The interior of the restaurant is elegantly decorated with antique furniture, crystal chandeliers, and paintings that create a warm and inviting atmosphere.
3. Khan Jbeil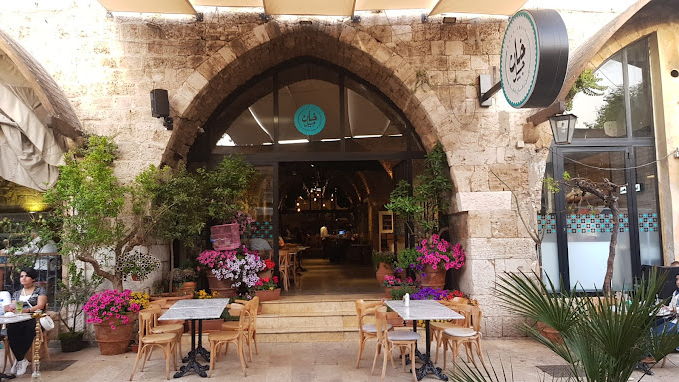 Khan Jbeil restaurant in Byblos is a culinary heaven that has something to offer everyone. From mouth-watering Lebanese cuisine to a rustic ambience, this restaurant is a must-visit destination.
Upon entering, the first thing that grabs your attention is the unique décor. The restaurant is located in a historical building that dates back to the 17th century. The design combines both the traditional and modern elements of Lebanese culture, making it an intriguing place to dine. The traditional stone walls, dim lighting, and old wooden furniture create an intimate and cosy atmosphere, while the colourful mosaics, contemporary paintings, and stylish lighting fixtures add a touch of sophistication.
But the real star of Khan Jbeil is, of course, its cuisine. The menu boasts a wide range of Lebanese dishes that are sure to tantalize your taste buds. From the well-known mezze platter, which includes hummus, baba ghanoush, tabbouleh, and fattoush, to the succulent mixed grill, which features a variety of juicy meats, there is something for everyone. The restaurant also offers fresh seafood dishes, such as grilled octopus and seafood paella, which are cooked to perfection. The desserts are equally impressive, with classics like baklava and maamoul sharing the spotlight with modern twists such as cheesecake infused with rose water.
The restaurant prides itself on using only the freshest and finest ingredients, which is evident in the quality of the food. The chefs pay great attention to detail and flavor, making sure that each dish is not only delicious but also visually stunning. Their passion for cooking is evident in every bite of food that you take.
But the experience at Khan Jbeil is not limited to just the food. The staff is welcoming, friendly, and attentive, adding to the warmth of the atmosphere. The service is prompt, and the waiters are knowledgeable about the menu and happy to answer any questions you may have. The restaurant also hosts live music performances on certain nights, adding to the authentic Lebanese experience.
One of the unique features of Khan Jbeil is its stunning location. The restaurant overlooks the picturesque harbour of Byblos, which has existed since the ancient Phoenician era. Its strategic location on the Mediterranean coast has made it an important port throughout the ages. Today, the harbour houses a marina, as well as numerous restaurants and shops. In the evening, the harbour comes alive with music and dancing, creating a festive and lively atmosphere.
4. Ksar Lebanese Diner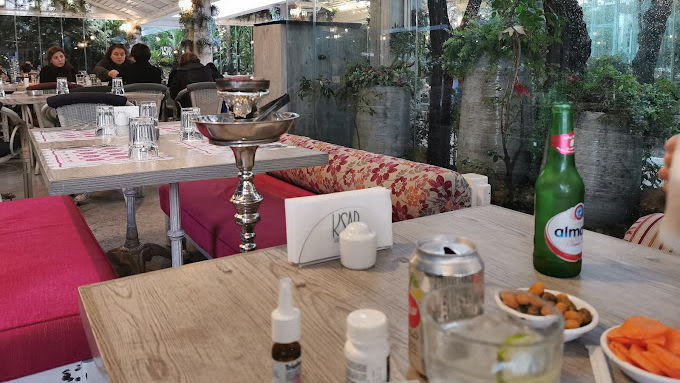 First off, let's talk atmosphere. Walking into Ksar Lebanese Diner is like entering a cosy little oasis of hospitality. The warm lighting, colorful decor, and friendly staff all make you feel like you're eating dinner at a friend's house - a friend who just so happens to be an amazing cook! And speaking of cooking, let's dive into the menu.
At Ksar Lebanese Diner, you'll find a wide selection of classic Lebanese dishes, all made from scratch with fresh and high-quality ingredients. From savoury meats and zesty dips to fluffy pita bread and crispy falafel, there's something for everyone. One thing that sets Ksar Lebanese Diner apart from other Middle Eastern restaurants is its emphasis on healthy cooking. Many of the dishes are grilled or baked, as opposed to fried, and there are plenty of vegetarian and gluten-free options available.
One must-try dish at Ksar Lebanese Diner is the shish taouk. This grilled chicken dish is marinated in a blend of yoghurt, lemon juice, and spices, which gives it a mouthwatering tangy flavour. The meat is juicy and tender, and it's served with a side of crispy French fries and a refreshing tomato and onion salad. Another great option is the makanek, which are small sausages made with lamb and spices. They're bursting with flavour and are a popular Lebanese appetizer. And, of course, you can't go wrong with the traditional Lebanese mezze platter, which includes a variety of dips, salads, and spreads. Perfect for sharing with a group, this platter will give you a taste of everything!
But it's not just the food that's impressive - the drinks are just as delicious. Ksar Lebanese Diner has an extensive list of beverages, including fresh juices, smoothies, and, of course, Lebanese wine. One drink that stands out is the Jallab, a sweet and refreshing concoction made from grape molasses, rose water, and pine nuts. It's the perfect drink to sip on a warm day while enjoying the flavours of Lebanon.
Now let's talk about the staff. The folks at Ksar Lebanese Diner are some of the friendliest and most welcoming people you'll ever meet. They're passionate about their food and their culture, and they're happy to chat with customers about anything and everything. They'll gladly offer recommendations and are always eager to make sure you're happy with your meal. It's clear that they take pride in what they do and that they want to share their love of Lebanese food with everyone who walks through the door.
5. Adonai Le Petit Libanais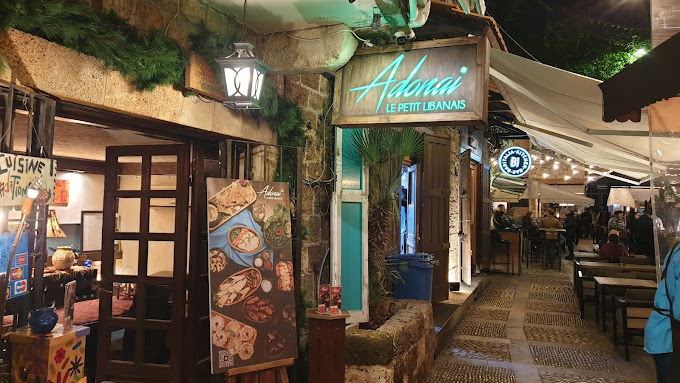 This hidden gem tucked away in the historic city of Byblos is a must-visit for anyone who wants to taste the best Lebanese cuisine.
As you walk into Adonai Le Petit Libanais restaurant, you will be greeted by the hospitable staff. The ambience is calm and relaxing, with beautiful Arabic music playing in the background to set the mood for your dining experience. The interior furnishings are modern and chic, with plenty of seating options both inside and on the outdoor terrace, where you can enjoy your meals amidst the gentle breeze.
One of the things that makes Adonai Le Petit Libanais restaurant stand out is the quality of the food they serve. The menu is extensive, offering a wide variety of traditional Lebanese dishes that are sure to please the most discerning palate. From mezzes to mains, the chefs at Adonai Le Petit Libanais use only the freshest ingredients to prepare their dishes, giving them an authentic Lebanese flavor.
Some of the standout dishes on the menu include their tantalizing Hummus, which is made from scratch, and is one of the best you will ever taste. The Fattoush salad is another must-try dish, featuring a colorful mix of fresh greens, tomatoes, onions, and crispy pita bread, all tossed in a light and flavorful dressing. The Shawarma is also a crowd favourite, with its succulent marinated chicken cooked to perfection on a rotating skewer.
But it's not just the quality of the food that makes Adonai Le Petit Libanais restaurant so special; it's also the level of service. The staff goes above and beyond to ensure that every customer is comfortable and satisfied. Whether you need help with the menu or you are looking for recommendations on what dishes to try, the friendly and attentive staff is always on hand to assist you.
Moreover, the pricing at Adonai Le Petit Libanais is quite reasonable, considering the quality of food and service they offer. The portions are generous, and the prices are comparable to other Lebanese restaurants in the area. For those on a budget, the restaurant also offers a daily set menu, which includes a soup, salad, main course, and dessert, at a very reasonable cost.
What to expect on a menu when visiting a Lebanese restaurant
Firstly is the appetizer section. Lebanese cuisine is known for its mezze, which is similar to Spanish tapas or Turkish meze. Mezze encompasses a range of small plates, dips, and sides meant for sharing. Hummus is a staple of Lebanese cuisine, made of cooked chickpeas blended with tahini, lemon juice, and garlic. Other popular mezze items include baba ghanouj, a smoky eggplant dip; tabbouleh, a parsley and bulgur salad; and labneh, a tangy strained yoghurt. The appetizer section may also feature stuffed grape leaves, fried kibbeh, or a selection of cheeses and olives.
Moving on to the main course, Lebanese cuisine is centred around grilled meats and stews. One of the most popular dishes is shish taouk, marinated chicken skewers cooked over an open flame. Mixed grill platters are also a crowd-pleaser, featuring a combination of beef, lamb, and chicken. Vegetarians can enjoy grilled halloumi cheese, or the hearty dish of mujaddara, made with lentils and rice. Lebanese cuisine is also renowned for its stews, such as kibbeh nayeh, raw minced lamb mixed with spices and bulgur. Or try mdardara, lentils cooked with caramelized onions and rice.
When it comes to drinks, Lebanese restaurants offer a variety of refreshing options. Unsurprisingly, Lebanon is a major producer of wine, with vineyards dating back to the Phoenicians. Ask your server for a recommendation on a local red or white wine to pair with your meal. Lebanese beer, such as Almaza or Beirut, is also a popular choice. Non-alcoholic beverages include traditional mint lemonade, which is both tart and sweet, or ayran, a yoghurt and salt drink that pairs well with spicy dishes.
Finally, don't forget about dessert! Lebanese desserts are lightly sweetened and flavoured with rosewater, orange blossom, or pistachios. Baklava is a classic choice, made with flaky phyllo dough layered with chopped nuts and honey syrup. Another favourite is Knefeh, a warm cheese pastry drizzled with sweet syrup. Try a cup of Turkish coffee or mint tea to round out the meal.
Is it necessary to make a reservation before going to a restaurant in Byblos?
If you're planning on dining out in Byblos, you better make a reservation beforehand, especially if you have a particular restaurant in mind. The truth is that Byblos is a popular tourist destination and a dining hub for locals and visitors alike. There are many fantastic restaurants to choose from, ranging from casual seafood joints to elegant rooftop lounges. But because of the town's popularity, these places tend to fill up fast, especially during peak tourist season.
Making a reservation isn't just a matter of convenience; it can actually be the difference between getting a table and having to settle for a less desirable option. Imagine strolling through the charming streets of Byblos, feeling famished and eager to try some of the local fares. You stumble upon the perfect spot, but when you walk inside, the host shakes his head apologetically and tells you they're fully booked for the night. Your heart sinks as you realize you'll have to find another place to eat. Not a great way to start your evening, is it?
That's why it's always a good idea to make a reservation if you have a specific restaurant in mind. It's easy to do, too. Many restaurants allow you to make a reservation online through their website or social media accounts. You can also call the restaurant directly and speak with a host or hostess to secure your table. Just be sure to provide the date and time of your visit, the number of people in your party, and any special requests or dietary restrictions you may have.
Of course, not every restaurant in Byblos requires a reservation. If you're willing to take a chance and try your luck, there are certainly plenty of walk-in options available. But keep in mind that you may have to wait for a table, especially during peak dining hours. And if you're looking for a particular type of cuisine or atmosphere, it's always better to be safe than sorry and make a reservation.
Another thing to consider is that some restaurants in Byblos only accept reservations for specific times of the day or week. For example, a restaurant may only take reservations for dinner or on weekends. If you're unsure about a restaurant's reservation policy, it's best to check their website or social media accounts or call them directly to inquire.
FAQs about the restaurants in Byblos
What are the best restaurants in Byblos for cheap eats?
First up on our list is Souk el Tayeb, a hidden gem in the heart of the town. This rustic restaurant offers authentic Lebanese cuisine made with fresh, seasonal ingredients from local farmers. The menu includes a range of traditional dishes like hummus, tabbouleh, and fattoush, all at affordable prices. Plus, the atmosphere is cozy and welcoming, making it a perfect spot for a casual lunch or dinner.
Next, we have Fenêtre Sur, located in the heart of Byblos' old town. This restaurant is perfect for those looking for a fine dining experience without the hefty price tag. The menu offers a range of local and international dishes, including seafood and steak. The portions are generous, and the presentation is exquisite, making dining here an unforgettable experience. The ambience provides a cosy, intimate, and romantic setting.
For those craving sushi, look no further than Torii Sushi. This Japanese restaurant is a favourite amongst locals and tourists alike, thanks to its fresh and flavourful sushi offerings at reasonable prices. The menu includes a variety of classic sushi rolls as well as unique fusion options, and the service is prompt and attentive.
If you're in the mood for some Mediterranean cuisine, head over to Byblos Fishing Club. This beachfront restaurant offers a range of seafood dishes cooked to perfection, making it a popular destination for seafood lovers. The portions are large, and the prices are reasonable, making it a great spot for a low-key lunch or dinner.
Lastly, if you're on the hunt for some delicious and authentic street food, look no further than Aunty Salwa's falafel. This little hole-in-the-wall shop is located just a stone's throw away from the Byblos Castle and offers some of the best falafels in town, made with fresh, hand-rolled chickpea balls mixed with Lebanese spices and a variety of toppings. The best part? Prices are more than reasonable, and the staff are always friendly and smiling.
What are the best restaurants in Byblos for families with children?
First up, we've got the popular family-friendly spot called Feniqia. Now let me tell you, this place has got it all. From delicious Lebanese cuisine to a cosy atmosphere that will have the kiddos feeling right at home, Feniqia checks all the boxes. They even have a fun play area for the little ones to burn off some energy while the adults enjoy a cup of tea or coffee.
Another fantastic option for a family night out is Maracas. This Mexican joint is perfect for those who love spicy food and a vibrant atmosphere. And the best part is they have a separate kids' menu that includes all their favourite dishes. From quesadillas to tacos, your little ones will be munching away in no time.
But wait, there's more! If you're in the mood for some pizza and pasta (because who isn't?), then you simply must check out Mykonos. Not only does this Byblos eatery serve up some of the most mouth-watering Italian dishes in town, but they also have a special section for kids that includes colouring activities and a variety of yummy meals.
And last but certainly not least, we've got Chez Zakhia. This Lebanese restaurant is a real hidden gem, and it's perfect for families who want to enjoy some traditional Lebanese food in a cosy and friendly environment. Plus, they have a wonderful outdoor seating area that's perfect for those lovely summer evenings.