|
Cruises on the Nile: How to find the best Egypt Nile cruise
Guide to the best Nile River cruises. Taking a Nile cruise is one of the most popular things to do on an Egypt Holiday. Operating between Luxor and Aswan, taking a Nile cruise offers an excellent way to visit the many pharaonic sites that lie close to the river Nile.
With more than 300 Nile cruise boats operating between Luxor and Aswan, not to mention the many feluccas and dahabiyas, the choice can be a bit overwhelming. This article will give you an overview of the various types, lengths and levels of Nile cruises along with help choosing the right time to go on a holiday to Egypt.
Felucca, Nile Cruise Boat or Dahabiya?
There are three different types of cruises that you can take depending on your requirements and budget. The cheapest and most basic option is a traditional felucca sailboat. If you want a little more comfort, there is a large range of Nile cruise boats with varying levels of service and comfort. Finally, for those want a more personal but still luxurious experience a Dahabiya cruise may be just the ticket.
Felucca
The Felucca sailboat dates back to the time of the Pharaohs and was primarily used to transport goods and people across and along the river Nile. It was also capable of crossing open sea so was also used for trading with nearby countries. Another important use of the felucca was as a weapon of war. Constructed from timber, this shallow draft, open decked vessel has a single tall mast and large sail.
Today the felucca sailboat is used to transport tourist along the river and is a wonderful way to cruise the Nile. They can board around 10 passengers, so are ideal for families and small groups. Sailing down the Nile onboard a felucca is one of the most rewarding experiences you can have on a tour to Egypt. It's a wonderfully peaceful way to travel, and you see much more of rural Egypt as you gently drift along, as well as enjoying time with your Nubian crew and their cooking and singing in the evenings. Feluccas are relatively basic though, with no toilet facilities on board. However, many companies now offer facility boats that shadow the felucca and offer toilets, showers and better cooking facilities.
Nile cruise boats
These large floating hotels are a common sight on the River Nile between Aswan and Luxor. They range in level from 4-star right up to 5-star super deluxe and some even have small swimming pools the sun deck. Often around 70m in length, with as many as 70 cabins, they are usually split across up to 5 decks.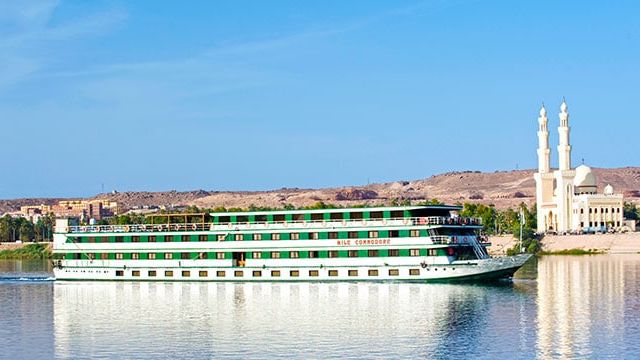 Cabins are much like hotel rooms with panoramic views of the Nile. Suites and even Presidential suites are available on some boats. Common cabin amenities include private bathroom with shower and bath, mini bar, TV, 24-hour room service, and individually controlled air conditioning.
Other common amenities on board include, gift shops, beauty salons, spas, restaurants, bars, gyms and Jacuzzis.
Dahabiya
Probably the most luxurious and exclusive way to travel along the Nile is onboard a Dahabiya. These smaller boats are something of a cross between a felucca and a Nile cruise boat. Originally built to carry the Pharaohs and the royal families, the Dahabiya was essentially a sumptuous pleasure boat for the Nile.
Nowadays, most are converted river barges fitted out to a very high level with masts and sails added to create the appearance of the traditional dahabiyas. All dahabiyas are motorised and the sails are just added for their aesthetic appeal.
Dahabiyas usually only have a handful of luxury cabins so are most suited to families and small groups looking for a high-end experience. The atmosphere is intimate, and the service is of the highest quality. Rooms are fitted with everything you would expect in a 5-star hotel and like the Nile cruise boat they often have onboard swimming pools and jacuzzis.
Choose the right length of River Nile cruise
Choosing the right length of cruise is very much dependent on your budget, your time, and your interests. Anything from 3-nights to a week or more is possible and the longer the cruise the more you get to see and the more time you will have to appreciate the many tourist attractions in the Aswan and Luxor area. It is also possible to book a long cruise that start in Cairo and sails all the way up to Aswan. Don't forget you can also take an additional excursion to visit the beautiful beaches of the Red Sea.
3-night Nile cruise tour
This basic 3 nights Nile river cruise will give you a compact overview of the many great sites along the river Nile. Usually starting in Aswan and finishing in Luxor, you'll visit the Temple of Philae, High Dam, and Unfinished Obelisk in Aswan before setting sail towards Luxor. En route to Luxor, you'll stop at the Temple of Edfu and the Temple of Kom Ombo Upon arrival in Luxor you'll visit west bank attractions of Valley of the Kings & Queens, and the Temple of Hatshepsut. Free time can be added on to visit some of the other important sites in Luxor.
4-night Nile cruise Luxor Aswan
This slightly longer cruise from Luxor to Aswan included a bit more sightseeing on your holiday in Egypt. Adding an extra day to your cruise will included the extra sightseeing in Luxor, which typically includes the Luxor and Karnak Temples. You'll also visit Elephantine & Botanical Islands and the nearby Nubian village. There will also be time to include a short felucca ride on the Nile and to visit the Tomb of the Nobles. If you are interested in an early morning tour out to Abu Simbel on the banks of Lake Nasser, this is an option available on this cruise.
7-night Nile cruises
If you have more time available and a bigger budget, a 7 nights Nile river cruise might be the right option for you. You'll visit all the sites mentioned above, but at a much more relaxed pace. Extra time will be given at the tourist attraction along with more time to enjoy the facilities on board your boat. The will also be more free time to enjoy just relaxing or exploring more of the surrounding areas. This cruise package can start in Luxor or Aswan and offers the visitor to Egypt a much more in-depth experience of Egypt and the Nile.
Chose the right time for your Aswan to Luxor Nile River cruise
The best time to take a Nile cruise is from late autumn to early spring when the temperature in Luxor and Aswan is too hot. Winter in Egypt is much cooler and more suitable for visiting tourist attractions. Getting on and off your cruise boat, walking around outdoor sites and descending into tombs can all get a bit much during heat of an Egyptian summer, when temperatures in Luxor and Aswan push up over the 100OF (40OC) mark.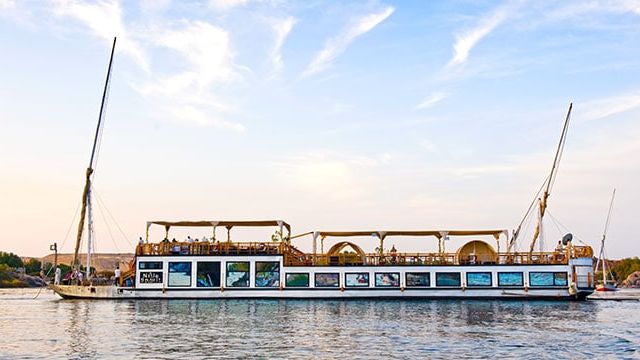 However, if you are planning to visit Aswan and Luxor during the hotter months, make sure you wear light airy clothing & a wide-brimmed hat, have plenty of water close to hand, and seek out any opportunity to rest in the shade away from the intense Luxor Aswan summer sun.
Luxury Nile Cruise ship star ratings
As with hotels, there are a range of different class Nile cruise boats available, and as with hotels the higher the class the more expensive they become. In theory cruise boats are rated just like hotels from 2-star right up to 5-star deluxe, however you won't find any below 4-star and there are few left at 4-star level. So, if you can find and chose to book a 4-star ship don't expect the height of luxury on your river cruise holidays. Of course you'll pay less, but you'll also receive less
5-star
Most of the Nile cruise boats in Egypt are 5-star rated but there is a wide variation in the condition and facility of boats rated at 5-star. As a rule, a good 5-star Nile cruise boat will offer comfortable cabins with all the usual facilities you would fine in a hotel room. They will offer options to upgrade to suites and may have extra facilities such as elevators, swimming pool and onboard entertainment. Food quality and level of choice will normally be better than on lower level 5-star cruises and 4-star cruises.
4-star
Although there aren't many now in service, as many have been renovated or are in the process of being renovated, these cruise boats tend to be older and less well equipped, so not the greatest. Rooms often have fewer facilities and luxuries, and the décor is generally more dated. The cruise boat itself will also likely have fewer facilities, such as spa treatments/massages, and may not always have a swimming pool.
5-star deluxe
This class of cruise boat represents the ultimate River Nile experience. Cruise boats in this class are often smaller, offering fewer but more luxurious cabins, all fully fitted with all the amenities you would expect in a good 5-star hotel. Often rooms come with balconies as standard and offer various suite upgrades, with some cruises in this class being all suits. They will also offer a higher class and wider range of food and drink.
Best Nile cruise in Egypt?
What are the best cruise boats? This is a very subjective question and largely depends on personal preference and taste. Below is a selection of our picks, based on over 20 years operating cultural and adventure tours in Egypt.
Dahabiyas
So, here are some of our suggestions for best Nile Dahabiyas. The Rihana Aquamarine is a nicely appointed Dahbiya in a more modern finish. It has 8 cabins, a jacuzzi, gym and bar and is well suited to families and small groups. The Jaz Yakouta is a more traditionally finished Dahabiya with 6 elegant wood-panelled cabins. The sundeck has a jaccuzi, roll back awning and bar. For the ultimate in luxury we would suggest the Nour el Nil range of Dahabiyas. Their fleet of 6 super luxurious boats offer stunning interior design couple with the highest service available.
Nile cruise boats
At standard level our top picks are the M/S Amwaj and M/S Steigenberger Legacy. The Anwaj has 63 cabins across 4 decks, plus a sundeck. Cabins range from luxurious Royal suite down to 1st floor cabins all of which have full amenities like mini bar, safety deposit box, A/C, hairdryer, telephone and panoramic windows. The boat has a swimming pool, jacuzzi, gym and sauna. The Steigenberger is slightly larger with 74 cabins and 2 suites spread across 4 decks, plus a sundeck. Rooms have all the amenities you would expect in a good 5-star hotel. For high-end deluxe Nile cruises we would recommend any of the Legacy Sanctuary Nile boats. With 4 boats in their fleet, they offer the best in quality and service, but this kind of luxury doesn't come cheap!
Feluccas
It is very difficult to recommend specific felucca sailboats as they are mostly run by local families living around Aswan. They are also very similar in the construction and their basic amenities. It's uncommon to book felucca cruising directly, but rather as part of a larger tour booked through a tour operator or travel agent. We strongly suggest you check that your felucca has a support boat to ensure you have toilets and shower facilities. Regular felucca sailboats won't have these facilities which can make trips along the Nile river that much more enjoyable.
Booking your Egypt Nile cruise and getting the lowest price
How and when you book your Nile cruise is personal preference. Most will book with a tour operator as part of a more comprehensive tour, or with a travel agent including flights. You can book directly with the Nile cruise tour company if you are planning to arrange your holiday yourself.
Direct tours
Most cruise boats and Dahabiyas have their own websites and can therefore be booked directly. This is not necessarily a cheaper way to book your Nile cruise as many agents and operator secure preferential rates, and of course you would still need to organise the other parts of your tour such as flights, transfers, extra accommodation etc, which can be time consuming and often complicated.
Tour Operator
Booking through a tour operator either locally or internationally will ensure you get a complete service from the moment you arrive in Egypt to the time you leave. In many instances it will be cheaper than booking via a travel agent, especially if you are offered/ask for a discount from the tour operator. Using a licenced tour operator will provide you with financial peace of mind in the event of your operator going out of business. It will also generally provide you with a higher level of service and better customer service, both before and during your tour. Although there a many excellent local Egyptian operators, it can be a bit hit or miss if you choose to book with one, and of course the level of financial protection generally much lower or non-existent.
Travel Agent
Booking through a travel agent is a great way to book your Nile cruise holiday, so long as you choose a licenced and reputable company. They will usually include your flights along with your tour package and provide a high level of service. This does come at a higher cost and unlike booking with a tour operator, being offered or asking for a discount is not usually an option.
Places to visit on the Egypt Nile river
Egypt's best place to visit
Temple of Karnak
Standing on the banks of the Nile river in Luxor, the Karnak temple is one of Egypt most popular attractions. It was built on the site of ancient Thebes, and was originally called the Temple of Amun. Construction started around 2,000BC, but was constantly expanded right through to around 300BC. Karnak Temple stands apart from other sites in Egypt due to the scale and size of the temple structures. The roof of Great Hypostyle Hall was held aloft by 134 ornately carved columns and measures an area of 5,000 m2. The original Temple of Amun is the only part accessible to tourist, but the original site at Thebes covered over 3km and and was home to more than 25 temples During peak tourist season Karnak temple gets very busy so it best visited early or late in the day to avoid the crowds.
Valley of the Kings
Steeped in legend, the Valley of the Kings is hidden away in the hills to the East of Luxor on the far side of the Nile. It was the burial place of the Pharaohs of the New Kingdom, and so far over 60 tombs have been discovered. There are likely more yet to be found. The once rich and powerful Pharaohs of Egypt carved deep tunnels and chambers into the hills in an effort to hide their final resting place from future tomb robbers. Before burial, the pharaoh's body would be mummified and then sealed in a stone sarcophagus, before being placed in a burial chamber along with great riches of gold and gems. The ancient Egyptian believe they could take their wealth with them into the afterlife. Unfortunately, during the thousands of years after their burial most of the tombs have been found and looted of their treasures. A few however, did remain undiscovered and the most famous of these was the tomb of the boy king Tutankhamun. His tomb was finally uncovered by Howard Carter the early twentieth century, and revealed a staggering array of priceless treasures. Many of the tombs have been restored to give visitor a glimpse of their former glory, including colourfully painted walls and ceilings, artifacts & relics, original stone sarcophagus and even the mummified body of Tutankhamun. A day tour across the Nile to the Valley of the Kings is usually included in a cruise starting from Luxor or ending in Luxor.
King Ramses Temple at Abu Simbel
A short flight from Aswan on the banks of Lake Nasser sits Abu Simbel, the gargantuan temple of Ramses II. It is comprised of two temples, one dedicated to the pharaoh himself and one to his wife Queen Nefertari. Cut in to the rocks overlooking the Lake, they are adorned with enormous statues, both seated and standing, of Ramses II and his Queen. Before Lake Nasser was created, these great monuments where deconstructed block by block and move to new site above the lakes final shoreline. They were then meticulously reconstructed to create a perfect copy of the original temples, which in itself is and engineering feat worthy of the great pharaohs. Saved from the rising waters of Lake Nasser, the new site is about 200m inland and about 45m high than the original site. Tours to Abu Simbel often not included in Nile cruises starting in Aswan or ending in Aswan, but can be booked as an option extra.
Temple of Philae
Situated on an Island in the Nile at Aswan, this picturesque temple is dedicated to the goddess Isis. Built during the reign of Ptolemy II (285-246 BC) Isis was the "Mother of God" and represented the giver of life, and protector of life. She was the wife of Osiris and mother of Horus, and was most well know for the legend of the resurrection of Osiris. Much like Abu Simbel, Philae temple was completely deconstructed and reconstructed on a higher nearby island to save it from the rising water of the newly created Lake Nasser. Trips to the temple are usually included in Nile cruises starting in Aswan or ending in Aswan.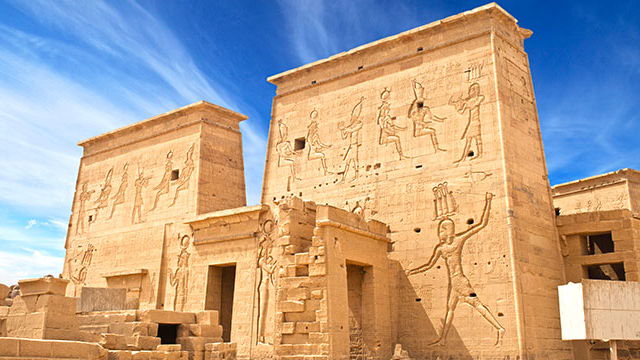 Conclusion: what is the best cruise?
As we've mentioned a few times before it's down to your personal preference and requirements which Nile river cruise is best for you. Whether you're looking for high end luxury Nile cruises, or a more traditional experience, or just a day trip out on the river, are questions you'll need to ask yourself before committing to booking a Nile cruise. Hopefully the above information has given you at least a bit more knowledge with which to answer those questions, and help you choose the best Nile cruise Aswan Luxor for you! Finally the best Nile cruises are out there waiting to be found, so do a bit of research and get ready of an Egypt tour you'll remember for the rest of your life.
Note: all prices, exchange rates and information are correct as of September 2022