|
For a good reason, Bahariya Oasis is one of Egypt's most popular tourist destinations. This oasis in the Western Desert is home to various landscapes, from lush palm groves to otherworldly desert formations.
If you're looking for a unique and unforgettable travel experience, Bahariya Oasis is the perfect place. Here, you can go on desert tours and white desert safaris and explore hidden gems you won't find anywhere else.
This blog post gives you the ultimate guide to Bahariya Oasis. We'll cover everything so that you can plan your perfect trip.
This blog will also attempt to answer some of the most frequently asked questions about visiting the site, such as: What is the best time to visit? What are the entrance fees? What should I wear? - and more.
History of Bahariya Oasis
Bahariya Oasis is one of Egypt's oldest and most isolated oases, located about 370 kilometres southwest of Cairo. It has a rich history dating back to at least the Middle Kingdom (2000-1800 BCE) when agricultural products from the oasis were exported to the Nile Valley.
In the Graeco-Roman period, Bahariya was a popular destination for wealthy Egyptians and Romans seeking respite from the heat of the Nile Valley. The oasis was home to several luxury villas and temples, including the Temple of Amun-Re, which Ptolemy II Philadelphus built in the 3rd century BCE.
In the 7th century CE, Bahariya was conquered by the Arabs, who introduced Islam to the oasis. The oasis remained under Arab rule for centuries, and during this time, the majority of the oasis's current population was established.
In the 19th century, Bahariya was visited by several European explorers, including Giovanni Belzoni and Jean-François Champollion. These explorers helped to bring attention to the oasis's many archaeological treasures, and in the early 20th century, Bahariya became a popular tourist destination.
Today, Bahariya Oasis is a popular destination for tourists interested in its history, archaeology, and natural beauty. The oasis has several archaeological sites, including the Valley of the Golden Mummies, the Temple of Amun-Re, and the White Desert. Bahariya has several natural attractions, including Crystal Mountain, the Black Desert, and the Siwa Oasis.
Why travellers should visit Bahariya Oasis?
The Bahariya Oasis is as picturesque as it is peaceful.
But it's not just the physical landscape that makes the Bahariya Oasis so special. This is a place with a deep and storied past, one that is just waiting to be explored. For thousands of years, people have made their homes in the region now known as the Bahariya Oasis, leaving behind an incredible legacy that can be seen at every turn. From the ruins of ancient cities to well-preserved mummies, the Bahariya Oasis is a living, breathing history lesson.
Of course, there's also the unique culture of the people who call the Bahariya Oasis home. They are warm and welcoming people, eager to share their stories and traditions with those who are curious enough to ask. Whether you're interested in learning about ancient herbal remedies or trying your hand at traditional weaving techniques, the people of the Bahariya Oasis will be more than happy to show you the ropes.
But what if you're someone who craves adventure? Well, the Bahariya Oasis has you covered there, too. Whether you're a seasoned hiker or just looking for a little bit of excitement, there are plenty of activities to keep you occupied. From exploring the desert on horseback to discovering hidden waterfalls, there's always something new and exciting to see and do in the Bahariya Oasis.
And let's not forget about the food! One of the best things about travelling is getting to experience new and exciting cuisines, and the Bahariya Oasis is no exception. From mouthwatering tagines to freshly-baked bread, there is something for everyone to enjoy. And if you're a tea lover, you're in luck - the Bahariya Oasis is known for its delicious and refreshing mint tea.
Who will enjoy visiting the Bahariya Oasis?
Bahariya Oasis is a great destination for a variety of travellers, including:
Adventure Travellers: Bahariya Oasis is a great place to go off-road driving, hiking, and camping.
Culture vultures: Bahariya Oasis has a wealth of ancient history, including tombs, temples, and villages.
Relaxation seekers: Bahariya Oasis is a great place to relax and soak up the sun.
Photographers: Bahariya Oasis is a photographer's paradise, with stunning landscapes and unique rock formations.


What attraction to visit in Bahariya Oasis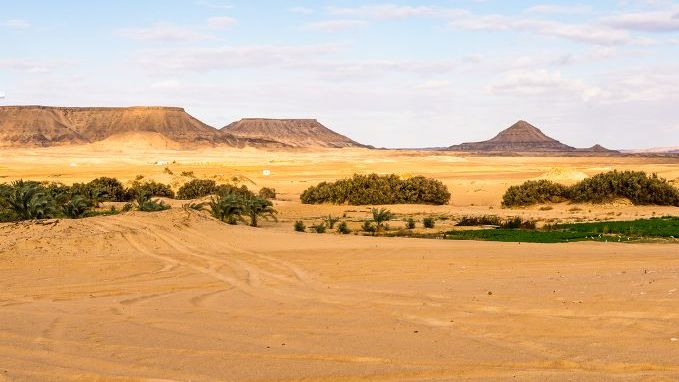 One of the most popular attractions in Bahariya Oasis is the unique Black and White Desert.
This unique landscape of the White Desert is characterized by towering white rock formations that seem almost otherworldly. The contrast between the white rocks and the bright blue sky is truly a sight to behold. This is a popular spot for photography enthusiasts or anyone who appreciates natural beauty. You can take a jeep tour of the White Desert and marvel at the various shapes and sizes of the rock formations.
Another must-see attraction in Bahariya Oasis is the Black Desert. As the name suggests, this area is characterized by black rock formations that rise up from the sandy landscape. The Black Desert and unspoiled nature is a bit more remote than the White Desert, so it's ideal for travellers who want to get off the beaten path and experience something truly different. You can hike through the desert and immerse yourself in the stark beauty of this unique environment.
If you're interested in history and culture, then you should definitely visit the Temple of Alexander the Great. This ancient temple dates back to the Greco-Roman era and is believed to have been built in honour of Alexander the Great. The temple contains stunning artwork and sculptures that showcase the skills of the ancient craftspeople who built it. You can take a tour of the temple and learn about the history and mythology that inspired its creation.
For a truly unique experience, you can also visit the Bahariya salt lakes. These lakes are located in the middle of the desert and are known for their therapeutic properties. The high salt content of the lakes is said to have a healing effect on the skin and can help to relieve stress. You can take a dip in the lakes and relax in the warm salt water.
Of course, no trip to Bahariya Oasis would be complete without trying some of the local cuisines. The food in this region is influenced by both Egyptian and Bedouin cultures, so you can expect to find a mix of traditional dishes and more modern cuisine. Some of the must-try dishes include koshari (a hearty vegetarian dish made with lentils, rice, and pasta), ful medames (a traditional Egyptian breakfast dish made with fava beans), and grilled meat skewers served with flatbread.
Why is the Valley of Agabat worth visiting?
The valley is characterized by its unique geological formation and the vivid colours created by different layers of rock that make it a jaw-dropping sight to see.
For all the nature enthusiasts out there, the Valley of Agabat is a must-visit destination. The valley is surrounded by stunning cliffs, which are home to a diverse array of endemic plant species such as Acacia tortilis and Zilla spinosa. The rocky outcroppings are also home to a variety of fauna like the desert fox, the sand cat, the fennec fox, and the Nubian ibex.
But it's not just the rich natural habitat that makes this place so special, it's the geological formations that are truly awe-inspiring. The rocks in the valley are made up of different layers of sandstone, mudstone, and limestone. The layers were formed over millions of years by the movement of tectonic plates, volcanic activity, and the effects of wind and rain. The result is a magnificent display of vibrant colours that change according to the time of day and light conditions. These colours range from soft yellows to deep oranges, making it a true feast for the eyes!
The valley is also home to some impressive natural arches, stone towers, and rock formations that are perfect for capturing that all-important Instagram snap. The mushroom-shaped rock formations are especially popular with visitors, and for a good reason – they are truly a marvel of nature.
The difference between hot and cold springs in Bahariya Oasis
Hot and cold springs can be found all over the world, but the ones at Bahariya Oasis in Egypt are truly unique.
Hot springs have been prized for their therapeutic properties for thousands of years. The ancient Greeks and Romans believed that bathing in hot springs could cure a variety of ailments, from arthritis to skin conditions. Today, people still visit hot springs for their purported health benefits, although the scientific evidence for these claims is inconclusive.
On the other hand, cold springs are bodies of water that maintain a chilly temperature despite the surrounding environmental conditions. Unlike hot springs, cold springs do not depend on heat generated by an underground heat source. Instead, they rely on the temperature of the groundwater and the surrounding rocks. Since cold springs typically contain water that has been filtered through underground rocks and soil, they are often high in minerals and nutrients.
One major difference between hot and cold springs is their appearance. Hot springs are usually characterized by their steamy vapour and the presence of sulfur. The water in hot springs is often murky and may have an odour. In contrast, cold springs are typically crystal clear and devoid of any steam or vapour. The water is often blue or green in colour, thanks to the abundance of minerals in the water.
Another important difference between hot and cold springs is their usage. As mentioned earlier, hot springs have been used for therapeutic purposes since ancient times. People visit hot springs to relax their muscles, improve their circulation, and alleviate aches and pains. Cold springs, on the other hand, are often considered to be sources of drinking water. Because of their high mineral content, cold springs are said to possess restorative qualities that can help improve digestion and overall health.
The best time to visit Bahariya Oasis
Bahariya Oasis boasts beauty year-round, but the climate varies greatly between seasons. Let's start with winter - December to February. If you're looking for cooler weather and fewer tourists, winter may be the perfect time for you. Temperatures are mild - around 20°C (68°F) during the day and can drop to 5°C (41°F) at night. The cool air also makes for great hiking weather and the chance to explore the oasis without breaking a sweat.
Spring (March to May) is also a great time to visit. The weather is mild during the day, around 25°C (77°F), but it can still get chilly at night. The oasis transforms during this time, and the greenery begins to bloom after the winter. You may even be lucky enough to catch the annual Berber festival in the nearby town of Bawiti.
Now, if you're a heat-seeker, summer (June to August) is your time to shine. Temperatures soar to around 40°C (104°F) during the day but cool down to a still-warm 25°C (77°F) at night. This is the perfect time to soak up the sun, float in the hot springs, and indulge in some refreshing watermelon.
But be warned, summer is also the peak season for tourism, which means crowds and higher prices. If you don't mind the heat and want to avoid the crowds, consider visiting in September, after the height of the summer season.
Finally, we have autumn (September to November). This season is great for those who want to avoid the heat but still enjoy warm weather. Temperatures can range from 20°C (68°F) to 30°C (86°F) during the day, with cooler (but not cold) nights. The landscapes begin to change as well, with the greenery starting to turn golden, providing a stunning contrast against the blue skies.
How do I get to the Bahariya Oasis?
Bahariya Oasis is located about 370 kilometres from Cairo. You can reach it by plane, train, or bus.
By plane: There are daily flights from Cairo to Bahariya Oasis. The flight takes about an hour.
Private Taxi: You can also hire a taxi to visit Bahariya. This is the most expensive option but also the most convenient. The taxi ride will take about 4 hours.
Public Bus: Public buses travel between Cairo and Bahariya every day. The bus station in Cairo is located at Turgoman Square. The bus ride takes about 5 hours.
How much does it cost to visit the Bahariya Oasis, and when is it open?
The cost of visiting Bahariya Oasis will vary depending on how long you stay, where you stay, and what activities you do.
Accommodation: There are various accommodation options in Bahariya Oasis, from budget-friendly guesthouses to luxurious hotels.
Food: Food in Bahariya Oasis is relatively inexpensive. You can find traditional Egyptian food, as well as international cuisine.
Activities: There are a variety of activities to do in Bahariya Oasis, including desert tours, white desert safaris, and camel rides.
What should I wear to the Bahariya Oasis?
The Bahariya Oasis is located in the western desert of Egypt, which means that temperatures can soar during the day and drop drastically at night. You'll want to pack clothing that will keep you comfortable in both extremes.
During the day, it can be blisteringly hot, so it's important to wear clothes that will keep you cool. Loose, breathable fabrics like cotton and linen are ideal, as they allow air to circulate around your body. Avoid synthetic materials, as they can trap heat and make you feel uncomfortable.
It's also a good idea to wear light colours, as they tend to reflect the sun's rays and keep you cooler than darker colours. You might also consider wearing a hat to protect your head and face from the sun. Sunglasses are also a must-have, as they'll shield your eyes from the bright desert sun.
When it comes to footwear, you'll want to choose something that is comfortable and breathable. Sandals are a popular option, as they allow your feet to breathe and won't make you feel too hot. Just make sure that they have sturdy soles, as you'll be walking on rocky terrain.
As the sun sets, the temperature can plummet, so it's important to pack warm clothing for the evening. A light jacket or sweater will suffice, as long as it's made from a warm material like fleece or wool. You might also consider bringing a scarf, as it can help to keep your neck warm on chilly nights.
When visiting the historical sites and sacred places around the Bahariya Oasis, it's important to dress appropriately as a sign of respect. Women should dress modestly, covering their shoulders and legs. Loose-fitting, breathable clothing is still ideal, but be sure to choose items that won't attract too much attention.
Men should also dress modestly, covering their shoulders and legs. A simple T-shirt and shorts are acceptable, but avoid anything too revealing or flashy. It's also important to note that some of the historical sites require visitors to remove their shoes before entering, so it's a good idea to wear slip-on shoes or sandals that are easy to take off and put back on.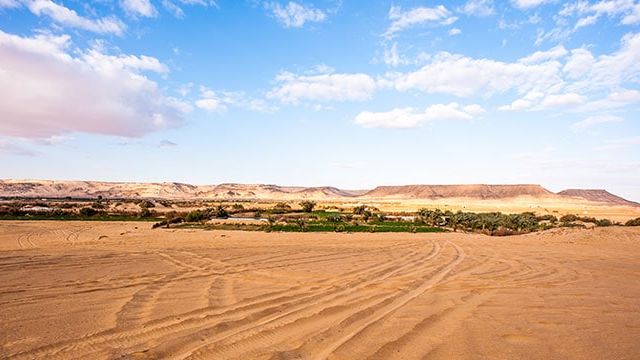 How fit do I need to be?
There are a variety of activities to do in Bahariya Oasis, some of which require a moderate level of fitness. If you plan hiking or camel riding, be physically healthy.
Is it Safe to Visit Bahariya Oasis?
Bahariya Oasis is a safe place to visit. However, being aware of your surroundings and taking precautions against petty theft is always good.
Recommended Safety Conditions
When visiting Bahariya Oasis, it's recommended to follow these safety conditions:
Stay in well-lit areas at night.
Don't carry valuables with you when you're out and about.
Be aware of your surroundings and report any suspicious activity to the police.
Popular Souvenirs
Here are some popular souvenirs that you can buy at Bahariya Oasis:
Ostrich eggs: Ostrich eggs are a popular souvenir from Bahariya Oasis. They are often painted or carved with designs.
Fayyum mummy portraits: Fayyum mummy portraits are a type of portrait painting popular in the Fayyum region of Egypt during the Roman period. They are often very well-preserved and make beautiful souvenirs.
Desert roses: Desert roses are a mineral found near Bahariya Oasis. They are often pink or red and make unique souvenirs.
Papyrus: Papyrus is a paper made from the papyrus plant in ancient Egypt. It is still made today and makes a great souvenir.
Scarabs: Scarabs are a beetle that was sacred to the ancient Egyptians. They were often used as amulets and made popular souvenirs.
Egyptian jewellery: If you want a keepsake from Egypt, consider their jewellery. They offer various options made from gold, silver, and other metals. Many of these pieces showcase Egyptian symbols, such as hieroglyphics, making them a unique and memorable souvenir.
When purchasing souvenirs, it's essential to negotiate with the vendors. Their initial price is usually higher than the final cost you should pay. If you're unsatisfied with the price, be ready to walk away.
What else can I do at the Bahariya Oasis?
There are a variety of popular activities to do in Bahariya Oasis, including:
Desert tours: Numerous companies provide tours of the Bahariya Oasis desert, which usually involve exploring the White Desert, Black Desert, and Crystal Mountain.
White desert safaris: If you want to witness the splendour of the White Desert, consider going on a white desert safari. Such safaris usually involve camping overnight in the desert.
Camel rides: Camel rides are a great way to explore the desert and see the sights from a different perspective.
Tips For Visiting
Here are some tips for visiting the Bahariya Oasis in Egypt:
Go with a local guide. We highly recommend hiring a local guide for your travels. They are knowledgeable about the best sights to see and activities to do and can also assist in preventing any potential scams or issues.
Visit the White Desert. The White Desert is one of the most popular tourist attractions in the Bahariya Oasis. It's a surreal landscape of white limestone formations, dunes, and rock formations.
Visit the Black Desert. The Black Desert is another popular tourist attraction in the Bahariya Oasis. It's a stark contrast to the White Desert, with its black volcanic rock formations.
Visit the Crystal Mountain. Crystal Mountain is a unique geological formation in the Bahariya Oasis. It's made up of giant crystals that have been exposed to erosion.
Visit the El-Ghorab Oasis. Located near the White Desert, the El-Ghorab Oasis is a small but perfect spot for swimming or unwinding amidst the desert landscape.
Visit the Qanat. The Qanat is an ancient irrigation system that the Romans built. It's a fascinating place to visit and learn about the history of the Oasis.
Go camping in the desert. If you want to witness the stunning Oasis, consider camping in the desert. Several campgrounds in the vicinity provide tents, food, and recreational opportunities.
FAQs about Bahariya Oasis
Can you swim in Bahariya Oasis?
So, can you swim in Bahariya Oasis? Technically, the answer is yes. However, it's not as simple as just jumping into the water and splashing around.
First, make sure you're in good health and have no open wounds or infections, as the Schistosoma parasite enters the human body through the skin. Then, get your swimming gear in check and make sure to avoid swimming near irrigation pumps or in areas that appear to have no flow. It's also essential that you avoid drinking the water or accidentally ingesting it while having fun in the Oasis.
In conclusion, can you swim in Bahariya Oasis? The answer lies in how willing you are to take on the risks and the necessary precautions to ensure your safety. While the waters of the Bahariya Oasis may look inviting and refreshing, you should always consider the potential health hazards that come with swimming in its waters. So, should you or should you not dip your toes in the Oasis waters? Well, it's up to you to decide.
What's the best way to experience Bahariya Oasis?
Firstly, if you're the adventurous type, then a 4x4 safari tour around the desert and surrounding areas is a must. These tours can often last for a full day or longer and involve driving through the sand dunes, exploring the natural springs, and visiting the nearby Black and White Deserts. You'll have the chance to see some of the stunning rock formations and landscapes that this area is famous for, and you may even get to try out some sandboarding along the way.
Alternatively, if you're interested in history and culture, then a visit to the local museums and ancient ruins is highly recommended. Bahariya Oasis has a long and fascinating history, dating all the way back to the time of the pharaohs. You can explore the tombs and temples of the nearby village of Bawiti or learn more about the area's prehistoric past at the Bahariya Oasis Museum. For those interested in more recent history, there is also the WWII-era English House, which was used as a base by the British army during the North African campaign.
For those looking for a more relaxing experience, the Bahariya Oasis is also the perfect place to unwind and enjoy the natural beauty of the area. You can take a dip in one of the many natural hot springs, or simply enjoy a stroll through the palm groves and gardens that are scattered throughout the oasis. For an extra touch of luxury, there are also a number of spas and resorts that offer a range of treatments allowing you to truly relax and rejuvenate.
Is Bahariya Oasis worth visiting?
So, what makes Bahariya Oasis worth visiting? Well, for starters, the sheer natural beauty of the place is a sight to behold. The contrast of the lush greenery against the stark desert landscape is nothing short of stunning, and it's a true testament to the resilience of nature. But Bahariya Oasis isn't just a pretty face – there's also plenty to do and see here.
One of the main draws of Bahariya Oasis is the hot springs. There are several locations throughout the oasis where you can soak in natural hot pools.
Another must-see attraction in Bahariya Oasis is the Valley of the Golden Mummies. This archaeological site contains the remains of over 100 ancient mummies, many of which are adorned in gold.
And, of course, no trip to Bahariya Oasis would be complete without a visit to the White Desert.
What is the white desert made of?
The white desert consists mainly of chalk, a type of soft and porous rock made of tiny fossilized marine organisms that lived millions of years ago. The region where the white desert is located was once covered by the Tethys Sea, a large body of water that stretched from Southern Europe to the Middle East. Over time, the remains of these organisms piled up on the seabed, creating layers of sediment that eventually turned into limestone.
If you're looking for a beautiful and fascinating place to visit, the Bahariya Oasis is worth considering. Here are some useful tips to remember to ensure you make the most of your trip.